The eyes are one of the centre points of our faces and are a huge part of how we are able to express ourselves. As we age, the elasticity and strength of our skin can change which results in a change to the overall appearance to our face too. Wrinkles and sagging of the skin around the eye area are one of the biggest ageing concerns of our patients, as the eyelids start to sag and droop around the eyes it can cause an unwanted tired or sad appearance.
Blepharoplasty upper and lower eye lift
Blepharoplasty is usually the procedure of choice for patients experiencing sagging or drooping of the upper and lower eye area. It is a surgical procedure that can help to restore a more youthful and refreshed appearance by removing or re-positioning bulging fat, removing or resurfacing excess skin and tightening or lifting loose or atrophied muscles. In some cases, your surgeon may also be able to perform a fat transfer to fill out the hollows or recesses in the eyelids for a more rejuvenated appearance too.
Upper blepharoplasty is usually performed under local anaesthetic whereas a lower blepharoplasty may require a general anaesthetic. To help reduce scarring to the area, the surgeon will use very fine sutures which are either dissolvable or removed after 4-5 days. Swelling and bruising following blepharoplasty surgery may last for up to 2 weeks but many patients are able to return to work within 1 week post-procedure depending on their role and you should expect to be back to all activities with no restrictions after 6 weeks.
Eye Lift Surgery before and after results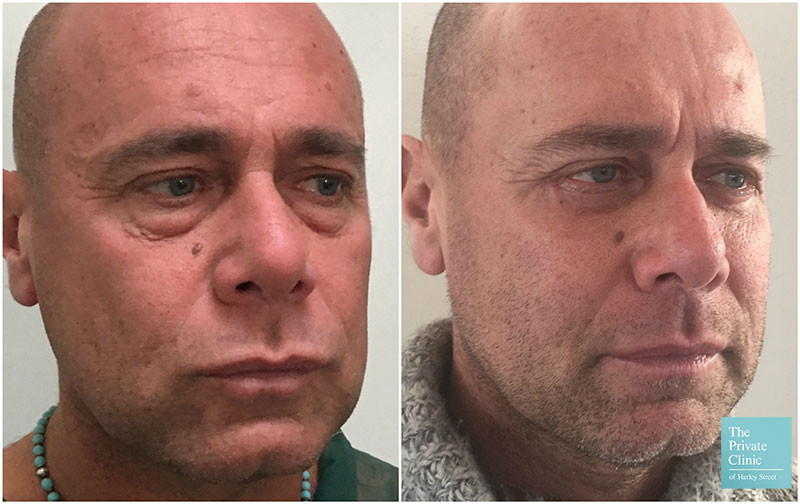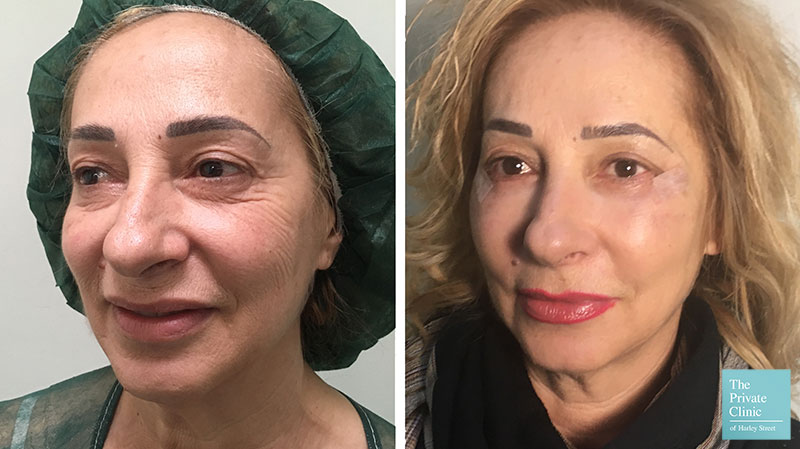 When it comes to finding an alternative to a blepharoplasty, the options can be limited depending on the extent of the drooping or sagging that you may have. Here at The Private Clinic, we pride ourselves on providing patients with realistic expectations and honest advice.
Handy Plasma Non-Surgical Eyelift
The Handy plasma non-surgical eyelift is one of our newest treatments at London Harley Street. The treatment is an ideal option for patients with mild to moderate loose skin.  Patients who are looking to improve the appearance of their eyes, but are wanting to avoid surgery. If you have more significant drooping you may still require blepharoplasty treatment instead to get the best results. The best thing is to come in for a consultation to discuss the options.
The Handy Plasma non-surgical eyelift treatment is a powerful and effective alternative to surgical procedures such as blepharoplasty that is able to remove the excess eyelid skin and tighten up wrinkles located around the eyes whilst being entirely non-invasive with no need for incisions, scalpels or stitches.
A Plexr® Plasma Pen device applicator is used to ionise the gas particles in the air between the device tip and your skin emitting a small electric arc. This creates a substance known as plasma which makes the target tissue – your skin will go from being solid to a gas state, essentially vaporizing excess skin around the eyes. After the treatment, you will have, what's known as a carbon crust on the areas that have been treated. This carbon crust will appear as a series of round dots which can take up to 10 days to fully heal. Any swelling following treatment usually subsides after 1-3 days.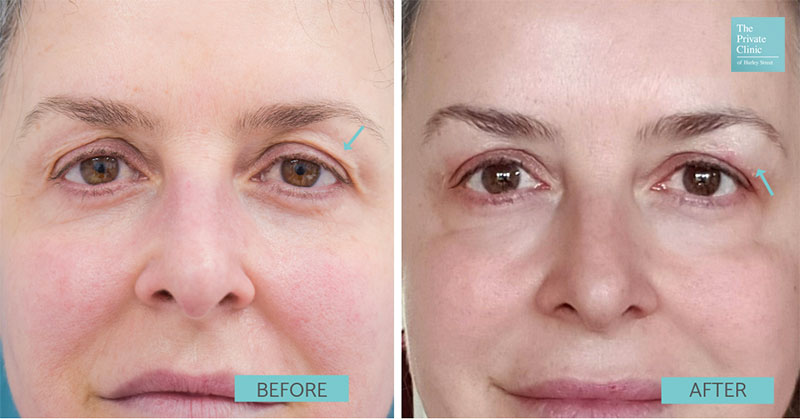 Tear Troughs for sunken eyes
Tear trough filler may be a great option for anyone with the first signs of ageing eyes. Tear trough filler is a great non-surgical injectable treatment that targets the depressions that run from the nose to the under-eye area. These areas of depression can make your eyes look sunken and cast unflattering shadows which are known as dark circles. When the dermal filler is injected into this area it will help to restore the volume lost as well as thickening the skin and improving the appearance of any dark circles.
Dermal filler is a very quick treatment often taking as little as 10-15 minutes. Some swelling or bruising may be visible for 1-2 days but many patients are able to return to work almost instantly following treatment. The results are instant but are best seen at least a week following treatment and can last from 9 months to a year.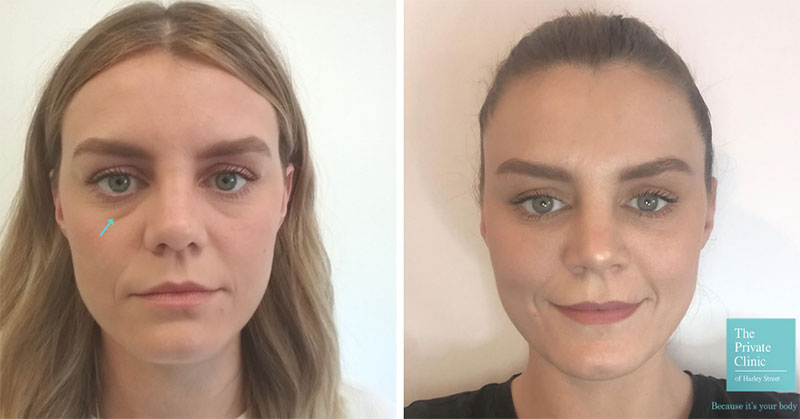 Surgical and Non-Surgical Eyelift treatments at The Private Clinic
To find out more about blepharoplasty procedures and the alternatives, please call, 0333 920 2471 or use our online contact form.