Eyelid surgery is one of the most popular cosmetic procedures in the UK. Eyelid surgery can help rejuvenate and refresh the appearance in both men and women and can help improve a person's self-confidence.
If you are considering Blepharoplasty or eyelid surgery, in this blog post we will be talking about the most important things you should know before undergoing this procedure.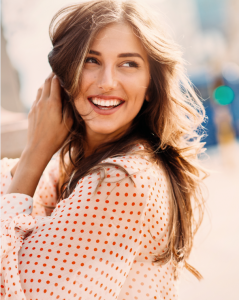 What is a Blepharoplasty?
Blepharoplasty is a surgical cosmetic procedure that consists of removing or reposition all the extra skin and tissue around the eyelids. This procedure is ideal for patients who suffer from droopy eyelids as it tightens lifts and smoothes the creases, folds and skin around the upper and/or lower eyelids. Blepharoplasty is also great to treat hooded eyelids and to reduce eye bags, responsible for creating age-associated puffiness under the eyes.
Eyelid surgery is not only suitable for older patients but also for patients in their 20's or 30's who are suffering from some of these issues.
Suitability for Eyelid Surgery
When it comes to any cosmetic procedure we always recommend booking a consultation with an expert cosmetic surgeon who will be able to asses your suitability for the procedure and recommend the best type of Blepharoplasty to achieve your desired results.
Blepharoplasty or eyelid surgery is usually suitable for patients suffering from hooded eyelids, bags under the eyes and drooping eyelids. However, eyelid surgery is not a procedure to remove crows feet, fine lines or wrinkles, for this your surgeon will advise other options such as wrinkle injections or fillers.
Types of Eyelid Surgery
There are different types of eyelid surgery, and your surgeon will advise the best procedure you'll require depending on your desired results, on the shape of your eyes and health conditions.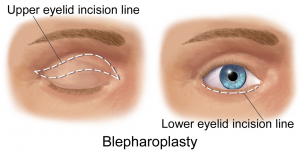 There are three main types of Blepharoplasty: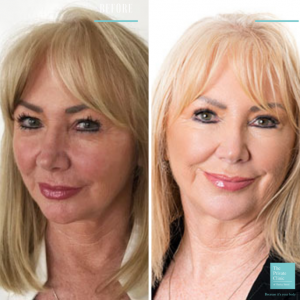 Upper Blepharoplasty: is a very quick procedure, approximately taking 30 minutes to be performed. This procedure is usually performed under local anaesthetic, requires minimal downtime and is one of the safest and fastest invasive procedures available. Upper eyelid surgery can help restore the function of the eye and provide a more open appearance to the eye.
Lower Blepharoplasty: Is more complex than the upper blepharoplasty, requiring general anaesthetic and taking approximately 1-2 hours to be performed. Lower eyelid surgery is ideal to target eye bags to reduce puffiness overall improving the appearance. This procedure can be performed in combination with upper blepharoplasty for complete rejuvenation.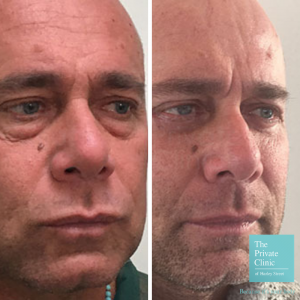 Upper and Lower/ Combined Blepharoplasty: Patients who suffer from sagging eyelids and eye bags are suitable for the combined Blepharoplasty to treat both areas and achieve a more youthful and refreshed appearance. Your surgeon will be able to advise if this is the best option for you.
Blepharoplasty Surgical Alternative
If the idea of surgery is putting you off, you will be pleased to know that we do have a non-surgical eyelift option available at our London Harley Street clinic. The handy plasma non-surgical eyelift treatment is an ideal option for patients with mild to moderate loose skin around the eye area. If you have more significant drooping you may still require blepharoplasty treatment instead to get the best results but the best thing is to come in for a consultation to discuss the options.
The Handy Plasma non-surgical eyelift treatment is a powerful and effective alternative to a blepharoplasty that is able to remove the excess eyelid skin and tighten up wrinkles located around the eyes whilst being entirely non-invasive with no need for incisions, scalpels or stitches.
A Plexr® Plasma Pen device applicator is used to ionise the gas particles in the air between the device tip and your skin emitting a small electric arc. This creates a substance known as plasma which makes the target tissue – your skin will go from being solid to a gas state, essentially vaporizing excess skin around the eyes. After the treatment, you will have, what's known as a carbon crust on the areas that have been treated. This carbon crust will appear as a series of round dots which can take up to 10 days to fully heal. Any swelling following treatment usually subsides after 1-3 days.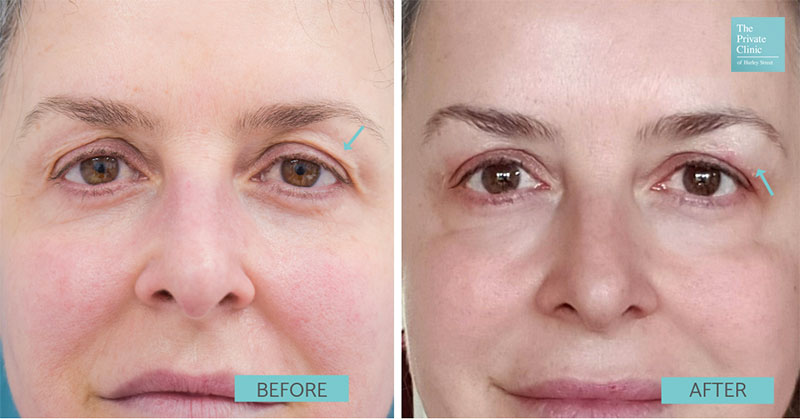 Downtime
Patients can return home after their procedure, already being able to notice a huge difference to their eyes and face. It is important to know before having this procedure that you will experience swelling and bruising for a period of two weeks post-surgery. The stitches are removed 4-5 days post-procedure and patients can return to work and their day to day activities 5 days after surgery. It may take up to a year to completely see the full benefits and final results of a Blepharoplasty.
Aftercare
Eyelid surgery is typically a day case procedure, meaning you can often go home within a few hours of the surgery. Commonly patients will experience some discomfort, eye itching or dryness a few days after the surgery so pain killers, eye drops and antibiotics will be prescribed to manage this. Patients after 7 days from surgery, can conceal the bruising and redness with makeup. Any strenuous activity (running or gym) should be completely avoided for at least 3 weeks.
Blepharoplasty at The Private Clinic
At The Private Clinic, we work with highly qualified Consultant Reconstructive and Plastic surgeons with years of experience performing blepharoplasty procedures achieving outstanding results, before and after photos here.
Other benefits include:
Dedicated post-operative care and as many appointments as needed with your surgeon and/or nursing team.
Access to our 24-hour helpline with direct contact with our highly trained and skilled nursing team who will be able to help with any concerns you may have.
The procedures are performed at our state of the art hospital facilities
It is our priority to provide the best results, patient safety and excellent patient care.
Our cosmetic procedures take place in our own clinics located in London Harley Street, Manchester, Leeds, Birmingham and Bristol.
If you would like to arrange a blepharoplasty consultation, please call us via 0333 920 2471 or visit our eyelid surgery page on our website.