Wrinkle Injections
The Problem
As we age, skin loses its elasticity, and lines begin to form which can make us look older than we are, or can spoil otherwise healthy-looking skin. At The Private Clinic we have medical experts and the experience to rejuvenate and refresh you face.
Wrinkle relaxing injections are suitable for almost anyone who has wrinkles or fine skin lines and is looking to reduce their appearance. Lines and wrinkles are unfortunately just a natural sign of ageing but they can also develop through exposure to the sun and because of frowning.
At The Private Clinic, we only work with registered, experienced practitioners. We only offer tried and tested, fully approved medical products, produced by worldwide, renowned manufacturers, such as Allergan and Azzalure, and all of our injectable treatments are carried out by cosmetic doctors or nurse prescribers, who have undergone extensive additional training to qualify in prescribing and performing Wrinkle Injections.
Wrinkle relaxing injections are available across all of our clinics; London Harley Street, Birmingham, Bristol, Glasgow, Leeds, Manchester, Northampton , Buckinghamshire and Chelmsford, Essex.
Anti Wrinkle Injections Treatment Areas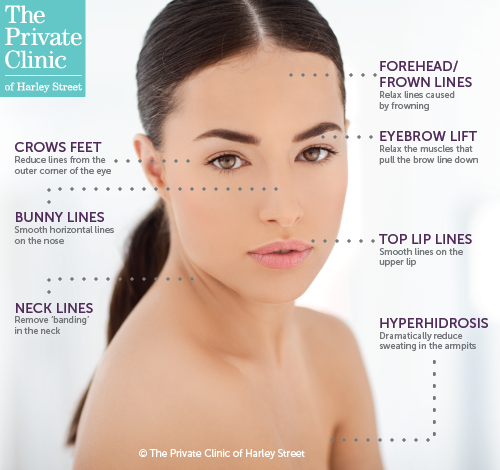 Areas treated:
Frown lines
Glabella lines/ lines between eye brows
Chin lines
Neck
Crows feet, lines around eyes
We are the UK's leading non-invasive and minimally invasive cosmetic group of clinics. Our Doctors lead the way in perfecting the most natural looking results and we don't believe anyone need experience the infamous 'frozen' face associated with anti-wrinkle injections. We're proud to share that our referral rate and repeat visits are at an all time industry high – after all, word of mouth travels a long way.
If you're considering Wrinkle Relaxing Injections, the most important considerations should be your safety, the expertise of your medical practitioner and the products being used. Our most important consideration is YOU – your safety, your results and our relationship with you. Choosing a highly qualified medical expert is key to receiving a safe treatment and achieving the best possible results. Wrinkle Relaxing Injections are the most popular non-invasive treatment in the UK and worldwide, with over one million people having undergone it.
All of our Clinics are registered with the Care Quality Commission. We work closely with The Independent Healthcare Advisory Services and all of our clinics registered with Treatments You Can Trust.
By coming to us for your Wrinkle treatments, you can look forward to excellent results, knowing that you're in safe hands.
The Problem
As we age, skin loses its elasticity, and lines begin to form which can make us look older than we are, or can spoil otherwise healthy-looking skin. At The Private Clinic we have medical experts and the experience to rejuvenate and refresh you face.
What are Wrinkle Relaxing Injections?
Wrinkle Relaxing Injections consist of small amounts of high quality toxins, administered as a muscle relaxing injection for the treatment of wrinkles.
The Treatment
Wrinkle Injections are the most effective rejuvenating treatment for subtly tackling the appearance of deep lines and wrinkles. It also prevents new lines forming by relaxing the facial muscles and reducing excessive facial movements.
The Results
Lines and wrinkles will be smoothed out and you'll be left with a youthful, glowing appearance.
Downtime
None. You can go back to work with none of your friends or colleagues the wiser.
I have been coming to The Private Clinic in Princes Risborough for a few years now to have wrinkle injections and Dermal Fillers. I have to say, the results are always amazing. It is a really friendly environment and Mel, who does my treatments, always puts me at ease. None of my friends and family are aware that I have been coming here for years – the results are that good! Well worth the money.

Helen, Bucks
I have lost count of the number of people who have said I look well and happy since I have been coming to The Private Clinic in Princes Risborough for my treatments. From the reception staff who always put me at ease, my doctor Fiona Durban and the subtle, natural looking results of my treatments, I am very happy to put myself in their hands.

Anna, Bucks
From the moment I walked in to the Princes Risborough clinic, to the moment I left I was made to feel welcome. Everything that was going to happen was explained to me. The nurse, Mel Recchia gave me a little background on herself so I felt comfortable in her company.

Friendly staff, great customer service and they will be the only company I will be using for my wrinkle injections or other cosmetics procedures in the future.

Leanne, Bucks
At The Private Clinic in Princes Risborough I have now had many subtle skin improvements such as anti-wrinkle injections, dermal filler, silhouette soft and Profhilo with Mel Recchia and Fiona Durban.

Now I'm getting on a bit and the idea is to slow up the aging process on my face. I'm very impressed with the fact that these professionals keep my treatment age appropriate and subtle and natural. I find everyone at the Risborough clinic professional, friendly and pleasant including the lovely ladies on reception.

Judie, Bucks
Couldn't rate Dr Simon Connolly any higher! I visited him at The Private Clinic in Glasgow and would now not see any other doctor for my treatment! He listened to me and done exactly what I wanted. I was really clear that as a mature woman I did not want to look younger, but simply refreshed, and that was what I got! The clinic has a lovely, calm environment and the team have looked after me at every step! Thank you!

Bridget, Glasgow

To book an appointment with a qualified doctor or nurse practitioner click here.
*All images, videos and testimonials are based on the personal experiences of our patients and represent individual body shapes and results. Please bear in mind that results may vary from person to person. All testimonies are provided voluntarily by our patients and clients. Their comments have not been altered in any way, and their experiences are their own.
FAQs
What are Wrinkle Relaxing Injections
What is Botulinum Toxin?
How do wrinkle relaxing injections work?
Where can I have Wrinkle Relaxing injections?
What brand of Wrinkle Relaxing Injections will be used?
What is the difference between Wrinkle Relaxing injections and fillers?
Who will be performing the treatment?
How do I choose a clinic?
Do the Wrinkle Relaxing injections hurt?
How many Wrinkle Relaxing injections will I need?
Where will the treatment be carried out?
How long does the treatment take?
How soon will I see the results after Wrinkle Relaxing injections?
Will my face be frozen after Wrinkle Relaxing injections?
How long will the results last?
What happens after treatment?
Can I apply make-up after treatment?
How soon can I exercise after Wrinkle Relaxing injections?
Can I cleanse my face after treatment?
Are there any side effects?
Can I have another facial treatment after having Wrinkle Relaxing injections?
Can Wrinkle Relaxing Injections prevent ageing?
Do I need to continue having treatment once I start?
Who is this treatment suitable for?
How soon can I travel after Wrinkle Relaxing injections?
Are Wrinkle Relaxing Injections safe?
Prices for wrinkle relaxing injections are very competitive and you have to always ensure you are being treated by a qualified practitioner. Our pricing structure is very competitive and we use the highest quality products available. You can also rest assured that you will be seen by an experienced practitioner with years of experience who will help you achieve your desired results.
Prices for wrinkle injections at The Private Clinic start from £195 for 1 area.
Botox Areas
Botox Prices
London, Birmingham, Bristol, Manchester, Leeds
Average industry price
1 area
£195
£195
2 areas
£295
£350
3 areas
£395
£465
To book a consultation click here
Please note that these are guide prices – you will be given an accurate quote to suit your requirements following your consultation.
**The pricing structure at our Glasgow clinic is slightly different. Find out more here.
Why You Should Choose The Private Clinic
The practitioner's experience as well as correct product placement is very important in order to achieve the desired results and to limit the need of frequent top-up treatments. Wrinkle relaxing injections can be very safe if performed by qualified and experienced practitioners. Make sure to do your research before booking a treatment.
The Private Clinic are well known across the UK for its expertise in youth maintenance treatments. We treat hundreds of patients on a weekly basis which enables us to purchase high end products in larger quantities compared to our competitors. We pass these product savings onto our valued and loyal patients who then pay for our expertise rather than products.
There are no hidden costs
We afford all our patients the right care well before, during and long after every procedure
You will only be treated by industry-leading, highly experienced doctors and registered prescribing nurses.
Our aftercare promise – you can call, email and visit us to discuss how we tailor-make each procedure and offer ethical and professional aftercare for every patient
We are contactable 24/7, 365 days a year for patients
We are competitively priced for the expertise and professionalism we provide every patient
To book your appointment click here.
Available in these clinics