The Problem
Some areas of the body are predisposed to store fat that may seem impossible to rid of through exercise and diet alone. These areas, such as inner/outer thighs lower tummy and flanks for example, can affect body shape and make you look less toned than your workout regime deserves.
VASER Liposuction, or VASER lipo, is a minimally invasive treatment aimed at contouring and shaping the body. It is one of the most popular minimally-invasive liposuction procedures available for men and women and performed under local anaesthetic without the need for an overnight hospital stay. As one of the UK's leading providers of the treatment, we're proud to have some of the most sought after VASER liposuction doctors performing highly specialised forms of the treatment, designed around the individual needs of our male and female patients.
We perform over 1,300 minimally invasive liposuction and body contouring procedures a year, and, combined, our Doctors perform the highest number of VASER liposuction procedures in the UK. Our expert VASER Doctors – Dr Dennis Wolf, Dr Grant Hamlet, Dr Vlok and Dr Ravi Jain – are pioneers of the method and have huge experience in harmonising body proportions. Dr Wolf has performed over 3,000 procedures with The Private Clinic to date.
Our VASER Liposuction procedures are carried out at our own local theatres in London, Birmingham, Bristol, Manchester and Leeds. We tailor-make each procedure, meaning you'll always be given our full attention and we will work hard to ensure you receive the kind of results you want – whether it's an athletic, masculine figure through liposuction for men – VASER Hi-Def, or more subtle, feminine curves.
"Subtle enough to be undetectable, significant enough to make a real difference – the holy grail of cosmetic surgery." *

Sasha Slater, Deputy Editor, Harper's Bazaar – VASER Lipo with Dr. Dennis Wolf
Advantages of VASER Liposuction:
VASER Lipo does not require general anaesthetic
Minimally invasive – no damage to other body tissues
Minimal risk of bleeding, bruising and discomfort
Minimal downtime – VASER Lipo is a walk-in-walk-out procedure
Less scarring, less bruising
Stimulates collagen production, resulting in tighter skin for many patients, while conventional Liposuction may occasionally result in sagging skin
Where Can You Have VASER Lipo?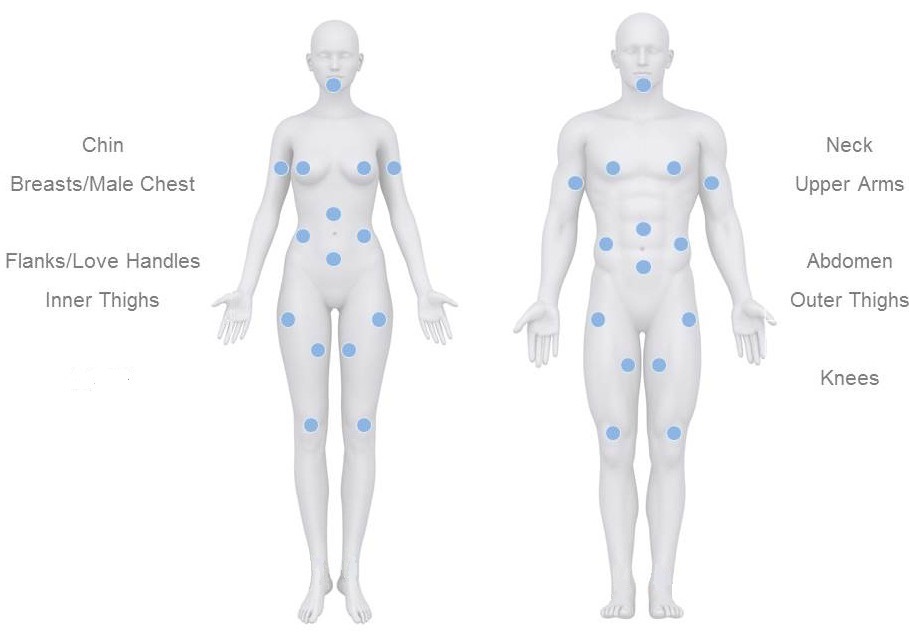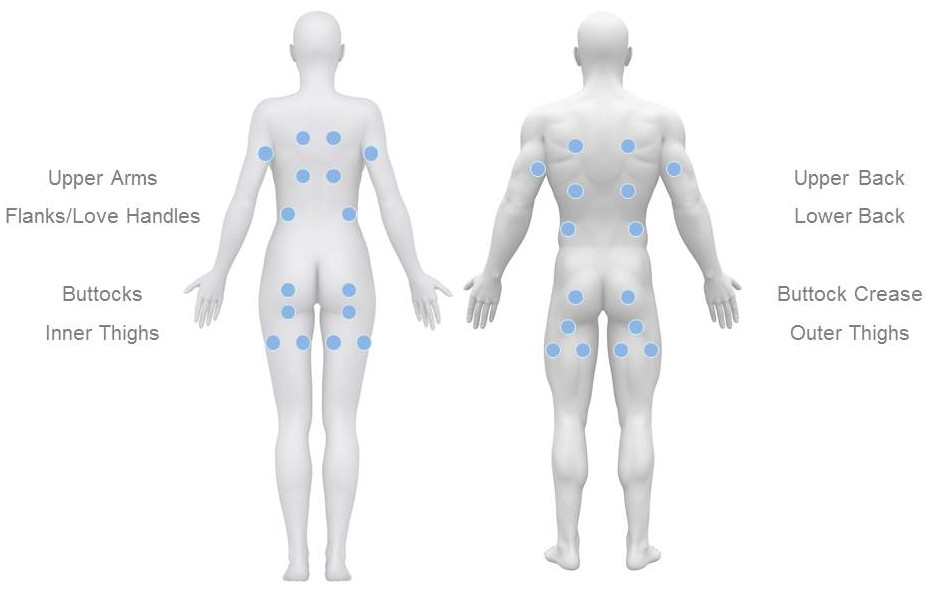 Thighs (inner and outer) – Stomach/Abdomen – Breasts – Buttocks – Flanks – Arms (Bingo Wings) – Chin – Back – Chest – Neck – Knees – male chest reduction (gynecomastia)
The Problem
Some areas of the body are predisposed to store fat that may seem impossible to rid of through exercise and diet alone. These areas, such as inner/outer thighs lower tummy and flanks for example, can affect body shape and make you look less toned than your workout regime deserves.
Our Clinics
VASER Liposuction – The Procedure
VASER Lipo is a minimally invasive procedure, performed under local anaesthetic. A small probe is used to transmit the ultrasound energy and liquefy fat cells prior to removal through a gentle suction process. It is a less invasive procedure than traditional Liposuction but your suitability for the procedure will be assessed by a surgeon during your consultation.
Because the treatment is so advanced, there are several different varients designed to give precise results, depending on what you want. VASER Hi-Def and VASER 4D are particularly popular with men looking to achieve athletic toning and defined muscles while VASER 360 is a specialist technique to address the legs circumferentially with no irregularities.
VASER Liposuction – The Results
Improved overall shape and contours of the body. Standard VASER results are very subtle and natural. If you prefer a more athletic, defined or sculpted appearance, VASER Hi-Def or VASER Mid-Def may be better options for you. Your realistically achievable results will be discussed with you during your consultation with a surgeon.
Many patients see results straight away. However, the improved overall appearance will become prominent in the months following the procedure. The treatment can help remove stubborn areas of fat but cannot rid of excessive amounts of bulging skin, for which an abdominoplasty will often be better suited.
Recovery / Downtime
The VASER Liposuction procedure involves minimal downtime and you can get back to your daily routine within a couple of days, depending on the areas treated. The small incisions made during the procedure will not require stitches.
Because there may be some bruising and swelling, we advise that you wait a couple of weeks before you return to the gym or take part in rigorous physical activity. To help speed-up recovery, we usually suggest a course of MLD Massage after your treatment.
The VASER Liposuction aftercare regime following both VASER Hi-Def and VASER Mid-Def is important and does require some commitment from you. Further information will be given about this during your pre-treatment consultation with the Doctor.
Very often, the very first question we are asked is about the cost of liposuction. This should never be your main consideration when deciding on a procedure. Cheap prices don't necessarily mean that you'll be getting the same standard of quality care. We always aim to be clear with our pricing.
The cost of liposuction procedures are determined by various factors, such as the number of areas you are having treated and the amount of time your procedure will take. Certain areas of the body require more time and precision than others, which will impact the amount of time it takes for the surgeons to carry out your procedure.
Here at The Private Clinic, we competitively price all of our procedures to fit the quality of care you will be receiving throughout your journey. Liposuction cost is determined at your consultation once your doctor has assessed your needs and your body.
Please note that you will be seen by the Surgeon/Doctor who will be performing your VASER Liposuction procedure to assess your exact requirements and provide you with accurate VASER Liposuction costs. Our Patient Advisers are always available if you have any questions at all.
The cost of your VASER Liposuction procedure is purely dependent on your requirements and realistic expectations. VASER Liposuction is suitable for many problematic body areas, such as the abdomen (tummy), love handles (flanks), bra strap fat (back fat), inner thighs, outer thighs (saddlebags), male chest (man boobs, or moobs), buttocks, knees, ankles (or mankles for men), chin (double chin), sagging jowls and arms (bingo wings).
VASER Liposuction cost start from £2,940 depending on the number of areas being treated and the length of your procedure. VASER Hi-Def is a more intricate procedure and costs can start from £9,450.
This is the procedure fee which includes doctor fee, theatre hire and all aftercare follow-ups.
Additional costs include sedation fees (anaesthetist and the sedation), prescription medication and compression garments. Manual Lymphatic Drainage sessions are recommended extras.
Our prices include all theatre costs and necessary after care follow ups with your Patient Adviser, Nurse or Doctor. Our medical teams are dedicated to patient care and safety and ensure that they are easily contactable in case you do wish to speak to them at any point after your procedure.
Male chest Reduction / Liposuction for men – costs start from £5,620 but may vary depending on the amount of fat that needs to be removed.
Why You Should Choose The Private Clinic
The Private Clinic's Doctors have performed over 4,000 VASER Liposuction treatments to date, more than any other clinic in Europe.
In 2008, The Private Clinic was the first clinic to launch VASER Hi-Def in the UK. Since then, our specially trained VASER Hi-Def Doctors have performed 100s of VASER Hi-Def treatments appealing to those after a more athletic body shape.
We afford all our patients the right care well before, during and long after every procedure
You will have a Patient Coordinator, who you can call as much as you need, throughout your Private Clinic journey
You will only be treated by industry-leading, highly experienced doctors and surgeons
Our nurses, technical assistants and therapists are all very experienced and well trained.
Our aftercare promise – you can call, email and visit us to discuss how we tailor-make each procedure and offer ethical and professional aftercare for every patient
We are contactable 24/7, 365 days a year for patients
We are competitively priced for the expertise and professionalism we provide every patient.
"I just wanted to say thanks to you all for being such a great team and for making me feel at ease from  the start to finish on the day of my procedure. I was really nervous, but you all made me feel much more comfortable with your warm and friendly approach. I would highly recommend you to anyone and can't wait to see my final results!" *

Birmingham - May 2015
"So impressed, extremely professional, extremely friendly, lovely set up. Felt so relaxed and at ease, would more than highly recommend The Private Clinic and I'm considering having other procedures in the new year. Thank you!" *

Catherine, Leeds - July 2015
"I would like to say a huge thank you for the outstanding service you have given me both pre/post op. You have truly gone the extra mile and have made this whole experience so easy. I am already so happy with the results and i can't thank you enough." *

Birmingham - June 2015
"Dr Wolf was absolutely AMAZONG through the whole process! My treatment has changed my life and I can't thank The Private Clinic enough!" *

London - July 2015
"Thank you for your support in the run-up to my recent procedure. I would be grateful if you could pass my thanks on to the team who cared for me, in particular to Debbie Brown, whose care and attention was greatly appreciated." *

Susanne, Leeds - January 2015

All images, videos and testimonials are based on the personal experiences of our patients and represent individual body shapes and results. Please bear in mind that results may vary from person to person. All testimonies are provided voluntarily by our patients and clients. Their comments have not been altered in any way, and their experiences are their own.
FAQs
What is VASER Liposuction?
Does the procedure hurt?
How long does the procedure take?
What happens if I gain weight after VASER Liposuction?
Are there any side effects of VASER Liposuction?
How soon will I see the results?
How long will the results last?
Am I suitable?
What is VASER Hi-Def?
What is VASER Mid-Def?
What is VASER 4D?
What is VASER 360?
Is VASER Lipo worth it?
Available in these clinics
In The News