Wanting to look younger is a common request that we get from patients who come to visit us in clinic. Ageing can take a toll on your skin causing fine lines, wrinkles, pigmentation such as brown spots, and redness which can then be tricky to treat despite the number of creams and lotions that you use.
Deciding to go ahead with a cosmetic treatment is a big decision but choosing which one is best can be tricky. We encourage our patients to come in for a skin consultation where we can assess your skin, listen to your concerns, and give you realistic advice on what you are going to be able to achieve and which treatments we believe are going to work best.
IPL Photorejuvenation is a popular treatment; it targets several different skin issues including:
Pigmentation and Sun Spots
If you have noticed little brown dots or brown patches that have started to appear on your skin as you age, they are called sunspots also known as age spots or liver spots. They are caused by UV exposure where your skin has produced too much melanin. They are common on the face, arms hands, and chest. They are not harmful, but they can cause your skin complexion to look uneven and many just do not like the appearance of them.
IPL Photorejuvenation treatment uses intense pulsed light (IPL) technology which is attracted to the colour of cells causing the dark pigmentation. The IPL wavelengths are absorbed by the melanin and haemoglobin in the skin cells which causes the pigment to fragment. These fragments can then be broken down naturally by your body which will result in the sun spots from the skin reducing in appearance making them less visible.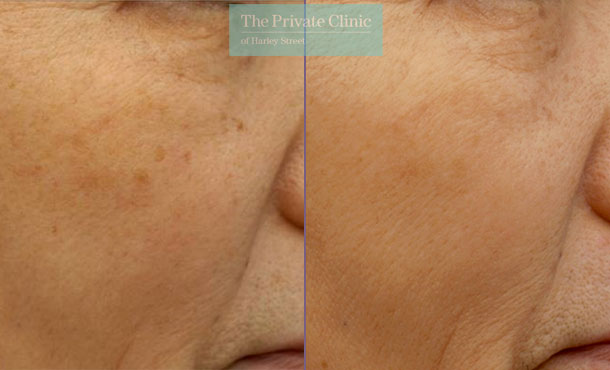 Redness
Facial redness is often a temporary issue caused by overheating or skin sensitivity but for some the redness can be permanent in some areas and in most cases, this is caused by ageing or rosacea. The tiny blood vessels in your skin become damaged and start to appear at the surface of the skin.
IPL Photo rejuvenation can treat many instances of facial redness in a similar method to how it treats pigmentation and sunspots. The wavelengths are absorbed by the red veins which makes them become hot and damaged, and they break up ready to be absorbed by the body.
Lines and Wrinkles
Wrinkles are one of the most visible and common signs of ageing and although there are many treatments that can help reduce the appearance of wrinkles, IPL Phototherapy for wrinkles is a great option that helps to treat the skin giving a brighter and fresher appearance.
The intense pulsed light beams heat the collagen deep in the skin which causes the skin to react by producing more collagen which is known as Neocollagenesis. As the new collagen is produced, this will help to reduce the appearance of fine lines and wrinkles.
 What are the benefits of IPL Photorejuvenation?
There are so many benefits to IPL including:
It does not damage the skin.
Suitable for most skin types.
Treats the whole skin rather than just the targeted areas.
Natural and long-lasting results
No need for incisions or injections
Quick treatment sessions
Minimal side effects and downtime
IPL Photorejuvenation treatment at The Private Clinic
IPL Phototherapy treatment is available in our CQC (Care Quality Commission) state of the art clinics in London Harley Street and Manchester by highly trained skin specialists who have years of experience.
To find out more about IPL Phototherapy, IPL Photorejuvenation, or IPL Photo Facial treatment, contact us on 0333 920 2471 or use our online contact form.