In this blog post, we will be covering the top skin rejuvenation treatments to achieve younger and fresher skin, so you are ready for summer.

1. Laser skin resurfacing
Laser skin resurfacing is a non-invasive laser treatment ideal to rejuvenate the skin as it can target sun damaged skin, pigmentation, brown spots and fine lines and wrinkles.
At The Private Clinic we offer three different types of laser skin resurfacing options:
2. Dermal Fillers
Dermal Fillers are non-invasive treatments that use hyaluronic acid, a naturally occurring substance in our body to plump up the skin and fill in lines, wrinkles or contour the face.
There are several areas that can be targeted with Dermal fillers depending on your desired goals.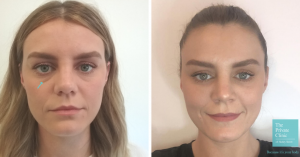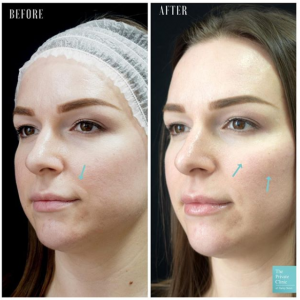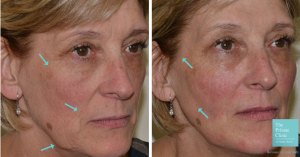 3.One stitch facelift/temporal lift
The one-stitch facelift or 3D Facelift is a surgical procedure, less invasive than a full facelift carried out under local anaesthetic. The results are more subtle in comparison to a full traditional facelift but it provides a firmer, tighter and more rejuvenated appearance to the face. All the stitches are completely hidden under the hairline. There is also a lower risk of swelling and bruising and there is minimal downtime required as patients can be back to work in a day.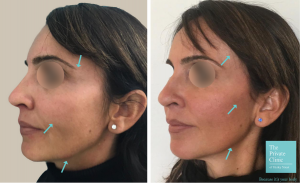 4. Chemical Peels
Chemical Peels are a skin treatment ideal to treat tired skin, sun damaged skin, fine lines, wrinkles and hyperpigmentation. The treatment consists of an intense exfoliating process to remove all the dead cells from the skin surface to reveal a smoother and more even skin.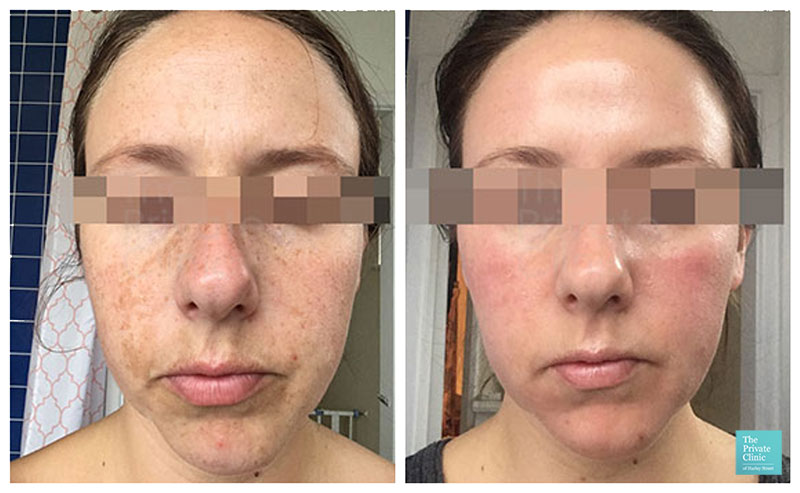 5. Anti-wrinkle injections
Anti-wrinkle injections are a treatment to reduce the appearance of lines and wrinkles. The substance injected (Botulinum toxin), relaxes the facial muscles responsible for causing the moments that create these lines and wrinkles.  This treatment not only targets existing signs of ageing but also prevents the formation of new lines.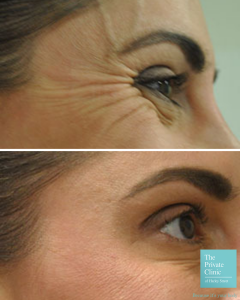 6. Thermage
Thermage is a non-invasive procedure able to tighten and contour the skin at the same time.  Thermage is ideal for patients who want to tighten loose jowls, sagging skin, lines and wrinkles or smooth out any dimples or bulges on the skin.
7. Profhilo
Profhilo is an injectable treatment that encourages your skin to produce more collagen to help rejuvenate the skin and minimise the signs of ageing. This treatment uses a hyaluronic acid solution that spreads within the skin to nourish the dermal cells, to help remodel the skin structure to restore the firmness and elasticity of the skin.
8. Obagi Nu Derm
Obagi Nu-Derm system is a prescribed skin care routine to improve and refresh the overall look of the skin. The system includes a gentle cleanser, toner, correcting cream, blending cream, lotion, moisturiser and sun protection cream. Obagi caters to patients all ages, gender and skin types.
9. Microneedling
Microneedling  is a skin rejuvenating treatment ideal to achieve a smoother, brighter and fresher looking skin. The Dermaroller is a medical roller with hundreds of micro-skin needles. The device is passed across the skin causing small micro punctures in the skin to stimulate the auto regeneration and repair of the skin. A dermapen is an electronic mechanism device with a series of micro-skin needles that vertically pierce the skin to create thousands of tiny puncture points. The tiny punctures then activate the body's natural ability to heal wounds which encourages the renewal of skin cells and the production of collagen and elastin in the skin.
10. Handy Plasma Non Surgical Eyelift
The Handy Plasma non-surgical eyelift treatment is a new way to help improve the appearance of the loose eyelid skin and puffy eyelids without the downtime and costs from surgery. The plasma treatment works by stimulating the contraction, shortening and tightening of skin fibres which then results in a tightening of the skin. The Handy Plasma non-surgical eyelift treatment is a powerful and effective alternative to surgical procedures such as blepharoplasty. This non-surgical treatment is often preferred by patients seeking less invasive procedures with reduced recovery time and none of the complications that can arise before and after surgery.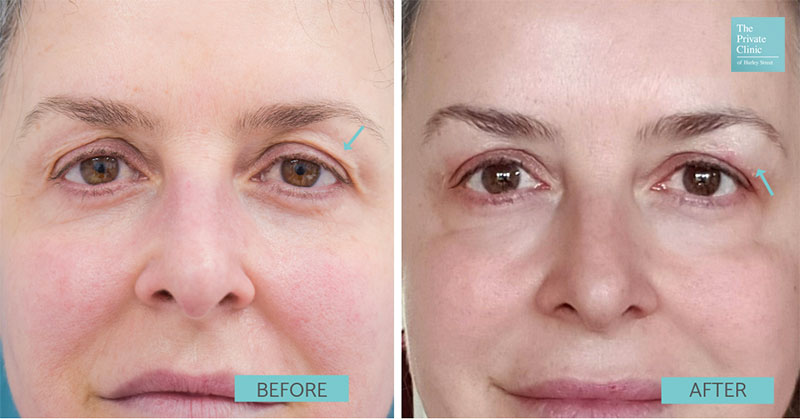 At The Private Clinic, we first listen to what you are seeking to achieve. We can then advise on the optimum course of action for your skin type. The best thing is to book a consultation to discuss the various options available to you.
Our skin clinics are located in London Harley Street, Birmingham, Bristol, Buckinghamshire, Leeds, Manchester and Northampton.
To find out more about our skin treatments or book a skin rejuvenation consultation please call 0333 920 2471 or visit our website.