8 Point Lift
The Problem
As time passes we lose elasticity in our skin and gravity takes its toll on the face, drawing the skin downwards and making us look older. Skin sags and thins affecting us all in
different ways, typically more so for women who have naturally thinner skin.
Non-Surgical Facelift with Dermal Fillers
The 8 Point Lift is a specialised volumising and lifting facial treatment, also referred to as a non-surgical facelift or liquid facelift. The treatment uses dermal fillers to enhance and discreetly lift the face for a total rejuvenating effect. It is also known as the Fluid Facelift and the Liquid Lift.
The 8 Point Lift targets key areas of the mid-face to lift, contour and revitalise the whole mid and lower face.
The 8 point lift treatment is available at our Harley Street, Bristol, Birmingham, Glasgow, Manchester, Leeds, Northampton and Princes Risborough in Bucks clinics.
8 Point Facelift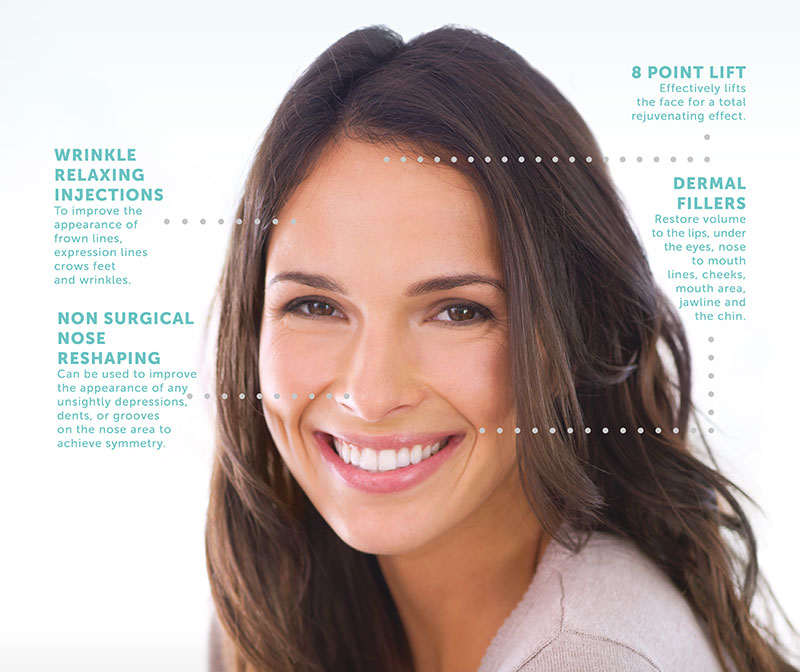 At The Private Clinic, we only use the highest quality of dermal filler brands – in this case made by Allergan.
Many patients come to The Private Clinic to restore lost volume and skin quality. More and more women and men are looking to dermal fillers and dermal filler treatments like the 8 Point Lift to look after their skin and help them look and feel good.
Why Choose The Private Clinic
The Private Clinic of Harley Street has over 30 years of experience providing top level care to patients using the latest and most effective treatments. We specialise in non-invasive and minimally invasive treatments for facial rejuvenation and skin treatments and we offer a wide range of suitable treatments.
The Problem
As time passes we lose elasticity in our skin and gravity takes its toll on the face, drawing the skin downwards and making us look older. Skin sags and thins affecting us all in
different ways, typically more so for women who have naturally thinner skin.
The 8 Point Lift uses high quality dermal fillers to restore volume to the face using an advanced and precise technique for total rejuvenation. It combats the soft tissue loss associated with the ageing process and offers a more complete solution compared to individual dermal filler treatments.
Benefits of a Fluid Face Lift vs Surgical Face Lift:
| | | |
| --- | --- | --- |
| | 8 Point Lift | Surgical Facelift |
| Anaesthesia | None | General Anaesthetic |
| Risk of bleeding | None | Yes |
| Stitches | None | Yes |
| Scarring | None | Hidden scars |
| Downtime | None | At least 1 week |
| Natural results | Yes | To some extent |
| Affordable | Yes | Not for everyone |
The Results
The results last for up to 18 months and there is no downtime associated with the procedure – making it a very popular treatment.
Dr Amendola has many years of experience and offers the 8 Point Lift. He is able to assess the face in its entirety to deliver assured results that match your face. Dr Amendola has helped many patients achieve long-lasting natural-looking results, confidently and safely.
FAQs
What is the 8 Point Lift?
The 8 Point Lift, also known as a Fluid Face Lift can treat a range of different concerns, revealing a younger looking you.
The treatment usually involves three sessions:
Appointment one will be a 30 minute consultation with one of our cosmetic doctors. We will examine your face and talk to you in depth about what you would like to achieve before beginning your treatment as appropriate.
Appointment two will usually take place two weeks later. Dermal fillers will be used around the eyes and cheek bones to give your face a more defined look and to restore volume. We may also use fillers to restore fullness and shape to your lips, chin and nose. Different injection techniques will be used to make sure we get a result that is just right for you.
Appointment three will take place about six weeks later and the treatment will depend on the results achieved at your previous sessions. The doctor will assess your progress and add the final finishing touches as necessary. This way we can ensure you get natural looking, subtle results that don't look 'overdone'.
Does the treatment hurt?
Our Doctors are highly experienced in injectable treatments and their intricacy and light-handed skills make such treatments virtually pain-less.
How long will the results last?
For your safety, we only use temporary Dermal Fillers here at The Private Clinic. As such, the results are temporary meaning you will need to touch up periodically (probably every 6-9 months) to maintain the look. However, over time most people need less product, less frequently to achieve the results they want.
How much does 8 Point Lift cost?
The 8 Point Lift is carried out using a mixture of the highest quality fillers and costs around £1,200, but may vary depending on your needs.

All images, videos and testimonials are based on the personal experiences of our patients and represent individual body shapes and results. Please bear in mind that results may vary from person to person. All testimonies are provided voluntarily by our patients and clients. Their comments have not been altered in any way, and their experiences are their own.
We are one of the UK's leading cosmetic groups, with some of the most experienced doctors and nurses working with us. Since 1983 our ambition has been to perfect the most natural looking results and to help you look and feel your very best.
Our most important consideration is YOU – your safety and your results.
The Private Clinic, you will be treated by a registered, experienced practitioner, using the highest quality of approved products. We only offer tried and tested, fully approved medical products produced by worldwide, renowned manufacturers, such as Allergan and Azzalure, and all of our injectable treatments are carried out by cosmetic doctors or nurse prescribers, who have undergone extensive additional training to qualify in prescribing wrinkle injections.

Comments from patients
I have lost count of the number of people who have said I look well and happy since I have been coming to The Private Clinic in Princes Risborough for my treatments. From the reception staff who always put me at ease, my doctor Fiona Durban and the subtle, natural looking results of my treatments, I am very happy to put myself in their hands.

Anna, Bucks
"I had an appointment with you in October for the 8 Point Lift. I'm very pleased with the results – subtle, natural, no one noticed but have had lots of compliments and just more confident with myself now. The Private Clinic did a great job and I will most definitely re-visit in the future." *

Sue, Bristol
'I was very impressed with Dr Amendola and extremely pleased with my treatment, the results exceeded my expectations. Dr Amendola was professional and courteous and gave me very good advice and I felt very reassured at the end of the consultation. I would definitely recommend seeing him.' *

Fiona
The Treatment
FAQs
In The News
Available in these clinics