The skin around your eyes is much thinner than the skin on other areas of your body, and is actually the thinnest on your face. Repeated exposure to ultraviolet rays in the sun, however, damages the skins' elastin proteins and collagen, causing this skin to thin even more and unfortunately fine lines to develop, such as crow's feet around the eyes. These are among the first wrinkles to develop on your face. Thinning skin can also lead to pesky hollowed areas under the eyes, taking the appearance of dark circles or "bags" and resulting in a constantly tired look. Too much smoking, pollution, lack of sleep, laughter and hereditary factors all also contribute to wrinkles and dark circles in this part of the face.
We've all tried and tested various methods for reducing our wrinkles, fine lines and dark circles, but sometimes these are just not enough. In this blog we present some of the best anti-ageing treatments for youthful eyes, offering non-invasive, minimally-invasive and surgical solutions, and how they can help. To find out which under eye ageing treatment is appropriate for your individual skin concerns, we recommend you schedule a consultation with one of our experienced aesthetic nurses or doctors who can assess your unique case.
The best injectable treatments for eyes?
Wrinkle relaxing injections are the world's most popular non-invasive treatment, reducing the appearance of crow's feet and other deep wrinkles and lines. The treatment not only works miracles in smoothing out existing lines and wrinkles, but at the same time prevents new lines from developing, by relaxing facial muscles, reducing excessive facial movements.
Tear trough filler is another non-surgical treatment restoring volume to the hollowed area underneath your eyes. But how does it work? Dermal filler, containing hyaluronic acid (the body's natural moisturiser) is carefully injected to the depression under the eyes or just beneath it. This plumps up the area meanwhile smoothing out contours between the eyes and cheeks.
The best Laser Treatments for the eye area?
Laser resurfacing treatments are a minimally-invasive, innovative way to tackle signs of ageing, such as lines, wrinkles and age spots, requiring no excessive downtime. The wondrous technology uses thermal energy to remove the skin's very outer layers, stimulating the natural healing process of the body and encouraging the growth of new skin. We have three types of Laser Skin Resurfacing treatments available Pearl, Pearl Fractional and Pearl Fusion. Pearl is often most suitable for finer wrinkles and sunspots whereas Pearl Fractional is often used for deeper wrinkles. Pearl Fusion is a combination of both treatments but the treatment most suited for you will be decided by your practitioner during consultation.

Regenlight is a a more gentle, gradual and discrete option of tackling eye wrinkles and crow's feet, Regenlite is a non-invasive treatment requiring minimal downtime. The laser treatment rejuvenates the skin while improving the appearance of wrinkles and lines and ageing in general. A typical course of Regenlite consists of 3-5 sessions, each session being every couple of weeks. Post treatment, there should be no visible signs of the procedure and the majority of patients can leave the clinic and return to work immediately. Some patients may experience slight redness but this is rare, and will resolve within a few days. Sometimes a combination of treatments is the best option; however, an expert skin practitioner will recommend the appropriate treatment plan for you.
The best surgery for Eye Bag Removal and Eyelid Lift?
A blepharoplasty is a quick, simple and safe surgical procedure for reducing drooping around the eyes, tightening any folds and creases in both the lower and upper eyelids and lifting the skin around the eyes. The simple procedure repositions or removes excess tissue and skin around the eyelids. A blepharoplasty can also be a great solution for those suffering from hooded eyelids (the upper eyelid folded over the eye) or looking to minimise age-associated puffiness, such as eye bags. Upper and lower blepharoplasties are possible as well as combined procedures.
For some eyelid surgery patients, a fat transfer or re-positioning may be advised for eyelid areas where fat volume has been lost. The hollow eyelid look can be ageing and so by adding or filling in the upper eyelid a younger look can be achieved. Fat re-positioning commonly involves local eyelid fat being transferred to the patient's eyelid hollow, but can also use fat from other bodily areas. At The Private Clinic, other bodily areas we commonly use include the abdomen, flanks and knees.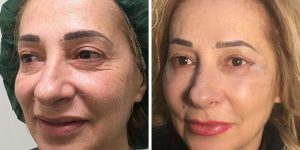 Handy Plasma non-surgical eyelift treatment 
Our Handy Plasma non-surgical eyelift treatment is a new way to help improve the appearance of the loose eyelid skin and puffy eyelids without the downtime and costs from surgery. The treatment uses a Plexr® Plasma Pen device applicator which ionises the gas particles in the air between the device tip and your skin which emits a small electric arc. This electric arc creates a substance known as plasma which causes the target skin tissue to go from being solid to a gas state therefore instantly vaporizing the excess skin and tightening what remains leaving a carbon crust on the area. The non-surgical eye lifts treatment is able to remove the excess eyelid skin and tighten up wrinkles located around the eyes whilst being entirely non-invasive with no need for incisions, scalpels or stitches. Ideal patients for our Handy Plasma treatment will have mild to moderate loose skin around the upper eyelid area.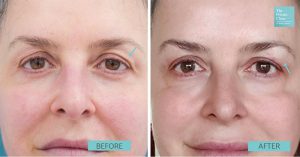 Why choose The Private Clinic?
Our reputable medical team have pioneered the industry's most advanced skin procedures for more than 5 years, treating thousands of patients every year. We are committed to achieving outstanding results and delivering exceptional patient care and are proud to have achieved a 5 Star Rating and 9.3 TrustScore on Trustpilot.
If you are interested in our minimally and non-invasive injectable or laser skin treatments, we offer consultations with our industry leading anti-ageing specialists, who are able to assess your individual case and devise for you a bespoke treatment plan at any of our clinics in London Harley Street, Birmingham, Leeds, Manchester and Northampton.
To find out if a blepharoplasty procedure is right for you, book a consultation with one of our blepharoplasty surgeons, representing some of the most reputable Consultant Plastic & Reconstructive Surgeons in the UK, with years of expertise and experience.
Find out more about our Anti-Aging Eye Treatments by calling 03339 209135 or using our online contact form on our website.