Thermage® CPT is a pioneering non-surgical skin treatment that addresses the visible signs of ageing in a matter of minutes. In just one 30-minute treatment session, it helps to smooth, tighten and contour the skin for a completely refreshed and rejuvenated look. It is most well-known for its ability to produce long-lasting and completely natural-looking results without any invasive surgery or downtime. This has made it popular with a wealth of celebrities including Demi Moore, Jennifer Aniston and Gwyneth Paltrow, who all favour the treatment for its understated yet impactful results.
Thermage: Skin Tightening & Skin Lifting in one
Another key factor that makes the treatment so popular is that it does two transformational actions at once; it both tightens and firms the skin's texture while also generating a natural three-dimensional lift. This has made it ideal for patients who want to lift loose and sagging areas of skin across their face for example, like sagging skin across the cheeks or jowls, while also tightening up the skin's texture so that wrinkles, deep crevices and uneven skin tone can be smoothed, firmed and tightened.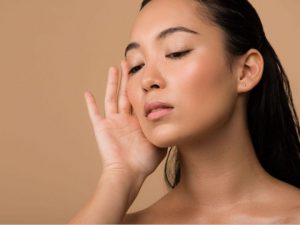 Thermage CPT® Treatment Benefits
As one of the world's leading skin tightening and lifting treatments, Thermage can:
Create tighter, smoother looking skin
Soften the appearance of fine lines and wrinkles
Reduce the appearance of jowls
Lift sagging skin
Tighten uneven skin
Reduce the appearance of deep-set pores
Reduce scowl lines
Minimise the appearance of crow's feet
Soften forehead lines
Reduce acne scars
Contour the shape of the jawline

What areas can Thermage lift and tighten?
Thermage stands out against other non-surgical treatments because it can lift and tighten skin across both the face and body. Thermage uses thermal radiofrequency (RF) energy to heat the deep collagen-rich layers of the skin's dermis. This stimulating energy kickstarts the body's own cell renewal process, resulting in firmer and more lifted skin that radiates strength, tautness and luminosity. Thermage has been designed to lift and tighten skin around the face, eyes and neck area, but it can also be used to provide a visible lift to areas of the body like the stomach (abdomen), arms, butt and knees. Thermage can lift and tighten skin across:
The face (upper and lower)
Eyelids (with Thermage Eyes)
Undereye area (with Thermage Eyes)
Forehead
Jowls
Jawline
Cheeks
Neck
Décolletage (chest area) – the 'Turkey Neck'
Stomach (abdomen)
Arms – 'Bingo wings'
Knees
Buttocks
Thighs
Wrinkled hands

How does Thermage tighten the skin? 
The Thermage Skin Tightening process
As we age, collagen proteins in our skin begin to gradually deplete. Collagen is a central component of the connective tissues in our skin, so when it starts to break down over time, our skin loses its elasticity and strength, resulting in sagging skin, fine lines and wrinkles.
Collagen works by keeping our skin tissues taut and connected; it acts exactly like a foundational structure, so when it starts to break down, our skin droops and sags with it, as it doesn't have a well-formed structural skeleton like it had before. This is why deep-set wrinkles start to appear, and our pores appear larger than they once were.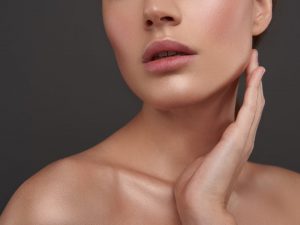 Collagen contraction – immediate skin tightening 
Thermage corrects this process by using radiofrequency (RF) technology to heat up the collagen strands that already exist in the skin's dermis layer. It uses a cooling tip device to maximise patient comfort while the heating process is occurring. This applied heat energy then separates water molecules from the fibrous collagen, causing a three-dimensional contraction of the collagen protein. This contraction generates an instant tightening of the collagen structures, which immediately restores strength to the skin's connective tissues. Skin is tightened and firmed immediately, as the collagen layers continually remodel themselves over time for the next stage of the skin renewal process. As a result, wrinkles are smoothed out and the appearance of large pores are reduced as the skin tightens up. The lines and crevices that appeared before are reduced as skin laxity is directly treated through this advanced tightening process.

How does Thermage lift the skin?
The Thermage Skin Lifting process
After an initial tightening of the skin, Thermage works in a continuously uplifting way by remodelling collagen tissues and encouraging new ones to build. Once the initial Thermage treatment has taken place, skin will feel firmer and tighter as the existing collagen stores contract. Then, over the following few months, new collagen structures will grow to further tighten and lift the skin over time.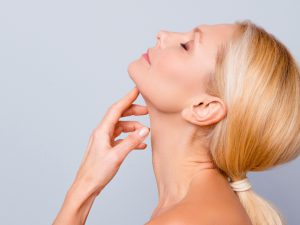 Collagen reproduction – gradual skin lifting
Thermage's advanced radiofrequency heat energy doesn't just stimulate collagen contraction while the treatment takes place. The heat energy acts as a catalyst for a new cell regeneration process that replenishes the skin with fresh collagen stores. The body responds to the heat stimulation energy afterwards by activating a secondary healing response that deposits new collagen proteins in the connective skin tissues of the skin. Existing collagen stores are also continually remodelled as part of this process so that they provide greater strength and structural support to the surface layers of the skin.
These gradual processes work to saturate the skin with fresh and renewed collagen stores within 2 to 6 months after the Thermage treatment session. At this time, patients will notice a visible lift to areas of skin that have sagged downwards over time. Jowls will look lifted and replenished and the visible effect of sagging skin will be eradicated as the skin lifts itself back up thanks to the remodelling and reproduction of collagen proteins.
Thermage Skin Lifting and Skin Tightening Results
How soon will I notice results? 
Most patients will experience an immediate visible improvement in their skin quality. This is due to the collagen contraction process which stimulates a rapid tightening and firming of the skin. Over time, the body will naturally rebuild and renew its collagen stores, with optimal skin improvements showing through between 2 to 6 months after a single treatment. Skin will appear brighter, smoother and more luminous by this time, and results can last for years depending on your ageing process and natural skin condition. Explore our Thermage before and after photos page to see the tightening and lifting effects of this leading skin treatment.
Benefit from Thermage treatments that are delivered by world-class medically trained specialists with years of experience in non-surgical procedures.
Dr Hao Hanson Yu is one of our leading Thermage practitioners, having spent years honing his craft across a range of renowned luxury and aesthetic brands.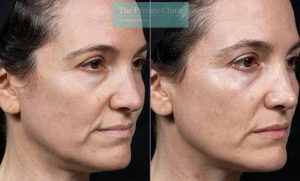 Non Surgical Skin Tightening at The Private Clinic
The Private Clinic is one of the leading non-invasive treatment clinics offering Thermage therapy in the UK.
As well as Thermage, we also offer Ultherapy treatment for non-surgical skin tightening treatment.
Ultherapy uses micro-focused ultrasound with visualisation (MFU-V) energy and is suitable for the face, neck, chin and eyebrows. Find out more here.
Why choose The Private Clinic?
As multi-award-winning aesthetics specialist with a 5-Star Trustpilot rating. We offer our patients exceptional levels of care and professionalism at our network of non-surgical skin tightening clinics in London, Birmingham, Manchester, Northampton, Buckinghamshire and Leeds.
Book a consultation for Thermage or other skin tightening treatments today by filling out our online contact form. Alternatively, you can call our contact centre directly on 0333 920 2471.