Looking at social media you can't miss the many celebrities flaunting their selfies  – with flawless skin and forever youthful appearances, it may leave you feeling slightly deflated! But more often than not their perfected skin is all down to a simple treatment or routine which you don't need a big celebrity budget to afford.
We are going to share our top celebrity favourites;
Microneedling
The microneedling treatment's popularity is steadily increasing with many people realising that sometimes beauty needs to come with a little bit of pain! One version of microneedling is known as a dermaroller treatment, a genuine dermaroller is a medical roller with hundreds of micro-skin needles all over. The roller is then passed over the skin causing small punctures to the surface of your skin.
Another version of microneedling treatment is known as Dermapen which is small medical device that looks like a pen which has a pattern of needles which move vertically back and forth as the pen is passed over the face.
A dermaroller or dermapen treatment can help improve; fine lines and wrinkles, acne scarring, sun damaged skin, uneven skin tone and stretch marks to name a few.
The treatment stimulates your skin encouraging it to produce more collagen which then leaves your skin looking smoother and brighter.
Jennifer Anniston and Ellen De Generes are reported to be big fans of the treatment and Jessica Hayes from ITV's Love Island has posted snaps of her receiving the treatment on social media.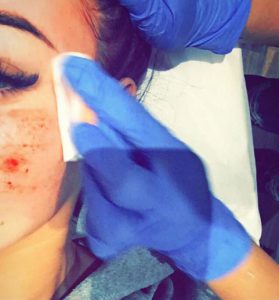 © Jessica Hayes Instagram
Microneedling Treatment is offered at our London Harley Street,  Birmingham, Bristol, Leeds, Manchester, Northampton  and Buckinghamshire clinics.
Dermal Fillers
Have they? Haven't they? Dermal Fillers are a common discussion point alongside Botox when talking about celebrity treatments.
Dermal fillers are used to introduce volume back into areas of the face that have lost volume during the ageing process. You will have probably heard of Dermal Fillers being used in the lips with celebrities such as Kylie Jenner and Charlotte Crosby admitting to having the treatment. But Dermal Filler is also used all over the face including chin, cheeks, tear troughs and even your nose.
Michelle Heaton for example has had dermal fillers in her under-eye area, cheeks, nose-to-mouth lines and jawline after her mastectomy and hysterectomy brought on the early menopause which she felt left her with a gaunt face.

© Michelle Heaton/Daily Mail
Dermal Fillers are offered at our London Harley Street, Birmingham, Bristol, Leeds, Manchester, Glasgow, Northampton and Buckinghamshire clinics.
Laser Treatments
You may have noticed that a lot of celebrities these days are claiming that laser treatments are the reason for their refreshingly youthful looks and clear skin. Compared to fillers and wrinkle relaxing injections, laser treatments are another celeb skincare favourite that they are happy to admit too. Gwyneth Paltrow is a huge advocate for the Thermage treatment which is a non-invasive procedure that helps tighten and contour your skin. Denise Richards is also a laser treatment fan, admitting to having IPL Photorejuvenation treatment which is effective in smoothing out the tone and texture of your skin as well as helping to treat Rosacea, age spots, sun damage/spots, and general skin tone irregularities.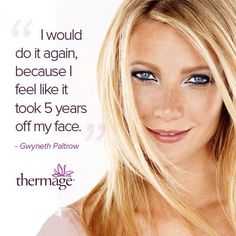 "I would do it again, because I feel like it took 5 years off my face" – Gwyneth Paltrow
Theramage Treatment is offered at our London Harley Street clinic.
IPL Photorejuvenation Treatment is offered at our London Harley Street, Bristol, Leeds and Manchester clinics.

Microdermabrasion
A microdermabrasion facial is a perfect first treatment for someone who has never has a cosmetic treatment before. It is a mild resurfacing treatment that is ideal for all skin types. It removes the outermost layer of the skin whilst stimulating the underlying epidermis that promotes collagen and elastin.
It is a great way to keep your skin in tip top condition all year round if you have regular treatments. You can also combine a microdermabrasion with other treatments such as a chemical peel to really boost the condition of your skin.
The treatment itself is very quick, pain free and there is generally no down-time – straight back to work after it, perfect for celebrities and their busy schedules such as Naomi Campbell and Cindy Crawford who has admitted to having treatments before.
"I've been getting microdermabrasion facials for 13 years, and that's been great for my skin." – Cindy Crawford
Microdermabrasion is offered at our London Harley Street, Birmingham, Bristol, Leeds, Manchester and Northampton clinics.
Chemical Peel
A chemical peel treatment written down sounds horrendous! But don't worry, only the good types of chemicals are used which aim to revitalise your skin. A chemical peel can be used to treat a number of problems, including sun damage, acne scarring, hyper pigmentation, fine lines, wrinkles, and tired looking skin.
The downtime can be a long one, so not one to have if you have a busy weekend planned. This does depend on the peel used however; the TCA peel makes the skin  tighten, darken and then peel over the course of 5-7 days. A gentler peel can give you some initial redness which will settle over just a few hours for most people, so you could go back to work and no one would know.
It is reported that Madonna likes to have her chemical peels based on glycerol acid, which result in baby-soft new skin.
Of course, if you are not quite ready to start treatment then one of the best celebrity tips for keeping your skin in good condition, and one that we are a huge advocate of is the use of sun cream everyday. Protecting your face from UV rays is your best way of delaying the effects of ageing including wrinkles and hyperpigmentation. Wearing suncream or even a SPF moisturiser 365 days a year, rain or shine, inside or outside is one small step that you can take to achieve healthier looking skin.
Chemical Peels are offered at our London Harley Street, Birmingham, Bristol, Northampton, Manchester, Leeds and Buckinghamshire clinics.
The Private Clinic
Here at The Private Clinic we are the UK's leading non-invasive cosmetic group and have some of the most experienced nurses and skin therapists working with us. During your consultation one of our highly experienced practitioners will talk you through the different types of treatments available and explain how they could work for your particular skin concerns. Please call 0333 920 9135 to find out more or to book a consultation.