Crossing the Vermillion Border with Juvederm's VOLBELLA
DERMAL FILLERS
Home » Crossing the Vermillion Border with Juvederm's VOLBELLA
Juvederm became somewhat of a household name for beauty aficionados after Kylie Jenner revealed that she uses the brand's Dermal Fillers to plump up her lips. Specifically, the brand's VYCROSS range (which includes products such as Juvederm VOLUMA and Juvederm VOLIFT ) is currently considered as being top of the line, but keeping in mind the current trend for Lip Augmentation, we'd like to highlight one product in particular: Juvederm VOLBELLA.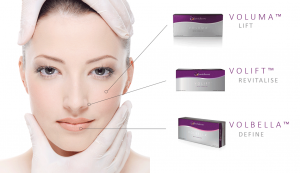 The VYCROSS line was designed to specifically target certain areas of the face, with VOLBELLA being intended for adding volume to the lips. The science behind these Dermal Fillers is what sets them apart, and is why VOLBELLA can be considered as one of the best Lip Fillers around.
What is VOLBELLA made of?
Like most high-quality Dermal Fillers, VOLBELLA is made out of a kind of carbohydrate fluid, commonly found in the eyes and joints, known as Hyaluronic Acid.
It acts as a cushion and lubricant that is constantly broken down and replaced by the body. As time goes by its effects fade, but that's an advantage when it's used for cosmetic purposes, as it allows for customisation and doesn't restrict a patient's options permanently.
What sets VOLBELLA apart other Lip Fillers?
The patented technology used to make VOLBELLA is wherein the genius of the product lies. It all comes down to how the Hyaluronic Acid is produced, which in this case required tweaks to be made at a molecular level, in order to alter the weight and consistency of the gel.
In doing so, your practitioner gains greater control over the injecting process, which is made smoother since the gel is easier to push through the syringe, and flows more steadily. Thanks to this, there is far less discomfort for the patient, and because VOLBELLA is so moldable, it becomes simpler to contour the lips and achieve natural looking results.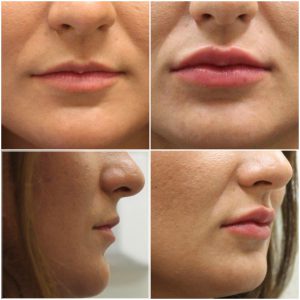 While other brands will have fillers made with 100% high molecular weight Hyaluronic Acid, VOLBELLA only uses 10% of the latter and 90% of its low molecular weight counterpart. By ensuring that the gel properties of the VOLBELLA filler are optimised to such an extent, the risk of lumps and bumps is minimised, along with the potential for bruising, or swelling.
The best part is that the effects of this generation of fillers last longer – with our patients reporting results that have spanned over 12 to 18 months.
Dermal Fillers at The Private Clinic
Dermal Fillers are useful cosmetic tools for those who prefer minimally invasive cosmetic treatments, but their application isn't regulated, so we advise all our patients to only trust medical professionals to perform such treatments. Nurse Prescribers and Aesthetic Doctors are experts in their field and you can expect them to give advice you on the most suitable treatments for your desired results.
Aesthetic Doctors
Aesthetic Nurses
We offer lip filler, chin filler, cheek filler, tear trough filler and non-surgical nose job filler.
We offer Dermal Filler and Lip Fillers treatments at our London Harley Street, Birmingham, Bristol, Leeds Buckinghamshire, Northampton and Manchester clinics.
To find out more about dermal fillers or to book a consultation please call 0333 920 9135 or use our online dermal filler contact form.
Find out more about the safety of fillers.