Everything you need to know about dermal fillers removal
DERMAL FILLERS
Home » Everything you need to know about dermal fillers removal
When you book to have dermal filler treatment, dermal filler removal is most likely the last thing on your mind – but it is still important to consider and be aware of. 
We encourage those seeking dermal filler to ensure that their practitioner also offers dermal filler removal. Dermal filler removal is a very specialised procedure that uses a drug called Hyalase to breakdown the filler. Hyalase is a prescription-only drug which can only be prescribed by a doctor, dentist, or nurse prescriber in a clinic. If your practitioner is not a medical professional, then they will not be able to prescribe this drug for you and so it is always recommended that you enquire about the availability of fillers removal treatment in your dermal filler consultation. 
How to remove dermal fillers?
Dermal filler can be removed with an injectable treatment known as Hyaluronidase or Hyalase. This is injected into the area treated with dermal fillers. 
Hyalase is already naturally found in the body just like hyaluronic acid is. The enzyme dissolves hyaluronic acid by breaking up the bonds that hold the HA molecules together. Once broken down, these molecules are naturally absorbed by the body with no adverse effects.  
How long does dermal filler removal take?
Your appointment time will last around 30 minutes, it will involve a consultation to discuss your concerns with the aesthetic nurse or doctor, they will examine the area to decide on the best course of action.  If suitable for Hyalase treatment then this will be administered and injected into the area.  
Is dermal filler removal instant?
You will notice a reduction in volume to the area immediately after the treatment however swelling is common so it may be difficult to see the full effects from filler removal treatment so quickly. We advise patients to allow 72 hours for the treatment to take full effect.  
Am I suitable for dermal filler removal?
Dermal filler removal treatment is suitable for anyone who has had hyaluronic acid (HA) filler.  
Dermal filler removal treatment with hyalase can be performed anywhere that you have had dermal filler placed including: 

Why would I need dermal filler removal?
We have highly qualified aesthetic doctors and nurses working at our clinics and their expert techniques are able to achieve the best results and lots of satisfied patients. However, some issues can be beyond our control and in these instances filler removal may be required.  
Patients who have had filler from unregulated practices may not be happy with their results and some may be left with long lasting lumps and bumps which may need to be removed before they have any further filler treatments.  
Reasons why patients may need filler removal include issues with: 
Filler Migration

 – When the filler moves from the area treated to another area of the face.

 
Lumps or Bumps

 – Lumpy or irregular texture that is not responsive to massage.

 
Infection

 – Infection can occur at the site of the injection.

 
Excessive Swelling

 – Swelling that has not reduced after 2-3 days.

 
Unwanted Results

 – When you are not happy with the results of treatment. 

 
Vascular Occlusion

 – A very rare side risk of dermal filler when blood is no longer able to pass through a blood vessel within the area treated.

 
Dermal filler removal before and after results photo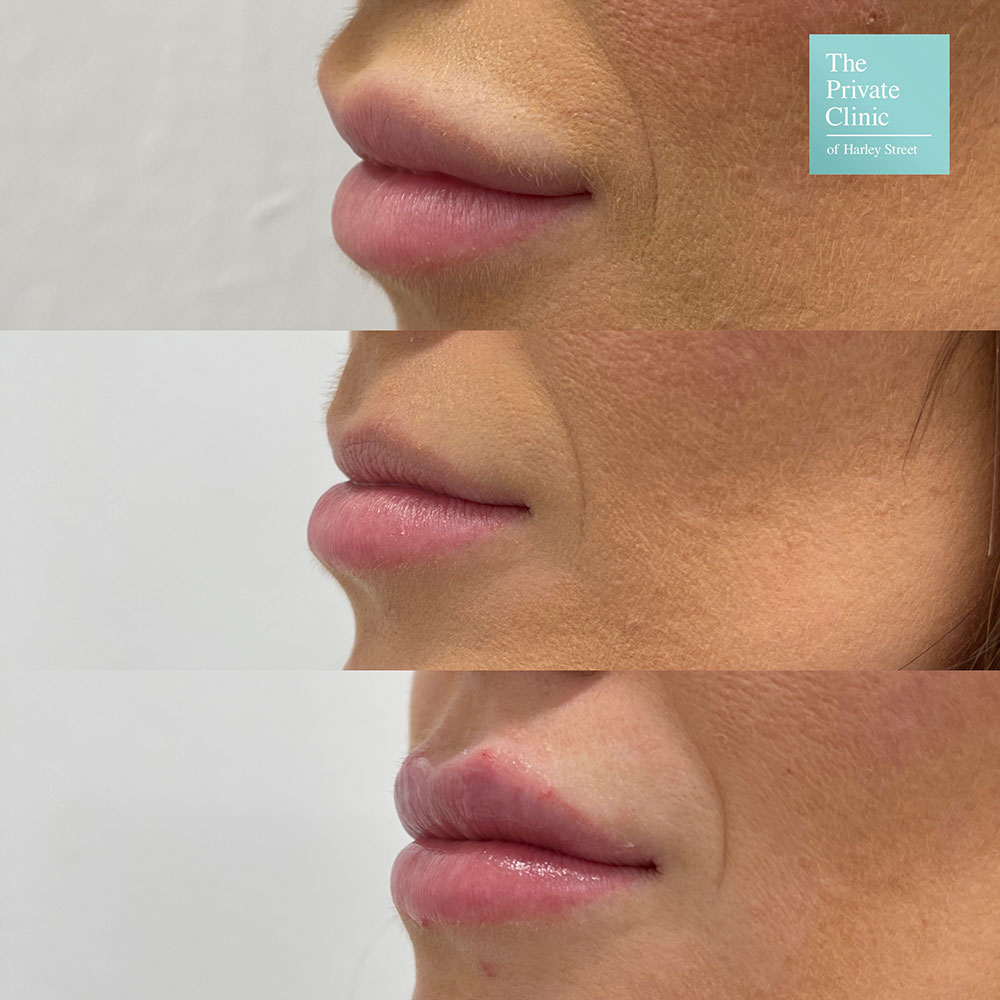 This patient had lip filler treatment at another clinic, they felt that their lips were left looking puffy and overfilled. Tell-tale signs of an overfilled lip include lips that are overly smooth with no natural puckering of the pink tissue and a white puffy border where the filler has migrated above the lips. 
Our expert Aesthetic Doctor, Dr Hanson dissolved the old filler using Hyalase treatment and after 2 weeks she returned to have them refilled with a lesser amount.  
You can see from her photos how the treatment rebalanced her proportions, giving her a more natural look and shape without looking overdone.  
Dermal Filler Removal at The Private Clinic
At The Private Clinic all of our injectable treatments are carried out by expert cosmetic doctor, nurse, or surgeon prescribers, who have undergone extensive additional training to qualify in prescribing and performing all types of Dermal Filler injection treatments including dermal filler removal.  
We have clinics located in: 
To find out more about dermal filler removal please contact us on 0333 920 2471 or use out online contact form.