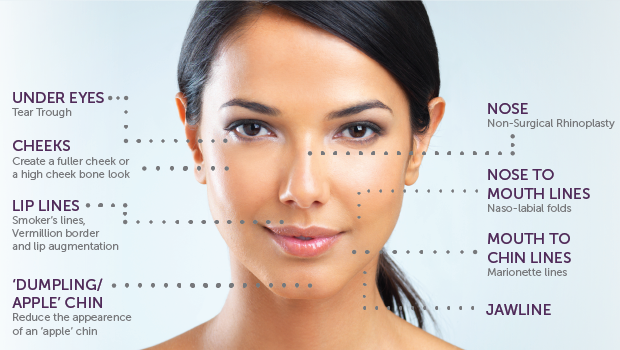 10 Facts about Dermal Fillers
DERMAL FILLERS
Home » 10 Facts about Dermal Fillers
Dermal fillers are growing in popularity as a means to treat the appearance of the early signs of ageing and reduce fine lines and wrinkles, contour the face, improve the appearance of lips, nose and act as an alternative to surgical facelifts.
In this blog post, we will be covering 10 facts about Dermal fillers for you to learn more about this treatment and make an informed decision before undergoing this procedure.
Dermal Fillers can treat different concerns.
Dermal fillers are non-invasive treatments to reduce the appearance of fine lines and wrinkles and add volume to different areas of the face (cheeks, chin, lips and tear trough) achieving smooth and youthful results.
Dermal fillers can also act as non-surgical treatments to treat other concerns such as the shape of the nose by performing a non-surgical rhinoplasty or replicate the effects of a surgical facelift.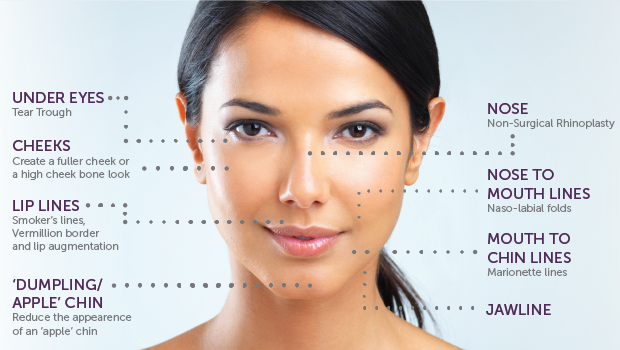 The areas that can be treated with dermal fillers are:
Cheeks to improve the volume and enhance the cheekbone definition.
Lips, for lip augmentation and shape.
Tear Trough for the under eye area that can appear hollow.
Nose (non-surgical rhinoplasty).
Lip Lines, to reduce the appearance of smoker's lines on top of the lips.
Chin to refine or add more definition to the chin area.
Mouth to chin lines, (marionette Lines).
Jawline, to improve the definition and overall shape.
The procedure is non-invasive.
Dermal fillers are a non-invasive and non-surgical procedure. It does not involve any incisions and no anaestheic. Some paitents may choose to have topical local anaesthetic applied to the area ahead of treatment however. The treatment involves injecting Hyaluronic Acid into the area being treated. This is carried out either via simple syringe injections, or a cannula may be used.
Dermal fillers are injections of a naturally occurring ingredient in our body.
The dermal filler solution that is injected is made from Hyaluronic Acid. Hyaluronic Acid is an ingredient that is naturally found in the human body able to absorb moisture creating a plumping effect.  Its ability to generate this plumping effect is what makes it ideal to restore the lost volume in certain areas of the face. As we age, our ability to produce hyaluronic acid reduces which can cause hallowing and sagging of the skin.
There are different types of dermal filler available, for instance at The Private Clinic we use different fillers depending on the area to be treated. Our team of expert doctors, nurses or surgeons will be able to determine the most suitable dermal filler for the area to be treated and achieve the best-desired outcome.


Dermal fillers must be performed by an expert.
When undergoing any aesthetic procedure it is very important that you do some research around the practitioner and the clinic that you are choosing to go to.  Please always take into consideration the clinic's safety standards, the practitioner expertise, the products that will be used to treat you and if the clinic is CQC registered.
For instance, at The Private Clinic, we pride ourselves on our outstanding reputation within the cosmetic sector with highly qualified doctors, nurses and surgeons. We always achieve high safety standards and all of our clinics are registered with Care Quality Commission.
Wrinkles injections are not the same as dermal fillers.
Dermal fillers and wrinkle injections are both injectable treatments but they are used to treat different issues as each treatment has different purposes.
Both treatments can be utilised to effectively reduce the appearance of fine lines and wrinkles. However, wrinkle injections are performed to relax the muscle which causes the wrinkles to relax and reduce in appearance and dermal fillers are utilised to add volume to the areas of concern which can also result in wrinkles looking reduced as they are filled out.
There has been an increase on male patients looking for dermal fillers.
Traditionally dermal fillers have always been associated mainly with women; however, many men are now looking into dermal filler treatments to improve their appearance. The approach to male dermal filler treatment is often different from that of a female as ageing affects men and women differently so the desired results from male patients are often different to those of a female patient.
The results are not permanent.
The results of dermal filler are non-permanent but usually last around 4 to 13 months which will vary depending on the area treated and the type of filler used. The effects of dermal fillers will fade over time as they get absorbed by the body, so your doctor or nurse will advise when it is the best time to visit the clinic again to restore the loss of volume and maintain the results.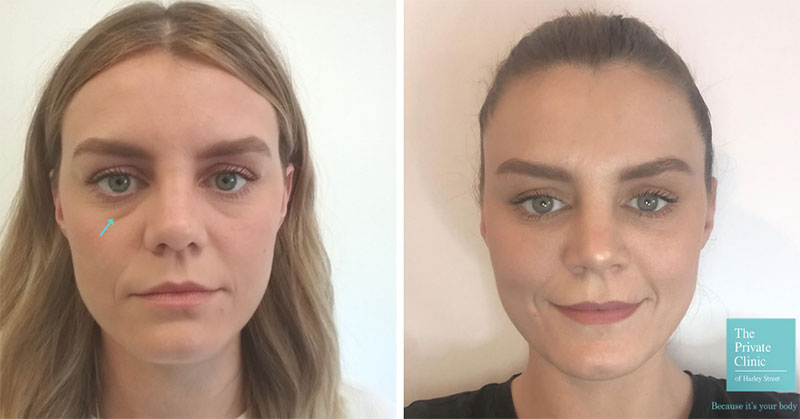 There are some side effects associated with dermal fillers.
As with all cosmetic procedures, there are some risks and side effects associated with dermal filler treatments. The most common side effects patients experience are redness, bruising and swelling after the procedure. There are other more significant but less common side effects from dermal fillers which include; infection, necrosis, blindness or contour irregularities but these will all be discussed ahead of your procedure in consultation.
Dermal filler is not a painful procedure.
Dermal fillers are not a painful procedure as they usually have an anaesthetic included in the dermal filler product. However, it is also possible to apply topical local anaesthetic prior to the treatment in order to make the procedure even more comfortable for the patient.
The downtime required after a dermal filler treatment is minimal.
There is no downtime involved with dermal fillers, however, you might experience, as previously mentioned, some bruising, redness and swelling after the treatment which usually lasts 24-48 hours.


Dermal Filler Treatment at The Private Clinic
At The Private Clinic all of our injectable treatments are carried out by cosmetic doctor, nurse or surgeon prescribers, who have undergone extensive additional training to qualify in prescribing and performing Dermal Filler injections. We pride ourselves on only using the highest quality brand of temporary fillers such as Juvederm® from reputable manufacturers such as Allergan which are renowned for their superior standards.
We have dermal filler clinics in: London Harley Street, Birmingham, Bristol, Buckinghamshire, Leeds, Manchester and Northampton.
Aesthetic Doctors
Aesthetic Nurses
If you are interested in dermal fillers please contact us on 0333 920 2471 or use our online dermal filler contact form.