As the faces of age defying celebrities grace our screens, social media feeds and favourite magazine covers it can often leave us wondering what their secret is. Without delving deep into their personal diaries the answers are usually hard to find but many celebrities have started sharing their beauty secrets and the treatments mentioned are actually more attainable then you originally might have thought.
Model, Isabeli Fontana has recently been reported to recommend having "a little bit of Botox" endorsing the treatment in a candid interview about how to overcome ageing in modelling.
"A little bit of Botox is not bad,  Botox can change your face a lot, so it has to be very subtle, but if you don't do it, age will mark your skin and I don't like that at all."
What Isabeli is touching on is actually a very common misconception of cosmetic treatments like botox and dermal filler making your face look 'overdone' and unnatural. At The Private Clinic, we like our patients to achieve a more natural look, instead of changing their appearance it is out aim to restore their face leaving them both looking and feeling fresher and more rejuvenated rather than having a new identify.
Cameron Diaz touched on this by saying "They're to help people feel a little bit better about themselves." in her book titled 'The Longevity Book'. "If they do feel better about themselves, then those procedures have worked. I have no problem with that. And in a lot of instances, it does make you look like you've taken a nap…or that you might be a little younger than you looked maybe the day before."
Another celebrity botox fan is American presenter Kelly Ripa who had admitted to having 'bad botox' previously but when done in the right way she is proof that natural results can be achieved and that cosmetic treatments do not have to completely change your appearance.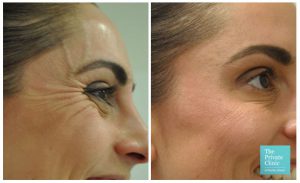 Another great treatment that is a celebrity favourite is Intense Pulsed Light Photorejuvenation which is more commonly referred to as IPL. IPL Skin Rejuvenation is a really effective skin rejuvenation treatment to help smooth and tone the texture of your skin and can really help patients who have rosacea, age spots, sun damage/spots and general skin tone irregularities.
Angela Jolie is reportedly a big fan of IPL treatment after experiencing dark spots on her face after pregnancy.
"When I got pregnant, I had darker areas [on my face] that got darker. So I do IPL every once in a while"
The photo facial is a hit with many other celebrities including Khloe Kardashian and Jennifer Aniston. It is a great treatment for restoring your youthful glow without super-invasive treatment.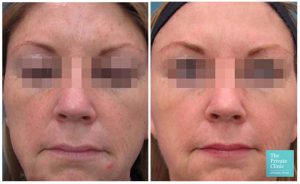 We finish off our celebrity treatment secrets with the often shied away from; chemical peel treatment. The name is slightly concerning but we can assure you that only good chemicals are used in chemical peel treatments that are not going to damage your face. There are a lot of varieties of chemical peels including glycolic peels, enzyme peels and TCA peels each targeting different skin concerns and come in different strengths so we recommend that you visit one of our skin specialists who can help guide you on what peel is going to give you the best results.
It has been reported that Beyonce herself is a keen fan of an Enzyme Peel which she has on a monthly basis. An enzyme peel is a type of peel that can help to remove keratin build up and helps to brighten and clarify the skin often reducing scars, age spots, fine lines and pigmentation with regular use.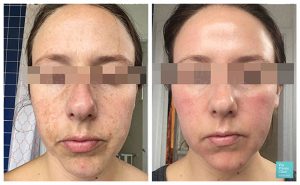 The Private Clinic have a team of experienced skin experts who offer free consultations to all patients who are looking to refresh your skin. Whether you are new to aesthetic treatments or have tried them previously, our team are devoted to helping you achieve the best and most natural results.
We have skin rejuvenation and injectable clinics across the UK including, London Harley Street, Birmingham, Bristol, Buckinghamshire,  Leeds, Manchester and Northampton.
To book a consultation to find out more about the treatments we offer, please call 0333 920 2471 or use our online contact form to get booked in at a clinic local to you.