Should celebrities be honest about cosmetic treatment?
COSMETIC SURGERY
Home » Should celebrities be honest about cosmetic treatment?
In a recent interview with Vogue, pop singer Iggy Azalea decided to open up about her experience with plastic surgery, admitting without hesitation that she'd undergone a breast augmentation.
The 24 year old, best known for her song Fancy, was asked in the interview what she would change about her body to which she replied "I did change something, four months ago I got bigger boobs! I'd thought about it my entire life."
The rapper commented she didn't originally plan on being open about the surgery, particularly as she didn't want to put pressure on young fans to do the same, but decided she "wasn't into secret keeping" and took the plunge to tell the world.
Far from putting pressure on people to copy, some people have taken Azalea's admission as a positive thing; suggesting that it actually shows women that nobody is 'naturally perfect'. Samantha Allen, writing for thedailybeast.com compared Azalea's  answer to one from Katy Perry in 2010, in which the curvy pop princess answered "Well, my boobs are real" when questioned to give an interesting fact about herself. Allen writes:
"talking about "self-empowerment" while bragging about being "au naturel" in the same breath sends a dangerous mixed message. Women are under just as much pressure to be natural as they are to be perfect."
Perhaps Samantha makes a good point, particularly in light of this week's most prominent social media storm which showed just how far some go because of tenuous influence from celebrities. The #KylieJennerChallenge (which took over Twitter and Instagram and was in no way endorsed by the television personality herself) encourages participants put their lips into glasses, bottles and…well…anything they can find to emulate the star's seemingly new-found pout.
Kylie Jenner, who is only 17, has strenuously denied having any form of treatment on her lips and insists her new visage is down to clever make up and knowing how to pout properly. However, taking Samantha Allen's point into view, it could be the concept of her lips being natural that has driven so many people to attempt dangerous emulation. Far from achieving Hollywood-worthy lips, the majority of challenge-triers have ended up with a bruised, split or even bleeding mouth from the pressure of the suction or, in some cases, from glass breaking directly on to their face. Doctors have also commented how the challenge could leave serious long-term damage, with collagen weakened and tissues damaged. Leading many to have thinner lips than they would have originally.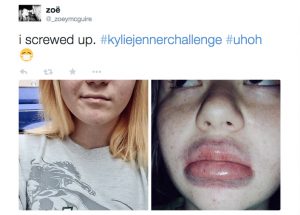 Cosmetic treatment, no matter how small, should always be something you think very heavily about before undergoing; you need the safest clinic, the very best medical team, and the knowledge that you're always going to be treated as an individual. We take your thoughts and feelings into consideration during every consultation, meaning we'll only ever allow patients to go ahead if we believe it's going to be beneficial for them and if we believe they'll be happy with the results. With over 35 years' experience as a leading UK clinic, our staff are highly experienced medical experts giving you the chance to find the right treatment to achieve your goals safely and effectively.
If you would like to discuss your cosmetic surgery options, please call 03339209135 or use our online contact form.