Temperatures are finally starting to reflect the time of the year so it seems summer's here at last. But for those who suffer from excessive sweating, the arrival of summer can be bad news.
Perspiration is common for the majority of us in the warmer months. You may find you are getting through more deodorant than usual, feeling thirstier (to replace those lost fluids), and need to wash our bodies, clothes and bedding more often.
Sweating is a natural reaction to regulating our core body temperature, and it is very effective at doing so too. But if you feel you are producing more (than what seems normal) amount of sweat it may be that you're suffering from a condition called hyperhidrosis.
Hyperhidrosis is the medical term for excessive sweating, and although it doesn't pose a serious health risk it can be embarrassing and frustrating for the sufferer.
What causes it?
Hyperhidrosis is believed to be caused by a problem with the sympathetic nervous system.
The sympathetic nervous system is responsible for much of the body's unconscious jobs such as passing urine from the kidneys to the bladder. It's also responsible for producing sweat – a system designed to help the body regulate its temperature.
When the brain fails to communicate when and how to regulate the production of sweat, this is when hyperhidrosis occurs.
Other causes include the menopause, an over-active thyroid, drunkenness or being 'high' from drugs and certain medications.
Can it be treated?
Excessive sweating is in fact treatable and if you suffer from it to the point that it's ruining the enjoyment of your everyday life then treatment definitely should be considered.
Here at The Private Clinic we offer a proven Botox treatment that can banish excessive sweating for up to a year.
What's involved in hyperhidrosis treatment?
You will have an initial consultation which will involve a practitioner talking you through the procedure and you will be asked about your medical history. You may require an iodine and starch test which will find out the areas where sweating is the most apparent
A topical local anaesthetic will then be applied to the areas that you want to be treated. 20 minutes later once the anaesthetic has had effect, a tiny amount of Botox solution will be injected into the skin using a very fine needle, targeting about 10-15 sites spaced about 1cm apart.
When does it take effect, and how long will it last?
You should notice that your sweating has reduced considerably within 3 to 7 days of treatment. The effects of the injection should last between 6 and 12 months. As soon as you notice a return to excessive sweating you can come back to us for more treatment.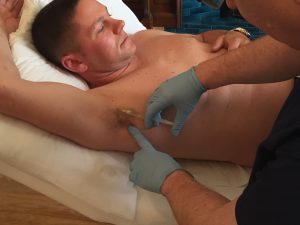 Previous patient and hyperhidrosis sufferer Scott came to us recently to discuss treatment. He led an active lifestyle and at the age of 32 he finally felt it was time to explore treatments that would rid him of the problem that was heavily impacting his life.
"Working in a mostly male environment it's something that the boys often make fun of"
Dr Simon Connelly performed the injections on Scott, which only took around 30 minutes and 4 days later Scott started to feel the effects.  He had found inner confidence in not needing to worry anymore about excessive wet stains coming from his under arms.
"I will definitely continue to have this treatment. I am delighted with the results and I'm looking forward to my first holiday in a long time where I can buy whatever colour of shirt or t-shirt without trying to hide how much I am sweating!"
Read Scott's full story here
The Private Clinic
We are the UK's leading non-invasive cosmetic group and have some of the best doctors in the country working with us. Hyperhidrosis treatment is carried out at the following clinics;
Harley Street London, London City, Birmingham,  Glasgow, Manchester, Leeds, Princes Risborough, Northampton
*All images, videos and testimonials are based on the personal experiences of our patients and represent individual body shapes and results. Results may vary from person to person. All testimonials are provided voluntarily by our patients and clients and all photos and videos have been consented to and have not been altered in any way.