A breast uplift procedure is a common request for patients who feel their breasts have dropped in position and lack volume in the upper half of the chest. Some common reasons for this include;
Pregnancy and Breast Feeding
Substantial Weight Loss
Ageing Skin
For some breast sagging or dropping is just natural part of ageing but for others who have experienced premature sagging to the breasts it can deeply affect and reduce self-confidence especially when it comes to undressing and even when it comes to choosing outfits to wear.
A breast uplift or a mastopexy as it is medically known is a cosmetic surgery procedure that aims to raise the position of the breast by tightening the surrounding tissue giving a bit more shape and natural support to the bust.

A common question that is asked at consultations with our surgeons is "Do I have enough breast volume to just get a lift, or do I need a lift with implants?"
The answer to this question depends on how you wish your desired result to look. In a breast uplift procedure the volume of your breast should remain unchanged but they may look smaller due to the change in position of the nipple. Only breast skin tissue is removed during an uplift procedure unlike a breast reduction where fat is removed also with the aim to reduce the volume.  The end result of an uplift procedure is a perkier bust but if you are looking for a slight increase in volume as well then a combined Breast Uplift procedure with Breast Implants would be recommended.
Patient Aysha came to see Mr Adrian Richards at The Private Clinic as she felt that her breasts were looking empty after breast feeding her 2 children.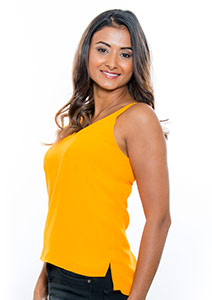 "My breasts were feeling empty due to loosing volume after breastfeeding two children. I also felt my areolas were a little large anyway and combined with the loss in volume I just felt they looked hideous and it really affected my confidence."
Aysha decided to have a combined Breast Enlargement and Breast Uplift procedure to firstly restore the volume lost during breastfeeding and tighten up the excess skin resulting in a more lifted and fuller appearance.
"Since having the surgery my life now feels amazing. Physically my breasts are fuller and my areolas are smaller but mentally I just feel much more confident in myself and in what I wear."
Read Aysha's patient story here.
So essentially, you don't 'need' implants with breast uplift – it is actually more common for patients that want just breast implants to be suggested to combine it with a lift. An ideal candidate for breast uplift is someone who feels their breasts are sagging and requires them to be lifted to a higher position – whether you need implants as well or not is a personal preference which can be discussed with your surgeon.
Why Choose The Private Clinic?
24 hour patient helpline to ensure you are always in the best of hands.
As many post-operative care and appointments with your surgeon and nursing team as required.
Three years cover for all surgical, hospital and nursing care, in case of any medical issue giving you peace of mind.
Comprehensive Breast Uplift Patient Guide.
Highly experienced Cosmetic Surgeons who have years of experience in Breast Uplift procedures.
Outstanding hospital facilities.
Our excellent reputation for patient safety, satisfaction, honest advice and outstanding care means your journey with The Private Clinic will be an exciting experience to a new found shape.
Breast Uplift Surgeons at The Private Clinic
To find out more about the Breast Uplift procedure or to book a consultation with one of our expert surgeons or knowledgeable patient advisors please call 03339209135 or use our breast uplift online contact form to request a callback.