How long does Blepharoplasty Eye Lift Surgery last ?
BLEPHAROPLASTY EYELIDS SURGERY
Home » How long does Blepharoplasty Eye Lift Surgery last ?
When it comes to cosmetic surgery it is worth noting that nothing lasts forever and even though surgical procedures will last longer than non-surgical treatments there will come a point where the results of surgery are not quite as strong as they once were?
So how long does a Blepharoplasty / Eyebag / Eyelid Surgery last?
We usually say on average you will be able to reap the awards of eyelid surgery for at least 10-15 years but this does all depend on how you naturally age and your genetics.
A blepharoplasty procedure aims to correct hooded or drooping eyelids by removing excess fat and skin from around the eyes. Depending on what is bothering you, you will have either an upper or lower blepharoplasty (eye bag removal) but some patients who have more severe eye problems may feel they need the combined procedure to restore a youthful and refreshed appearance.
The procedure itself is quite straightforward however it takes the skills of an experienced plastic surgeon to use extreme precision along the natural folds of your eyes to prevent scarring and ensure a recovery that is as quick as possible. Which is why in order to get the best, and most long-lasting results choosing the right and most experienced surgeon is vital.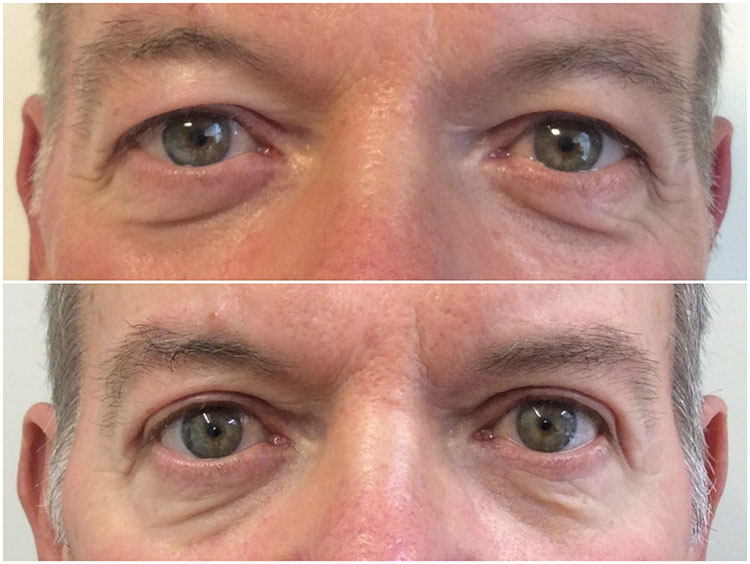 The results of a blepharoplasty procedure can leave you with a more youthful appearance but it is important to remember that there is nothing that can stop your body ageing and over time the results of the procedure can seem less dramatic.
Having said that, overall the results are generally permanent. The fat removed is not able to grow back and any bags under the eyes or sagging above the eye should not return again once the excess skin is removed and tightened.
The vast majority of patients who have a blepharoplasty will not have to go through it again especially if you have gone to a qualified and experienced surgeon and you are realistic about your results.
We often say to patients to consider regular non-surgical treatments to help preserve their results with our range of skin rejuvenation treatments and injectables that we offer in the majority of our clinics including Anti-wrinkle injections, Profhilo and thread lifts.

Why choose The Private Clinic?
The Private Clinic prides itself on ensuring you have the best quality and most comprehensive care:
24-hour patient helpline to ensure you are always in the best of hands.
As many post-operative care and appointments with your surgeon and nursing team as required.
Three years cover for all surgical, hospital and nursing care, in case of any medical issue giving you peace of mind.
Comprehensive Eyelid Surgery Patient Guide.
Highly experienced Cosmetic Surgeons who have years of experience in Eyelid Surgery.
Outstanding hospital facilities.
Read our extensive blepharoplasty FAQs
Consultations are available in London, Manchester, Leeds, Birmingham and Northampton clinics.
Our excellent reputation for patient safety, satisfaction, honest advice and outstanding care means your journey with The Private Clinic will be an exciting experience to a new look.
To find out more about the Blepharoplasty procedure or to book a consultation please call 0333 920 9135 or use our eyelid surgery online contact form.