There is often a common misconception that cosmetic procedures are only for women but there are actually a wide range of treatments that are very common for the male population to undergo. All it takes is a little bit of research and you are often dealt with a wide range of treatments and solutions for the concerns you are having. Here at The Private Clinic our priority is you, which is why we aim to offer the best range of treatments for both male and females to help you feel good.
Here is our list of some of the most common cosmetic procedures for men that you may have not even known existed.
Hair Transplant
Hair loss is such a common issue with men (more so than females) so it is surprising when some men have not even heard of, yet alone considered, a hair transplant. Many men assume a hair transplant means a large area of their scalp being removed which is more typical of a follicular unit transfer (FUT) procedure. We only use the follicular unit extraction method here which leaves very minimal signs that you have had anything done.
The FUE method instead extracts hair follicles one by one from your donor area and then carefully places them in the areas being treated. You will have slight redness and very small pin marks for a few days after the procedure but little to no scaring will be visible in the long-term.
We also have an option of different styles of FUE Hair Transplants, before your procedure you will be required to shave your hair which can be off-putting for many  but you may suitable for an unshaven FUE Hair transplant which does not require you to shave at all and instead extracts your donor hair at full length. Your hair is not however transplanted at full length; it is instead trimmed to the shorter length and then implanted the same as a standard FUE procedure.  You will still experience some redness but your existing longer hair will then be able to hide the evidence of a hair transplant taking place. In most cases we are able to do a partially shaven or 'marine' procedure meaning we only shave the back and sides, which fits nicely with the most popular haircut for men this year.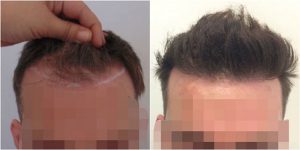 Hair Transplant clinics at: London Harley Street, Birmingham, Manchester, Leeds, Bristol and Northampton
Male Chest Reduction
"Man boobs" are not generally something discussed amongst groups of male friends unless in jest, but with many men expressing their embarrassment around removing their top, going to the gym and swimming -I'm sure many would be pleased to know that there is something that can be done.
"Man boobs", or gynaecomastia, as it is medically known, consist of the enlargement of the male breast tissue.  True gynaecomastia is not fat tissue; it is glandular tissue which is why exercise is very unlikely to make any change and in some cases can actually make it worse.
There are many ways to perform a male chest reduction, the post popular choice is vaser liposuction but for smaller areas micro liposuction may be ideal. These are both day case procedures and you will be able to return home afterwards. For larger areas then you may be recommended to have surgical liposuction which usually requires overnight stay.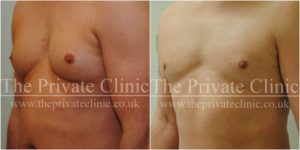 Male Chest Reduction clinics available in: Birmingham, Bristol, London Harley Street, Leeds, Manchester, Buckinghamshire and Northampton
Blepharoplasty
One of the biggest ageing factors for men is their eyes, hooded lids and puffy bags are common complaints for many men which unfortunately no amount of skin care will be able to reverse.
A blepharoplasty is a surgical procedure for the eyes that either targets the upper, lower or entire eye area to lift or remove excess skin surrounding it to achieve a rejuvenated youthful appearance.
A simple upper blepharoplasty is a short 30 minute procedure that can also be performed under local anaesthetic. A lower blepharoplasty is a little more complex and requires you to be under general anaesthetic and can take between 1-2 hours. Both operations are performed as day case procedures however meaning that you will not need to have an overnight stay.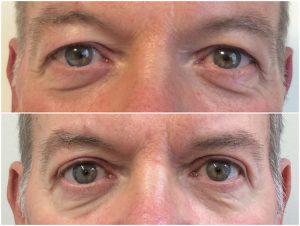 Blepharoplasty clinics available at: Birmingham, Bristol, London Harley Street, Leeds, Manchester and Northampton
Hyperhidrosis
Excessive sweating is often reserved for someone who is feeling nervous and scared or someone who has had a good session in the gym but for some of us it is an everyday occurrence that is becoming a huge inconvenience especially in warmer weather.
Hyperhidrosis is actually a medical term for excessive sweating and it can occur anywhere from the armpits to your hands and feet. What many don't know is that there are actually some treatments that can help reduce the sweating.
Botulinum toxin can actually be injected into the skin in areas where excessive sweating occurs. The most popular place to inject is the armpits. The substance works to block the signals that run between the brain and sweat glands to stop sweating.  It does involve around 15+ injections in the areas being treated but this quick 30 minute procedure can be a saving grace for sufferers.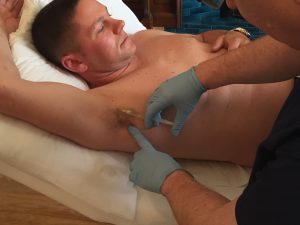 Hyperhidrosis treatment available at: London Harley Street, Birmingham, Bristol, Leeds, Manchester, Northampton and Buckinghamshire.
Hi-Definition Vaser Liposuction
The gyms are becoming busier places these days with more of us spending the time working on achieving our dream bodies but for some, the work just may not feel like it's paying off. Stubborn areas of fat are common issues and especially when you are taking the time to eat right and exercise regularly it can be very frustrated and disheartening.
Alongside Vaser Liposuction, which is one of the most popular minimally-invasive liposuction procedures aimed at removing excess fat – we also offer a Vaser Hi-Def which goes a stage further and not only reduces the fat, but also tones it creating an athletic, sculpted appearance which is a popular choice for many men.
The procedure works by removing both superficial and deep fat that surrounds muscle groups when then enhances the appearance of the muscles and the surgeon is then able to sculpt and define the underlying muscles through a gentle suction process. The treatment is often used to create an athletic six pack, defined upper arms and strong looking pectorals.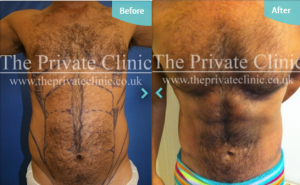 Vaser Liposuction Clinics available at: London Harley Street, Birmingham, Manchester, Leeds and Bristol 
Varicose Vein Treatment
It is incredible what an unsightly vein can do to someone's confidence, including even the most outgoing of men.
Varicose veins are most commonly found on the legs and are easily diagnosed by their lumpy or twisted appearance.
Traditionally the treatment for veins like these was a surgical stripping method which understandably many of us were keen to avoid due to the downtime. New methods these days have made vein removal a much less painful experience with limited downtime too.
Our minimally invasive EVLA (Endovenous Laser Ablation) procedure is increasingly popular with varicose vein sufferers. The procedure takes around 45 minutes and you are able to leave the clinic afterwards with minimal pain or discomfort returning to your usual activities (with some restrictions) relatively quickly. We also offer VenaSeal, foam sclereotherapy and phlebectomy procedures to remove varicose veins.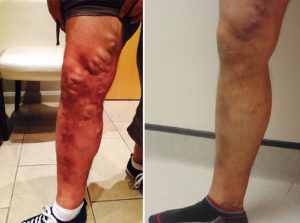 Varicose Vein treatment clinics available at: London Harley Street, Birmingham, Bristol, Leeds, Northampton, Manchester, Bexhill Veins Clinic and Bournemouth Veins Clinic
The Private Clinic
Our team of Consultant and Reconstructive Plastic Surgeons is dedicated to helping you achieve the body you want by relying on their extensive knowledge and experience. It's a goal shared by our Consultant Cosmetic Doctors, who specialise in Body Contouring techniques and have spent years perfecting their Liposuction skills. You can expect our team to treat you in complete confidence and with absolute professionalism when you come in for a consultation.
To find out more about the procedures we offer, or to book a consultation you can call 0333 920 2471 or use our online contact form.