Top 5 Non-Invasive Cosmetic treatments for Men
MALE TREATMENTS
Home » Top 5 Non-Invasive Cosmetic treatments for Men
Cosmetic procedures have always been associated with women however, more and more men are undergoing cosmetic treatments to combat and prevent the signs of ageing or improve the look of their skin and hair.
Research by the British Association of Aesthetic Plastic Surgeons (BAAPS) shows that men undergoing cosmetic treatments have increased, with 2,417 men having cosmetic enhancements last year alone. In this blog post, we will be covering the top 5 non-invasive cosmetic treatments for men.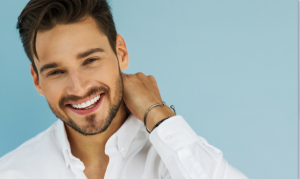 Botox (anti-wrinkle injections) for men

Botox is a non-invasive treatment that consists of injecting certain areas of the skin to prevent and reduce the appearance of fine lines and wrinkles.
The substance injected in called botulinum toxin, an FDA approved neurotoxin protein that blocks the signal emitted by the nerves to the muscles so the muscles are no longer able to contract. By blocking the signal, the muscles relax and the lines and wrinkles are reduced.
Many men choose Botox to refresh and rejuvenate their appearance and avoid looking tired, it's a favourite for top executives.
Dermal Fillers for men

Dermal fillers are another type of injectable cosmetic treatment able to restore the loss of volume and smooth deep lines and wrinkles.
Dermal fillers are ideal to contour the face and enhance the natural features. A popular treatment among working men is tear trough filler to address the under eye circles. Dermal filler can provide a subtle change for a younger and more awake look, removing the dark circles.
Chemical Peels for men

Many men are looking after their skin leading to an increase in the demand for facial treatments such as chemical peels ideal to treat acne scars, pigmentation or wrinkles.
Chemical peels are non-invasive treatments that consist of removing any dead skin and resurfacing the skin through deep exfoliation. The result is softer, healthier and brighter looking skin.
CoolSculpting® for men

CoolSculpting®  also known as Fat Freezing is a non-invasive and non surgical fat reduction treatment that is ideal at removing areas of excess fat that have been resistant to diet and exercise. CoolSculpting uses controlled cooling technology to freeze fat cells without damaging the surrounding tissue. The downtime following CoolSculpting is minimal, the area may feel tender for a few days following treatment but you will be able to return to your everyday activities almost instantly with many patients returning to the gym the day following treatment. The results from CoolSculpting fat reduction treatment are gradual as your body will naturally dispose of the destroyed fat cells over time but many see improvements within 8-12 weeks of treatment.


Laser Hair Removal for men

Laser hair removal is another popular procedure among men. Grooming can take up a lot of time so laser hair removal provides a time-saving and permanent solution to this. Laser hair removal can also help to reduce the appearance of unwanted ingrown hairs.
Laser hair removal uses light energy to heat up the hair follicles to then destroy them preventing them from growing back.  It is a very safe and effective treatment where patients are able to see a reduction in hair growth by an 80-90% after one treatment course.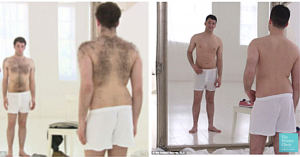 We have non-invasive skin treatments at our clinics across the UK including, London Harley Street, Birmingham, Bristol, Buckinghamshire, Glasgow, Leeds, Manchester and Northampton.
To book your free consultation please call 0333 920 2471 or use our online contact form to get booked in at a clinic local to you.