The American Academy of Facial Plastic and Reconstructive Surgery (AAFPRS) is the world's largest specialty association for facial plastic surgery. They represent more than 2,700 facial plastic and reconstructive surgeons throughout the world which is why when they released the results of their male cosmetic maintenance survey we were keen to find out what the men of the world are booking in for compared to us in the UK!
Cosmetic treatments are becoming increasingly popular and are no longer reserved for the likes of women and celebrities only – it is now evident that treatments such as laser skin resurfacing and anti-wrinkle injections are much more common in masculine circles.
Reasons for the sudden rise in interest vary with the most popular being to feel better about themselves and looking less tired or stressed. But also interestingly others reported they would have a treatment to please their partner and to remain competitive in their careers.
Speaking to our team of practitioners they have said that men are not necessarily trying to combat ageing but are instead just aiming to maintain a youthful appearance or even make themselves look 'right for their age' when they appear older than they are. Reports find the most common ages for the majority of male clients they see is 25 – 44, which is a real cross section.
So what are they coming in for?
Anti-wrinkle injections are used to soften those deep lines and wrinkles most commonly found on the forehead. Men tend to be bigger frowners than women which often results in them being more prone to developing those deep frown lines and burrows which make them an ideal candidate for this treatment.
Practitioners treating male patients need to find the right balance between using enough of the product to get results, but not so much as to lift the brows into an unnatural position (in men, eyebrows are usually lower and straighter compared to a more feminine arched brow) which is why it is important you go to someone who has had plenty of experience injecting anti-wrinkle injections for men.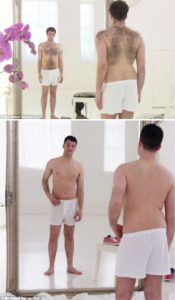 However men are now becoming more aware of other non-invasive procedures, beyond anti-wrinkle injections, that are available to them.
Chemical peels, microdermabrasions and even the Dermaroller are all great treatments for men who want to achieve a younger and fresher looking face. There are also a range of treatments that are useful at targeting skin issues such as rosacea, acne and pigmentation.
Laser hair removal is also becoming increasingly popular in our clinics with men. We are able to treat all areas of the body from removing unwanted back hair to tidying up those angry looking brows.  Men are more likely to steer away from their regular wax and threading appointments and instead commit to a course of laser hair removal as once their course has finished it is far less likely that the hair will grow back again.
The Private Clinic
At The Private Clinic we understand that looking great and feeling amazing is just as important to men as it is to women. The majority of our procedures are able to be performed on everyone but since the composition of a male body is different from a woman's, the goal and methods used may also be quite different. We work with a number of practitioners, nurses and doctors who are highly experienced in treating everyone.  Our priority is you.
Visit us for a consultation in our clinics located nationwide;
London Harley Street, Birmingham, Bristol, Buckinghamshire (Princes Risborough), Glasgow, Leeds, Manchester and Northampton