You may be surprised to know that there has been a 12% rise in the number of blepharoplasty (eyelid surgery) operations in the last year as many are seeking bag-free eyes.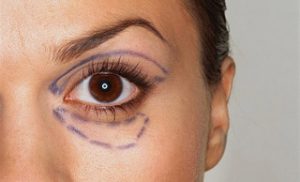 Everyone has heard of the facelift but many are still unaware of the blepharoplasty procedure and the amazing results it can deliver with little downtime.
Is a blepharoplasty the right procedure for me?
The most common reason for people to choose eyelid surgery is for cosmetic reasons. We are finding ourselves more conscious of our appearance with social media becoming a wide source of sharing pictures many find ourselves comparing ourselves to others close to us.
But drooping skin around the eye area in some cases may be impacting on your life causing vision loss and eye fatigue.
What are my options?
There are three types of blepharoplasty procedures;
Upper Blepharoplasty – This is when the skin and sometimes fat is removed from the upper eyelid. It is often a quick procedure that can be performed under a local anaesthetic. The downtime is minimal with patients being able to return home shortly after the procedure.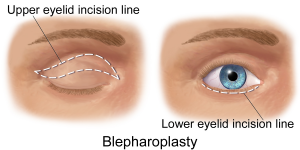 Lower Blepharoplasty – This is when fat is removed or sometimes repositioned in order to reduce the appearance of bags or wrinkles underneath the eye area.  This procedure is a little more complex than the upper blepharoplasty and will need to be performed under a general anaesthetic
Combined Blepharoplasty – This is when both of the above procedures are carried out at the same time. This is usually only needed for more severe cases but the best method for you will be discussed at your consultation.
Is it safe?
Here at The Private Clinic, we would not be offering any treatment, procedure or product that is not safe. It is natural for anyone to feel concerned about the risks of surgery especially one being carried out on your delicate eye area. The key to achieving the best out of your surgical procedure is to pick the best surgeon suited for the job. Research is key and you will never regret doing above and beyond to ensure you are well informed.  Ask all the questions you need to ask your surgeon about the procedure but also about them as a surgeon, they should be happy to answer anything. Ask to see before and after photos and make sure you are well aware of not only what happens during the operation but what you will need to due to ensure a swift and easy recovery post-procedure too.
Are the results permanent?
Generally, the results of surgery are permanent although you have to be aware that the ageing of your face will still continue over time. Many patients return in the future for anti-ageing treatments such as anti-wrinkle injections and dermal fillers to help maintain a more youthful appearance.
At The Private Clinic, your eyelid surgery will be tailored to you depending on the nature and severity of your excess eyelid skin. We all have different needs and wants which is why it is best to come for a consultation to discuss these with a patient advisor or surgeon.
The Private Clinic

Our Plastic Surgery team consists of some of the Country's most reputable Consultant Plastic & Reconstructive Surgeons who have years of experience and expertise. We are proud to have:
To learn more about blepharoplasty treatments, see before and after images of our patients and read useful FAQ's please visit our website.
If you would like to arrange a consultation, please call us on 0333 920 2471 or you can request a blepharoplasty consultation via our website.