The Daily Mail's FEMAIL team investigate MicroLipo – a fat removal and body contouring procedure popular in the US but only available at The Private Clinic of Harley Street  here in the UK. Here's what they had to say about their transformation: MicroLipo in the Daily Mail.
What is MicroLipo?
MicroLipo is a minimally invasive fat removal procedure that gets its name from the microcannulas (medical tubes) that are carefully inserted into the body to gently remove unwanted body fat. Tumescent anaesthetic is used to completely numb the area with the added benefit of firming and separating the fat cells from the surrounding tissue for easier removal. Patients can be completely transformed and return to work very quickly, and daily life very soon.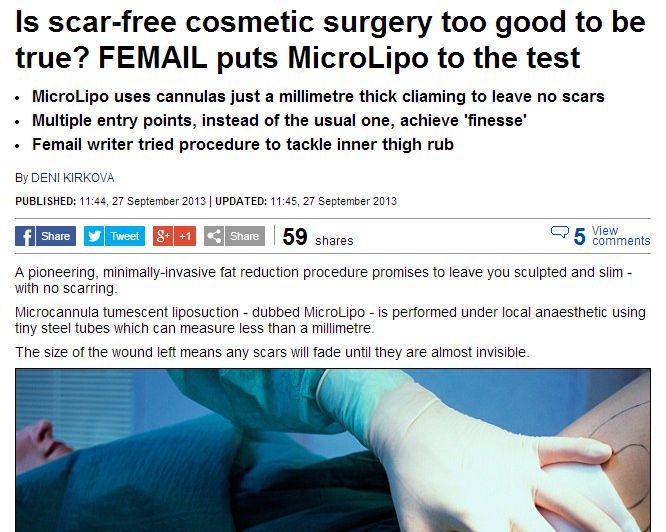 Why Choose MicroLipo?
MicroLipo is a great alternative to VASER Lipo, Laser Lipo and other invasive or non-invasive fat removal procedures. Dr Gupta is able to show people during consultations lots of before and after images, on top of the ones already on the website. He can explain how it works and what you can expect. He will be able to determine how you could benefit, if you could benefit and how much it will cost.
The Advantages of MicroLipo
Minimally invasive
Return to work and daily life quickly
No ultrasound, heat or lasers
Microcannulas to reduce scarring and disruption to the body
Lose litres of fat in one procedure
Body contouring and body sculpting
Unique in the UK and fast gaining popularity, already popular in the US
Consultations available across the UK
Bespoke patient service at The Private Clinic as standard
Aftercare promise
The Private Clinic
The Private Clinic of Harley Street has over 30 years of experience in the aesthetics industry, offering patients the latest and most effective cosmetic medical treatments. Dr Puneet Gupta uniquely offers MicroLipo in the UK. For further information about this fat removal procedure please see: https://www.theprivateclinic.co.uk/treatments/lipo-body-contouring/microlipo