Anti-Ageing: Surgical Vs Non-Surgical
ANTI-AGEING AND REJUVENATION
Home » Anti-Ageing: Surgical Vs Non-Surgical
Ageing happens to us all. It isn't something to be ashamed of,  nor is it anything that we need to stop. However, if you find the effects of ageing are taking their toll on your confidence, you may be considering your cosmetic options.
Surgery is a huge consideration and should always be something you take extremely seriously. For some it is the best way to achieve the results they want but, for others, non-surgical solutions may be more suitable. We explain your options for different signs of ageing and some treatments you may want to consider.
Sagging or loss of volume in the face
Surgical: Last year the third most commonly performed cosmetic procedure in the UK was the surgical Facelift. The treatment has been one of the most popular anti-ageing solutions for a lengthy period, and continues to grow with a 13% rise in the number of treatments performed between 2012 and 2013. Also known as a rhytidoplasty, Facelifts tighten skin around the face, jawline and neck to completely transform the face.
Non surgical: Over the past few years, specialists have pioneered several minimally-invasive alternatives to the Facelift, all of which have grown hugely in popularity. A current example is the micro-needling treatment, used by Judy Murray, mum of tennis champion Andy Murray, who used this non-surgical facelift to minimise her skin pigmentation issues. Another key non-surgical facelift is the Threadlift or Silhouette Lift which uses biodegradable sutures to lift sagging areas (pictured below).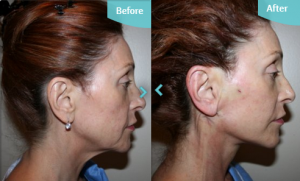 Another favourite at The Private Clinic is the 8-Point Lift, which uses dermal fillers in 8 carefully pin-pointed positions of the face to lift and replump.
Loose or sagging eyelids
Surgical:The second most popular cosmetic surgery procedure last year, Blepharoplasty (or eyelid surgery) is often cited as a favourite of plastic surgeons. It is relatively quick (sometimes taking as little as 30 minutes) and much safer than many other surgical procedures. The results the treatment offers, however, are usually very impressive. It is the most effective procedure for those suffering from bags or sagging around the eyelid, and isn't normally suitable for crow's feet and fine lines – for these problems, non-surgical options are sometimes the better solution.
Non-Surgical: Fixing loose eyelids without surgery is perhaps more tricky than some other signs of ageing and there aren't any procedures that stand out as alternatives. Depending on your individual case, wrinkle injections or a non-surgical facelift may be able to ease some areas, but only working closely with experts will help you discover if there is a solution for you.
Lines and wrinkles around the face
Surgical: Depending on where your lines and wrinkles are, you may be suitable for either a browlift or facelift. Also known as a browplasty, browlifts are used for deep lines and heavy brows. It involves tightening the muscles in the brow that have been stretched and reducing loose skin and excess fat in the area. Despite only lifting the forehead, the treatment can make a huge difference to the entire face.
Non-Surgical: Arguably the most well known cosmetic treatment in the world, wrinkle injections (or as most know them – Botox) are one of the best non-invasive solutions for wrinkles and lines around the face. The injections stop the nerve actions of the muscles that are causing the wrinkles, easing the area and preventing lines from appearing.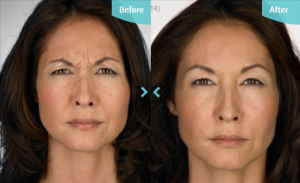 Another of the best solutions for wrinkles is dermal fillers, which are often used on areas that are lacking in volume. The treatment is non-invasive and normally only takes around 30 minutes, with most able to return to work or daily life straight after the treatment. For more information on the difference between wrinkle injections and fillers, click here.
Depending on the nature of your lines your specialist may suggest one of the non-surgical face lift options mentioned above for better results, but without consultation it will be difficult for them to say exactly what you need. Use your consultation time to go through all your options and the results you hope to achieve – your practitioner should be able to guide you accordingly to the best solution for you.
Summary
Whether you opt for surgical treatments or something less invasive, the most important thing to keep in mind is the professionals you work with. Choose only doctors that understand anti-ageing treatments thoroughly and never compromise on quality for price. At The Private Clinic, we're proud to offer both surgical and non-surgical options, meaning we only ever suggest the treatment that is best for your needs.
The Private Clinic
For over thirty years we've been committed to finding the most effective treatments for patients' needs. We work with only the most recognised doctors and surgeons who lead the way in both surgical and non-surgical treatments, meaning we will only ever suggest the option that is right for you. We understand the amount of information you need to take on when researching cosmetic options, and we're always here to help you where we can. Find out more about us.