40 is the new 30 – there's absolutely no disputing that. However, while we might feel as youthful as ever inside, our forties can be the time when our skin catches up with earlier years and begins to show signs of wear and tear.  
The majority of those who visit The Private Clinic in their forties for skincare advice are primarily looking for ways to reverse initial signs of ageing, and rejuvenate skin back to a natural dewy glow. Key to both these principles is understanding why, exactly, your skin has undergone changes and the best treatment method to address any problems. Here's our guide…
Wrinkles and lines
Fine lines and gentle creases can begin to form into full-blown wrinkles during our forties. It's often the time that females begin to approach the menopause, meaning hormones are ravaged and the way our skin looks after itself changes. Collagen and elastin (the two key principles to our skin repairing itself) stop being produced as readily, while at the same time accumulated cell damage slows down the rate at which skin renews and repairs itself, leading to more damage and little natural rejuvenation.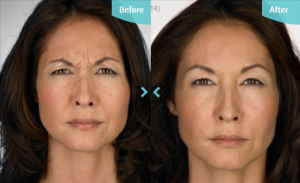 The good news, however, is that there are a multitude of treatments available to tackle the problem, depending on the severity of your case and the results you're looking to achieve. Non-surgical face lift treatments like Silhouette Soft or the 8-Point Lift are particularity popular choices for many in their forties; the methods help to ease sagging and lines on the skin without the invasion needed for more severe wrinkles. Many, meanwhile, find wrinkle reducing injections (like Botox), dermal fillers and peels are all that are needed for specific lines and problem areas. Key to working out the best method is always choosing the right clinic or practitioner who can be honest and make sure they only go ahead with something if it's right. Surgical treatments like a face lift or blepharoplasty are sometimes more suitable for those looking for larger changes, but it always comes down to individual needs. It's all about speaking to a professional and knowing where your skin currently stands.
Dark spots and discolourisation
Remember that day twenty years ago when you lay in the sun without sun cream? Your skin does. Very often signs of discoloration or pigmentation on the skin can be directly linked back to earlier damage, regardless of whether there was any visible change at the time.
The way the skin protects itself from sun damage is through creating pigmentation so your first stop to preventing any further damage should always be plenty of high-level sun screen. We call it the wonder cream in that it not only prevents against nasty illness like skin cancer, but also keeps most of the key signs of ageing at bay.
In terms of treatment for damage that has already shown itself, one of our favourites is a non-invasive laser method called IPL Photorejuvenation. The treatment uses a system of pulsed lasers to penetrate the skin and diffuse redness, discolouration and visible damage.
Another useful treatment for pigmentation issues is a TCA peel, which intensely exfoliates the skin to remove surface blemishes. However, whether it's the right course for your needs will always depend on your requirements.
Dry Skin
As our hormones decrease, so too does our skin's production of its natural lubricator – sebum. This oily substance is responsible for keeping our skin supple and soft so, as it disappears, the face can appear somewhat lack lustre without that certain radiance and glow we had in younger years.
Key to restoring moisture is a good skincare regime, consisting of at-home products and regular boosters. There are a range of cosmeceutical skincare brands providing facials and non-invasive treatments and we're huge fans of targeted skincare refreshers from brands like QMS Medicosmetics, Jan Marini, Antonia Burrell and Skinceuticals to name just a few. While cheaper products in stores can claim to have the right ingredients to restore your skin, very often the formulas, amounts or application is insuffient to make any real difference to your skin. That's why we'd always advise meeting with someone trained in various skincare brands and types before splurging – advice could, ultimately, save you a lot of time and money!
Summary
Your forties are a time to look gorgeous and enjoy yourself. Whether it's the first signs of ageing or more deep-rooted wrinkles and lines that are bothering you, there are a multitude or treatments and precautions that can be taken to help your skin look and feel its best, many of which are non-invasive and produce fantastic results. Remember – you're an individual and your skin is too. Treatment needs to be specific to your needs and, regardless of what your issues are, specialists are able to assist you at every stage.
For advice on specific treatments and care book a consultation or visit our skincare pages.