The Private Clinic Bristol: Treatments
THE PRIVATE CLINIC
Home » The Private Clinic Bristol: Treatments
Recently, Bristol's been getting a lot of attention because of Banksy's Dismaland and the crowds have been coming in droves to visit. The temporary hustle and bustle might not be welcome by everyone though, so we thought we'd highlight a more permanent fixture, that's there to offer you a professional and reliable environment all year round: The Private Clinic, Bristol.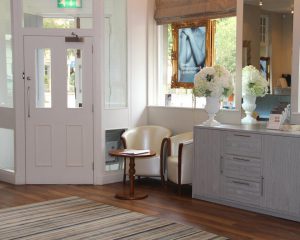 With over 35 years experience, we're known world-wide as pioneers in minimally-invasive cosmetic treatments, and our Bristol clinic is a fantastic extension of our specialism.
The clinic offers a number of walk-in, walk-out procedures, with Skin Rejuvenation and Anti-Ageing treatment packages tailored to suit your needs and busy schedule.
FACE
Acne (N-Lite): Seen as one of the most advanced and effective treatments for battling the root cause of acne, the N-Lite treatment destroys acne-causing bacteria in the skin on the face and neck. The results are life-changing and can be seen after the first couple of treatments (single sessions start at £250). Patients who have been on antibiotics for years have been fully cured of their acne with our N-Lite treatment.

Students are the real winners with this one as we have a unique Student Offer which gives you a full course for £700 – that's five sessions for the price of three!
Anti-ageing and Rejuvenation: We offer a vast array of treatments designed to help enhance your natural beauty and feel more confident.
We've got the standard injectables – wrinkle relaxing injections that block your muscles impulses and help them relax – smoothing out wrinkles and lines (with prices starting from £195 for one area), as well as temporary Dermal Fillers – that use a natural acid produced by our bodies – to plump up skin and restore volume to the face (most of our fillers cost between £250-£400).



Our 8 Point Lift technique uses a combination of injectables to replicate a lighter effect of a non-surgical facelift that offers immediate results and no downtime (this tends to cost around £1,200).
While we're on acids, you can opt for a chemical peel to remove dead skin cells from your face, smoothing out your skin's tone and texture (mild peels start at £58).
There's also dermaroller treatment which uses hundreds of micro-needles that strategically impact the skin and encourage its collagen production (pricing starts at £280 for individual sessions). The results are remarkable and extremely effective for smoothing out scarring and other skin texture problems.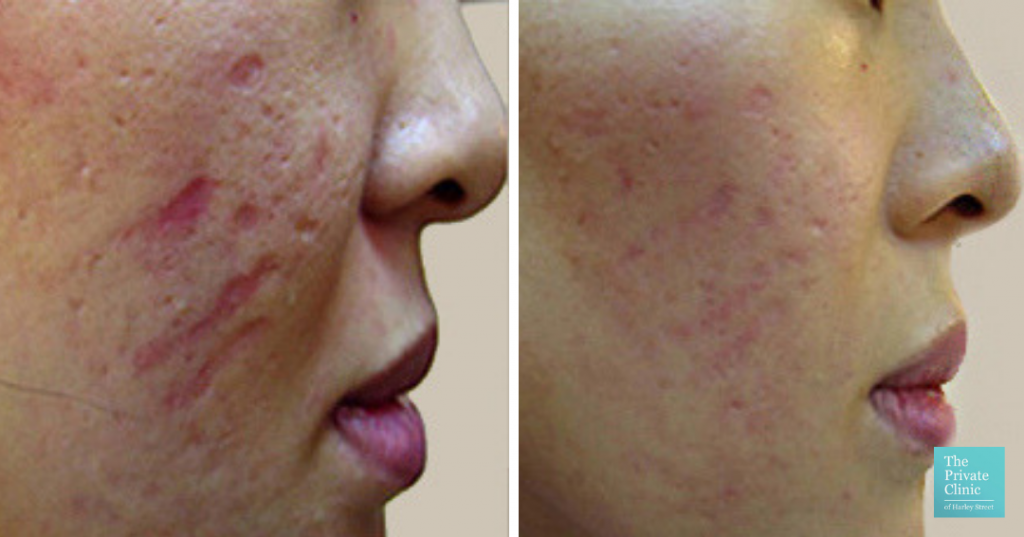 To find out more about our skin treatments and injectables available in Bristol, book a consultation with one of our expert aesthetic nurse Katie Evans and indepent nurse prescribers, Lesley Dean RGN and Ann Hampson RGN
Finally we also stock impressive home-care products. They are able to cover all skin concerns thanks to its mixture of antioxidants, resurfacing and lightening factors, which allow it to cleanse, hydrate and protect your skin. Please make sure to get one of our free skin analysis consultations to choose the most suitable treatment or product available for your skin.
HAIR
Hair loss can cause many to feel unhappy with their appearance. There are a number of products on the market that claim to improve hair growth and many tricks can be used to create a fuller appearance to the hair but if you are experiencing hair loss, often the only permanent solution is a hair transplant procedure. We are able to offer FUE Hair Transplant consultation for procedures performed in-house with Hair Transplant surgeon, Dr Michael Mouzakis, GMC Number: 7237640.



BODY
Laser Hair Removal: Summer may be over but unwanted hair surfaces all year round, so we recommend considering a more permanent hair removal technique than repeated shaving, waxing or depilatory creams. Unwanted hair can be quite burdensome, for men and women alike, and patient's most common regret is not having undergone treatment sooner. There's no downtime and you'll be hair-free after completing a full course (top-ups may be required to get rid of fine hairs). We cover all parts of the body but our back and chest removal treatments are particularly popular with men, whereas women often opt to have their lower legs done, as well as their underarm and upper lip areas (single the upper lip treatments start at £77, with a full course costing £300). It's worth noting that our specialised staff are fully trained to work on darker skin, something that requires significant experience to prevent any burns.
VASER Liposuction: VASER liposuction is a minimally invasive, walk-in walk-out fat removal treatment that rids us of stubborn pockets of fat that seem ever-present despite taking up exercise and following a healthy diet. Different levels of definition can be achieved with VASER liposuction, and the downtime is minimal when compared to traditional forms of liposuction. VASER Hi-Def is often chosen by men because of the athletic, muscular results it can achieve, while our very own VASER Mid-Def tends to be preferred by women, as it gives a fit appearance with a more natural finish (prices start at £2,600). It's not a weight-loss solution but the effects are permanent when combined with a healthy lifestyle.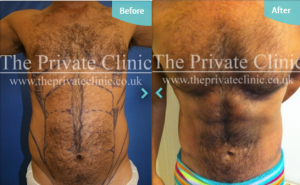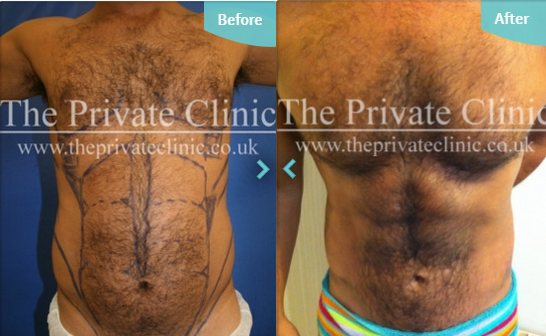 VASER Liposuction can be done in various places such as the stomach, neck, chest, back, buttocks, and thighs.
LEGS
Endovenous Ablation of Varicose Veins (EVLA): The Gold Standard Varicose Vein treatment, as recommended by NICE (National Institute for Clinical Excellence). We offer patients a free ultrasound scan during consultation to locate to the source of any problematic veins (the consultation is £200, ultrasounds usually cost between £350-£450). Compared to traditional vein stripping, it's safer, more effective and is a 45 minute, walk-in walk-out treatment. All of our Varicose Vein treatments are carried out in-clinic by our highly reputable Consultant Vascular Surgeons, Mr Charles Ranaboldo, BM, FRCS MS, GMC Number: 2939195.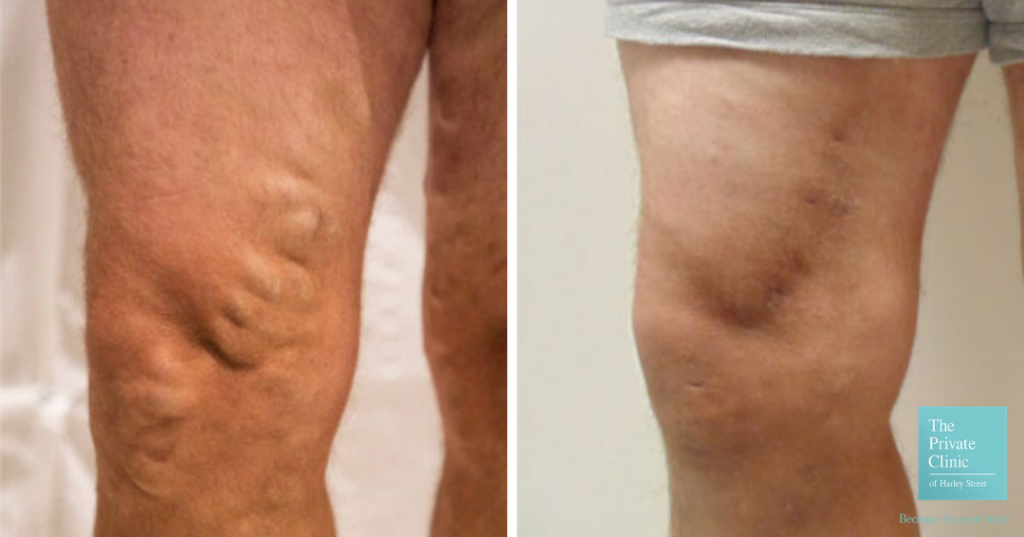 Plastic Surgery
If a surgical procedure is required to deliver the results you're dreaming of, we are able to offer free patient advisor consultations to provide you with information on the range of Plastic Surgery procedures that The Private Clinic offers from from Breast Surgery, body surgery and facial surgery. We are able to offer minor procedures in-house such as split earlobe or tribal earlobe correction and EarFold ear pinning treatment.
Plastic Surgeons who consult from our Bristol clinic include:
CoolSculpting
CoolSculpting is a non-surgical fat reduction treatment that uses a controlled cooling technique to freeze targeted areas of stubborn fat to freeze the fat cells which are then broken down and naturally removed from the body. The procedure is suitable for the chin, upper arms, bra fat, back, stomach, hips, thighs and buttocks and delivers natural gradual results with no downtime.
Ultherapy
Ultherapy is a non-invasive skin tightening treatment that is suitable for use on the face, neck, chin and eyebrows. The treatment uses micro-focused ultrasound with visualisation (MFU-V) energy which is able to treat depths of the skin not possible but other similar skin tightening cosmetic devices. This technique stimulates the production of new collagen and elastin to reverse the visible signs of ageing whilst significantly lifting layers of tissue which other lasers are not FDA cleared to perform. The results from Ultherapy are gradual and it can take 3-6 months to see the full results from treatment but the results from Ultherapy can last over a year.
We understand that choosing to have a cosmetic treatment done is a big decision so we have some financing options available to help you achieve your desired results. Which we can provide more information on following your consultation.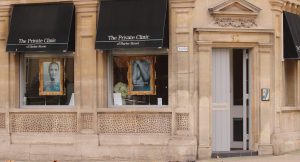 The Private Clinic
Over the past 35 years we've striven to offer our patients not only the best and most effective available treatments, but also to offer our patients the top Consultants, Surgeons, Doctors, Nurses and Therapists available in the industry. We pride ourselves in having team members of this calibre working with us so to find out more about the rest of Bristol team and about our treatments, click here.
To book a consultation at our Bristol clinic, please call 0333 920 2471, or use our online contact form to request a call back.