The cosmetic treatment market now hosts a variety of laser treatments, from laser eye surgery to laser hair removal – it seems like there is a laser for everything. Lasers are not just great for the body though and laser facial skin care treatments are becoming increasingly popular for patients looking for to tackle anything from wrinkles and pigmentation to rosacea and acne.
At The Private Clinic, we offer a wide range of laser skin treatments to help with specific skin concerns and just general anti-ageing too. A big benefit of laser treatments is that they have the ability to target more than one skin concern at a time meaning you get a lot more treatment for your money.
No laser treatment is better than another, the results are very individual and depend on what results you are expecting to achieve. The best way to find out the best laser treatment for you is to visit us for a free consultation with one of our expert laser therapists, but in the meantime; here is a helpful guide to get you started in your laser treatment journey.
Which laser is best for wrinkles?
It may be a surprise to find out that laser treatments can be a great way to tackle fine lines and wrinkles. Although injectable treatments like Botox are usually the most popular way to tackle this common skin complaint, lasers do a great job at treating the skin as a whole and it can be a great compliment treatment to boost the effects of injectable treatments too.
Our top pick for targeting fine lines and wrinkles is our Laser Skin Resurfacing treatment. We offer three types of laser skin resurfacing treatments at The Private Clinic; Pearl, Pearl Fractional and Pearl Fusion. The one that is best for you will depend on the extent of your wrinkles. Pearl is great for fine lines but for deeper wrinkles, a Pearl Fractional treatment may be more suitable.
Pearl Fractional only exposes small areas of the skin to the laser beam making it ideal for targeting areas of fine lines and wrinkles. The laser essentially causes microdamage to encourage your skin to form a protective layer. Deeper within the skin the laser pulses have also encouraged the dermis to speed up the collagen production which helps to plump the skin and reduce the appearance of wrinkles on the surface.
Patients can expect to achieve rejuvenated and revitalised skin with a dramatic improvement in wrinkles and fine lines.
Laser Skin Resurfacing Treatment for Wrinkles
| | |
| --- | --- |
| Treatment Time | 20-30 Minutes |
| Downtime | 5-8 Days |
| Results | 1 week, continuing over 6 months |
| Treatments required | 1 |
| Maintenance | You may require another treatment anywhere from 6 months – 2 years after treatment. |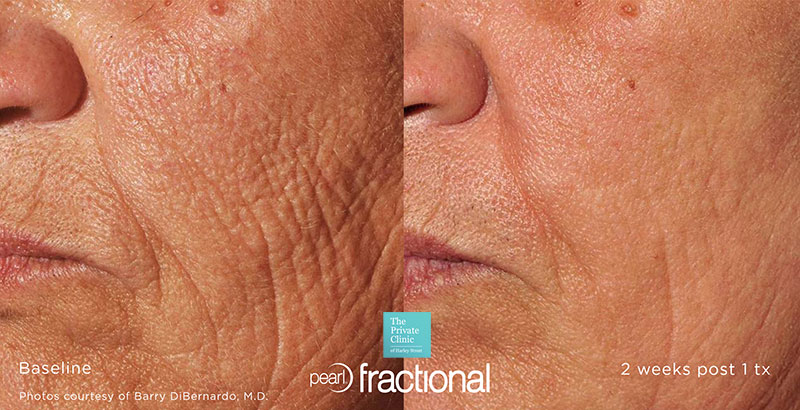 Which laser is best for anti-ageing?
We have many patients come to visit us concerned about their ageing face. Anti-ageing, of course, is natural and unfortunately, is a process that we are unable to avoid however there are certain factors and conditions that can cause a more aged appearance in comparison to the patient's actual age.
Factors such as blemishes, fine lines and broken capillaries can cause you to have a more aged appearance. In these cases, a more general anti-ageing treatment is going to be best and laser treatment is a great way to treat multiple concerns in one treatment.
Our top pick for anti-ageing is our Regenlite treatment. Regenlite is a laser treatment which can be used in a multitude of ways. For general anti-ageing Regenlite treatment uses a low energy beam to help stimulate the body's own cells to increase collagen production. The Regenlite laser targets blood vessels just below the skin which are then tricked into behaving as if they are damaged. This causes mediators to be released which tell the cells to help by producing more collagen. Collagen helps to plump the skin giving an overall more youthful appearance. For patients who have vascular lesions such as red veins, sun spots or rosacea then a higher energy beam can be used to target the problem blood vessels or pigment that is causing the blemishes but the healthy skin around the area will be left unharmed.
Regenlite is a gradual laser treatment meaning that the results will take time to develop. This treatment is popular for patients looking for more of a subtle and natural rejuvenation as although the results can be outstanding when compared to how the skin was originally because the change is not instant, it is not obvious that you have had a treatment.
Regenlite treatment for Anti Ageing
| | |
| --- | --- |
| Treatment Time | 30-60 Minutes |
| Downtime | None |
| Results | Skin will gradually improve over a course of 3 months after your last treatment |
| Treatments required | 3-5 sessions spaced 2 weeks apart |
| Maintenance | You may require maintenance treatments every 9-12 months |
Which laser is best for sun spots and pigmentation?
Pigmentation comes in many forms such as sun spots, age spots and dark spots but they all cause the face to have an uneven complexion and premature ageing to the skin.
Unlike freckles, pigmentation, sun spots, age spots or dark spots are all caused by too much sun exposure which can still affect us Brits living here in the UK. Sun spots are most common on areas that get the most sun exposure such as the hands and face. We can all take steps to avoid any new damage appearing, but reducing the appearance of pigmentation that is already there can be a little trickier.
Our top pick for sun spots and pigmentation is our IPL Photorejuvenation laser treatment. IPL stands of Intense pulsed light and is also known as a Photofacial. IPL is great for targeting areas of pigmentation, it uses light energy which penetrates below the skin's surface where all the unwanted brown pigment known as melanin lives. The heat of the light will work to break down this pigment into much smaller particles. These particles may then rise to the surface of the skin appearing as small dark areas or scabs or they will be naturally absorbed the body's lymphatic system.
Patients may need a course of treatment to see the best results from IPL Photorejuvenation treatment but they can expect to see an improvement in skin discolouration and pigmentation leaving skin feeling fresh and rejuvenated.
IPL Photorejuvenation for Pigmentation
| | |
| --- | --- |
| Treatment Time | 30-60 Minutes |
| Downtime | Redness and sensitivity for 48 hours. |
| Results | 1 week after first treatment with best results seen 3-5 months after last treatment. |
| Treatments required | 3-6 sessions spaced 1 month apart. |
| Maintenance | You may require maintenance treatments every 9-12 months. |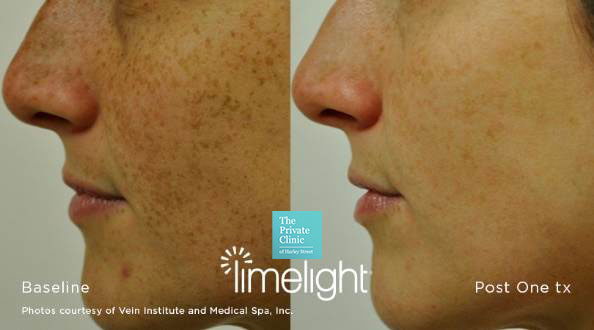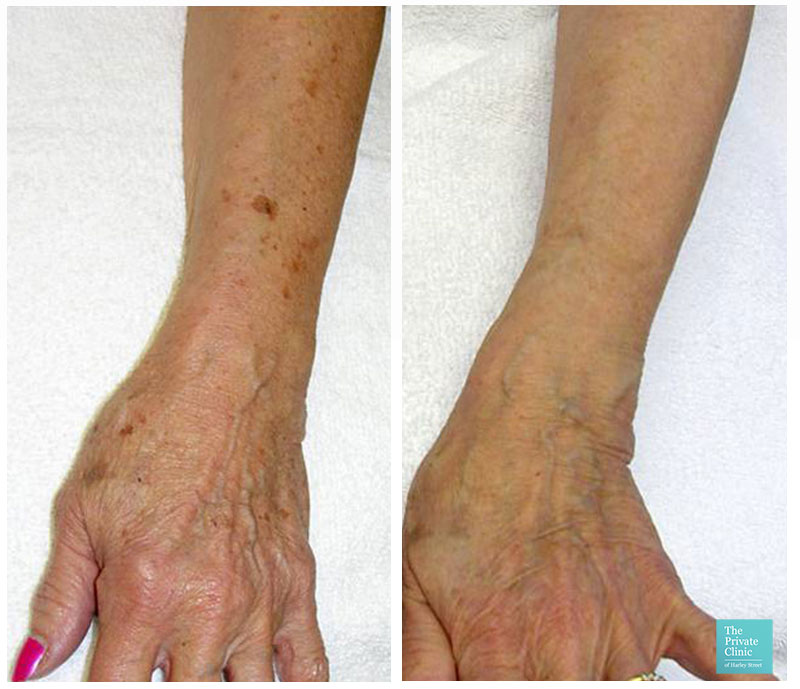 Which laser is best for acne?
Although most common in your teenage years, for some patients acne has either occurred for the first time or continued into their adult life. Acne can be very difficult to treat and the market is flooded with topical solutions, creams and masks all claiming to give you clearer looking skin.
Our top pick for acne treatment is our N-lite laser treatment which has been quoted as a saving grace for many of our long-suffering acne patients. N-lite is a laser treatment that works in 3 ways, firstly it targets and kills the bacteria causing acne, it then works to stimulate new collagen before finally reducing any inflammation on the skin caused by acne.
Our n-lite acne laser results have been life-changing for a large majority of our patients with many achieving smoother, clearer and fresher looking skin that they thought they would never see. See out n-lite acne patient stories here.
N-Lite treatment for Acne
| | |
| --- | --- |
| Treatment Time | 30 Minutes |
| Downtime | None |
| Results | Best results are seen after the second treatment, with continued improvement over 3 months. |
| Treatments required | 3-5 sessions spaced 1 month apart. |
| Maintenance | You may require 1 or 2 maintenance treatments every year. |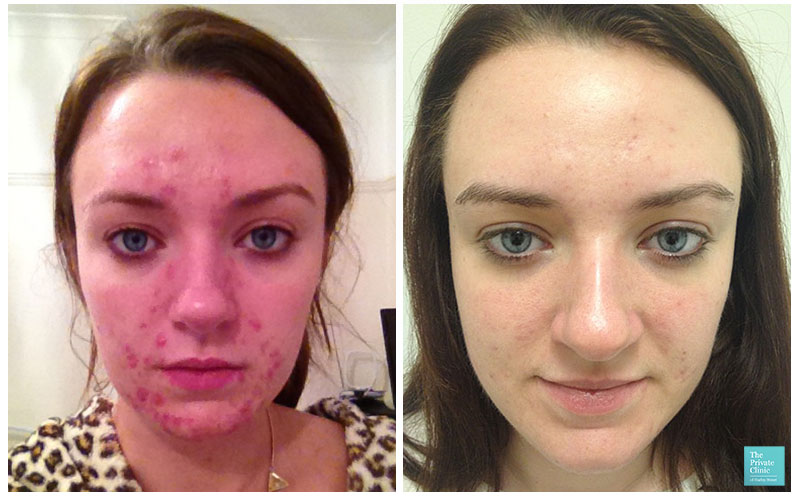 Why Choose The Private Clinic for your laser treatment?
All of our laser treatments are performed by highly qualified and experienced laser specialists who are extremely knowledgeable in skin care and will be able to tailor your treatment plan to help you achieve the best results from our laser treatments.
With over 35 years of medical experience in treating a variety of skin problems, you can be sure that you are in the best hands. We treat thousands of patients every year and pride ourselves on our knowledge and expertise. All of our Clinics are registered with the Care Quality Commission.
Free skin consultations for laser treatments are available in London Harley Street, Birmingham, Bristol, Leeds, Manchester and Northampton. To make an appointment please call 0333 920 2471 or use our online skin laser treatment contact form.