These days flawless skin is heavily sought after and people want to look as healthy and clear as possible without any make-up as skin health takes the spotlight. Having patches or spots of discoloration can really throw off your look.
Your skin gets its colour from a pigment called melanin. Pigmentation is discolouration of the skin usually caused by an excess of melanin production, usually as a result of sun damage. If you produce too much melanin, your skin gets darker. It comes in patches because the cells that make the melanin become unhealthy or damaged.
The most common forms of pigmentation are:
Acne Pigmentation
Post-inflammatory hyperpigmentation are the marks or discoloured spots left behind after acne spots heal. It can be unsightly and sometimes look worse than having active acne and really wreak havoc with confidence.
Treatment
The Mandeli Clear from Obagi – A course of peels from Obagi /9 specifically the Mandeli Clear will be perfect for superficial pigmentation from acne or mild skin tone concerns in general. It's a medium strength peel with visible shedding for a few days. With a course of three sessions you should see glowing smooth skin. This does require some preparation like the Bright White Serum or White Veil Brightener from Circadia, and will be assisted by using these products throughout your course too.
Sun Spots
They are sometimes called 'age spots' and look a bit like large freckles and can appear on the face, neck chest and hands. They are the evidence of UV damage but can materialise years after the damage has been done. They will get darker the more you expose them to the sun. They are harmless but are a sign of damaged skin, if they change in size or shape then get to a dermatologist to have them checked out.
Treatment
Intense Pulse Light (IPL) is a skin treatment that improves the appearance, colour, tone and overall quality of the skin. This is a highly effective procedure, some of our patients even describe their skin as "perfect" after treatment.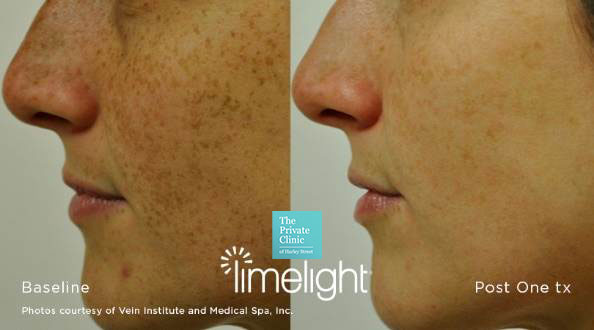 Laser Skin Resurfacing is also a great treatment for age, liver, brown and sun spots. We use the latest generation of skin resurfacing treatments known as Pearl. There are three types of Pearl Laser Skin Resurfacing treatment depending on how severe the sun damage is.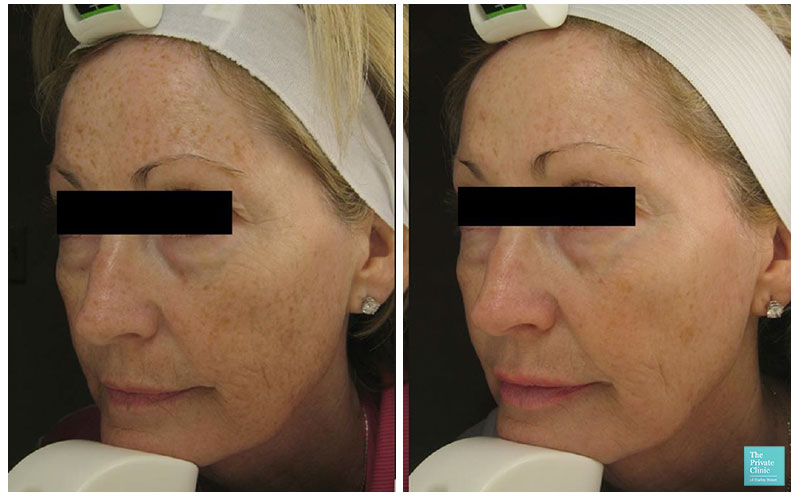 Melasma
Melasma consists of brown pigmentation across the face, with patches on particular areas like the forehead, cheeks and/or lip. Melasma is not dangerous but is worth showing a specialist to make sure it isn't something more serious. It is provoked by sunlight and hormones but you might not see it for years after the trigger event has occurred, it is also seasonal and reactivated by increased sunlight or inflammation.
Treatment
For stubborn or heavy pigmentation the Obagi Nu–Derm skincare system is a great option. This will be effective but gradual. After a course  you will see incredible results with general anti-aging and improved skin health too. This kit is seen by our practitioners as a heavy duty commitment to great skin.
On occasion a combination Obagi and Chemical Peel treatments may be advised. We recommend a broad spectrum SPF 30 or higher as part of your daily skincare routine. Prevention is better than cure but protecting against the sun after treatment will help ensure the longevity of your results.
All of our treatments and products mentioned are straightforward, safe and effective in the hands of our experienced practitioners. We urge you to be vigilant when it comes to your judgement of which clinics to visit. Your skin and health are so important.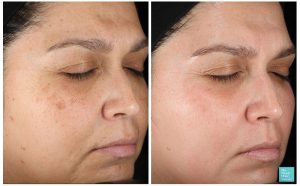 The Private Clinic
Our team of specialists are dedicated to helping you achieve the look you want, and alleviate any problem areas, by relying on their extensive knowledge and experience. You can expect our team to treat you in confidence and with professionalism when you come in to see us.
Our clinics are located at; London Harley Street, Birmingham, Bristol, Buckinghamshire, Leeds, Manchester, and Northampton.
To find out more about our pigmentation, sun damage and melasma treatments, please call 0333 920 5531 or use our online contact form.