Trinny and Alice Heart Davis from the Tweakment guide talk about anti ageing and skin
REJUVENATION
Home » Trinny and Alice Heart Davis from the Tweakment guide talk about anti ageing and skin
We tuned into Trinny Woodall's latest episode of The T-Zone which featured Award-winning beauty journalist and author of The Tweakments Guide Alice Hart Davis. They were discussing treatments to help with common concerns. We have listed a selection of the treatments mentioned below;
Sagging Eyelids/Drooping Brows
Sagging eyelids or drooping brows are a common complaint in our clinics but luckily there is a range of treatments that can be very effective at reducing the signs of this.
Sagging or drooping eyelids typical sign of ageing, the levator muscle is responsible for lifting the eyelid and as we age this muscle starts to stretch which results in the surrounding skin stretching and fat pockets becoming more prominent causing drooping.
This can also result in drooping of the eyebrow which can cause you to look angry, upset, or older in appearance.
Our top treatments for eyelid or brow drop are:
Thread Lift
A thread lift is a rejuvenating non-surgical treatment that involves using specialised surgical threads to lift and regenerate sagging skin whilst improving the production of collagen within the skin. We offer both Silhouette Soft thread lift treatment and PDO Thread lifting treatments at our clinics and both of which can be used to lift the eyebrow area.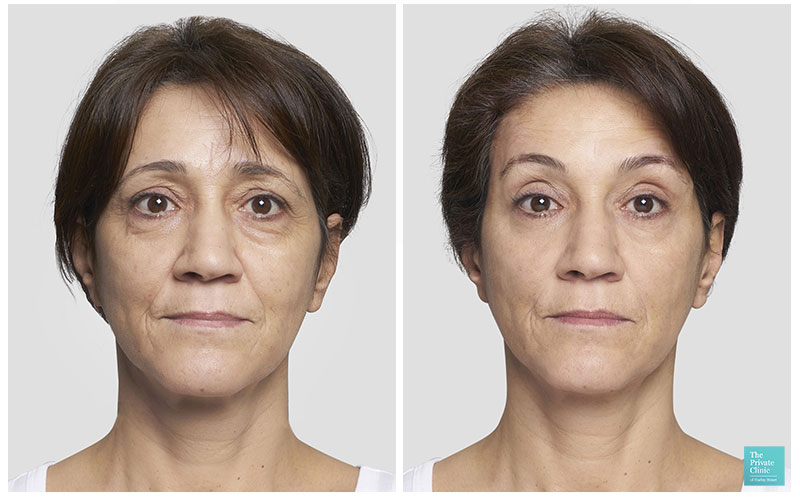 To find out more about Thread Lift treatment see here.
Ultherapy
Ultherapy non-surgical skin tightening procedure that uses micro-focused ultrasound with visualisation (MFU-V) energy. The treatment works to stimulate and encourage the production of elastin and new collagen whilst providing a significant lift to the layers of tissue. Ultherapy has been FDA approved to treat the eyebrow as well as the face and neck. The production of new collagen creates a lifting effect to effective lift the brows and improve the appearance drooping eyelids.
To find out more about Ultherapy treatment see here
Brow Lift
In some cases, non-surgical treatment may not be enough or not give the results that you desire, and, in this case, you would need to consider a surgical alternative. A browlift or browplasty is a surgical procedure designed to lift the forehead which can help elevate the brows as well as soften any deep lines or wrinkles.
Find out more about facelift procedures here.
At our London Harley Street clinic, we also offer the One Stitch Temporal Facelift which is ideal for patients who are looking for effective results without the downtime. The temporal facelift is a minimally invasive facelift procedure that is carried out under local anaesthetic and concentrates on the eyebrows to the midface.
Find out more about the Temporal Facelift here
Blepharoplasty
A blepharoplasty procedure is another surgical procedure that is best suited for patients who are experiencing hooded or drooping eyelids. The procedure removes excess fat and skin from around the eyes to give a more rejuvenated appearance with minimal scarring.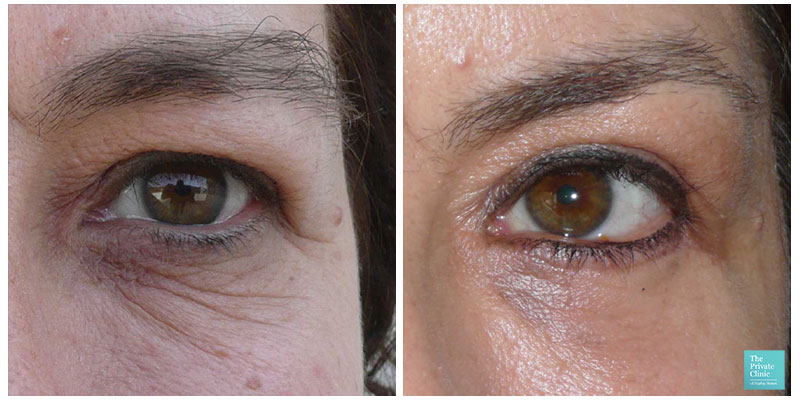 Find out more about blepharoplasty procedures here.
Ageing neck
We can spend a lot of time concentrating on making sure our faces look fresh and rejuvenated but many of us forget to take care of our necks which can be a big area of concern when it comes to ageing. The skin on our necks is more delicate and less elastic so it can often appear wrinkled and saggy compared to the skin on our faces. Making sure you include your neck in your skincare routines is the best way to delay the signs of ageing in this area but there also a variety of treatments available to help rejuvenate the neck area.
Ultherapy
Ultherapy is a great all rounder treatment that can effectively treat the entire face as well as the neck and décolletage. It uses micro focused ultrasound to lift and tighten loose skin stimulates the production of collagen to ensure your results continue to improve over time. There is no downtime required after Ultherapy so it is ideal for those with busy lives or who may want to keep their treatment a secret.
Find out more about Ultherapy here.
Profhilo
Profhilo is an injectable treatment that works to improving the skin's tissue quality. It involves injecting a 100% HA (Hyaluronic Acid) solution which spreads out within the skin and remodels the skins structure, nourishes dermal cells and treats skin laxity. The results are gradual, and you will require two treatments, but the results can be very effective in the majority of cases.
Find out more about Profhilo here.
Thread lift
Thread lift treatments are another great all-rounder with their ability to treat numerous areas on the face and neck. The threads are inserted underneath the skin and have small cones which hold them in place allowing them to effectively pull up skin around the neck that is sagging. The threads are also really effective at encouraging the body to produce additional collagen to help the skin look plump and hydrated.
Find out more about Thread lifts here.
Another common area of concern that we get in our clinic is Pigmentation. Pigmentation can be caused by a number of factors such as sun exposure, pregnancy, medical conditions, hormonal changes and even trauma to the skin.
In most cases, pigmentation is caused by sun exposure which is why it is so important to protect your skin by wearing sun protection every day – no matter what the weather may be.
We have a range of treatment options to help reduce the appearance of pigmentation on the skin which includes:
IPL Photorejuvenation
Intense Pulsed Light (IPL) Photorejuvenation treatment is one of our most popular treatments for pigmentation. The treatment uses short bursts of intense pulsed light to help break down areas of pigmentation on the skin. A course of treatment is required for the best results.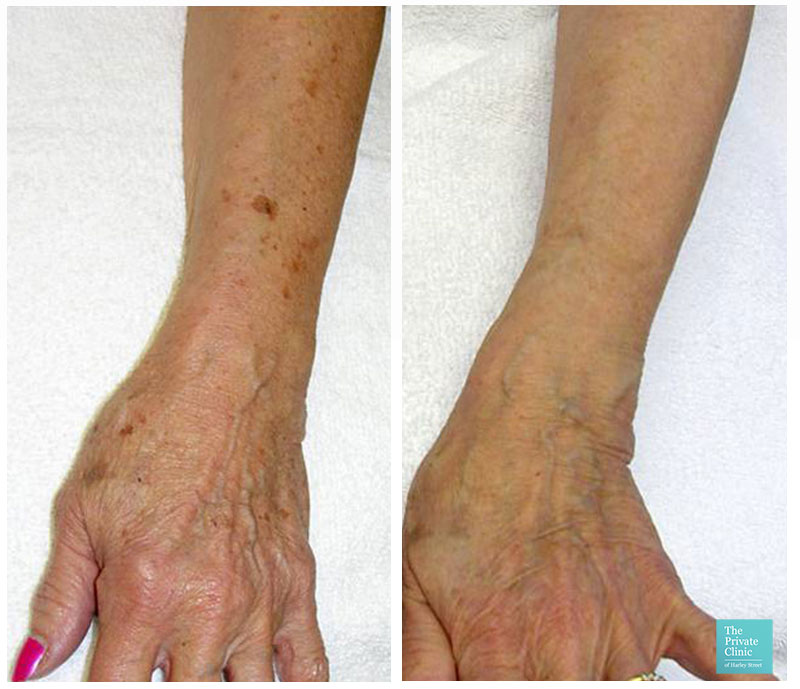 Find out more about IPL Photorejuvenation treatment here.
Obagi
Obagi is a global speciality pharmaceutical company that is founded by leading skin care experts. In our clinics we offer a range of Obagi product systems that are a series of products designed to be used together to help treat specific skin concerns such as pigmentation.
The Obagi-C Rx System includes products that contain prescription-strength 4% hydroquinone and vitamin C to effectively reduce the appearance of pigmentation, including dark spots and melasma and encourages skin renewal.  We offer free skin consultations to discuss our Obagi treatments and products and a thorough skin assessment will enable us to tailor a treatment plan specific to your skin type and concerns.


Find out more about Obagi here.
Trinny Woodall asked Alice Hart Davis an interesting question towards the end of the episode about whether she felt her appearance was more down to the treatments she has had done or her skincare routine to which Alice replied with her skincare routine.
You can watch the video here
Having a good skin care routine plays a huge part in the overall appearance of your skin and also sets yourself a good base when it comes to having any treatments too. We offer a range of great skincare options in clinic with our team of experts to help you achieve the best results.
To find out more about the skin rejuvenation treatments available at a clinic near you, please call 0333 920 2471 or use our online contact form.
Consultations are available at our clinics in London Harley Street, Birmingham, Bristol, Buckinghamshire, Leeds, Manchester and Northampton. Treatment availability will vary between clinics.