How to get rid of tech neck?
REJUVENATION
Home » How to get rid of tech neck?
Tech neck is not necessarily a new condition but with the increased use of mobile phones and tablets it is something that is becoming a lot more common. Tech neck is essentially neck pain, usually just part of the cause of getting older but the younger generation are now feeling the pain which is more often than not – caused by poor posture due to spending too much time looking down at their phones or tablets.
Neck pain is not the only symptom of tech neck however, tech neck wrinkles or tech neck lines are becoming an increased concern for many. Again, these are nothing new – previously known as necklace lines these are horizontal lines that cross over the neck which are typically caused when collagen and elastin production in the skin decreases.
Neck wrinkles can also be caused by a number of lifestyle factors including:
Sun damage
Smoking
Weight loss or gain
Hormonal changes
Sleeping position
Looking down at your mobile/tablet
The last point, looking down at your mobile/tablet may seem a little unbelievable but many people are finding that their neck lines have become more prominent or have developed far sooner due to the excessive use of technology. People nowadays are spending a lot more time looking down at screens and practicing poor posture which can bring along the early onset of neck wrinkles or lines.
How to treat Tech neck?
How to treat tech neck with Dermal Fillers?
Dermal filler is a common way to decrease the appearance of tech neck. Dermal filler is made up of hyaluronic acid which works to fill wrinkles and add volume to sunken areas.
Dermal neck filler is a relatively quick treatment taking on average around 30 minutes. There is local anaesthetic within the dermal filler solution so the treatment should not be painful. Redness and swelling is common post-treatment, but this should decrease after 24-48 hours. The results are noticeable immediately after treatment, but the best results are seen after 2-3 weeks once the dermal filler has had time to settle.
How to treat tech neck with Profhilo?
Another great treatment option for tech neck lines is Profhilo.
Profhilo is a unique bio remodelling injectable treatment which uses a 100% hyaluronic acid solution which helps to stimulate your own collagen production and elasticity. It does not add any volume to the area, so the results are a little more subtle and it does require 2 treatments spaced a month apart. What this treatment does do however is treat the neck skin as a whole improving hydration, skin tone and texture which will hopefully offer more long-lasting results.
How to treat tech neck with Microneedling?
Microneedling is a great treatment option for neck lines and wrinkles and has many other benefits. Your practitioner will either use a dermaroller or dermapen to treat your neck. These devices have a series of small micro needles that when rolled or moved across the skin will create thousands of tiny puncture points. These puncture points help to stimulate your skin to repair itself naturally which results in an increase in collagen and elastin production which will help to reduce the appearance of lines and wrinkles.
The treatment does involve a short period of downtime for around 24-48 hours where your skin will appear red and may feel warm and tighter than usual. During this time it is advised not to wear make-up and to apply SPF to protect your skin from the sun. Most people will need around 3 treatments to achieve the best results and the final results can be seen from 6 weeks post treatment.
How to treat tech neck with laser skin tightening?
Many choose to use laser skin tightening treatments to help reduce fine lines and wrinkles on their neck.
Laser genesis is an FDA approved non-invasive treatment that uses lasers to gently heat the skin which encourages the production of new skin cells and collagen. The treatment can take as little as 30 minutes to perform, and downtime is minimal. Many patients do require a number of treatments to see the best reduction in neck lines and wrinkles.
How to treat tech neck with Ultherapy?
Ultherapy is not technically a laser treatment and instead uses micro-focused ultrasound with visualisation (MFU-Z) which targets the deep layers of the skin that you would only usually be able to reach with surgery. The ultrasound energy encourages the body's natural response to produce new collagen and also strengthen weaker collagen. The best results from Ultherapy can be seen gradually 2-3 months post-treatment, many patients only require one treatment, and the downtime is minimal meaning you can return to your daily activities shortly after treatment.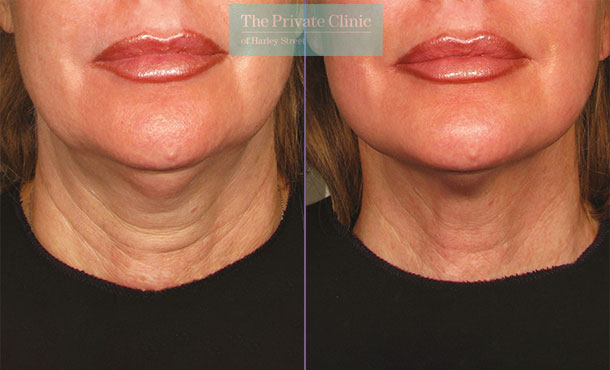 How to treat tech neck with wrinkle relaxing injections?
Neck lines and wrinkles can often successfully be treated with wrinkle relaxing injections. The treatment works by relaxing the neck muscles that cause the wrinkles. If you are also experiencing sagging skin in this area, then a Nefertiti lift can be performed where the lower jawline is also treated which can give the appearance of a neck lift without the downtime from surgery. Wrinkle injections for neck lines usually only requires one treatment which will need to be repeated every 3-6 months and the results can be seen within 1-3 days.
How can you avoid tech neck?
There are a few ways you can help to prevent the early develop of tech neck wrinkles but overall these do tend to be part of ageing to expecting to be able to avoid them completely is not realistic.
Top tips to avoid tech neck wrinkles:
Good posture – Be mindful of your posture throughout the day, make sure you are not looking down at your screen and try to avoid prolonged periods of looking down at your phone.
Use sunscreen – Protecting your skin from the sun is one of the best ways to avoid wrinkles and this includes your neck. Treat your neck like you would your face and use a good amount of sun protection rather than just excess from your face.
Keep hydrated – Keeping your skin hydrated is a very important step to avoiding wrinkles. Using moisturiser on your neck daily should become part of your everyday routine.
Sleep position – The position that you sleep in may not sound like a cause for neck wrinkles, but we spend a long time in one position when we are sleeping and if you neck is not in a neutral position then this can encourage lines and wrinkles to form.
Tech neck lines treatment at The Private Clinic
Our aesthetic doctors are specialists in treating lines and wrinkles and will be able to offer their expert advice on which treatment is going to be best for you. We have clinics located in:
To find out more about tech neck wrinkle treatments or to book a consultation, please contact us on 0333 920 2471 or use our online contact form.