If you're experiencing hyperpigmentation, but are unsure what it is exactly, how it got there in the first place and how to get rid of it, this blog is for you. Some of the most common forms of hyperpigmentation include post acne/breakout pigmentation, sun/age/brown spots and Melasma. Many people find the appearance of these pigmentation types bothersome, and unfortunately they do not fade on their own.
Some people try and test home remedies such as Vitamin C, Retinoids (Vitamin A) and green tea, but the very best solution is to see an expert aesthetic skin specialist who can recommend the most effective possible treatment for your type of pigmentation and skin type.
What is hyperpigmentation?
Hyperpigmentation is generally a harmless skin condition; taking the appearance of a patch, area or spots on the face noticeably darker than its surrounding areas. The condition can affect people of every age, skin type and race.
What's the cause of hyperpigmentation?
Increased sun exposure, pregnancy, hormonal changes, skin trauma, genetics and medical conditions can all contribute to skin pigmentation. Ageing can also increase the prominence of skin pigmentation, leading many to look for a solution.
The root cause of pigmentation, however, is melanin, a substance found naturally in the body and responsible for our hair, skin and eye colour. Those with darker skin naturally have more melanin. Hyperpigmentation is caused by the disruption of this melanin production within the dermis layer, it is superficial scarring and comes in patches due to the cells making melanin becoming damaged or unhealthy.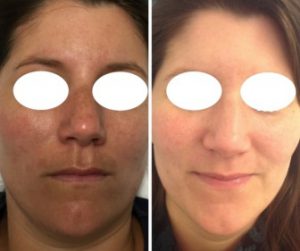 Different Hyperpigmentation Types and Recommended Treatments
Here is a layout of some of the most common forms of hyperpigmentation and their treatment options. Our expert aesthetic specialists can assess your pigmentation type, analyse your skin tone and degree of sensitivity, and recommend which treatment is best for your unique needs.
Pigmentation Type
Treatment Options
How it Works
Type: Post Acne Pigmentation

Where: This type of pigmentation commonly appears on the face, neck, décolleté and back.

However, pigmentation can occur all over the body.

Appearance: Discoloured spots or marks.

Cause: This is post-inflammatory hyperpigmentation left by acne.

Mandeli Clear Chemical Peel with the Vitamin A Accelerator from Circadia
How: The gentle, safe medium strength peel penetrates deeply in the skin layers, decreasing the activity of melanocytes and stimulating new skin cells, leaving a visibly supressed appearance of hyperpigmentation. In addition, the peel helps maintain the skins health and prevent further breakouts.

Side Effects: You will have visible shedding for a few days.

Sessions Recommended: 3 Sessions, each session can be optimised and strengthened as and if needed. Your aesthetic specialist will advise 4-12 weeks between each treatment depending on the strength used.

Intense Pulse Light

How: The system of both pulsed lights and lasers penetrates the skin to improve the colour, tone, appearance and overall skin quality.

Side Effects: The area may be slightly red post procedure, but this will not last long.

Sessions Recommended: 5 Sessions.

Laser Skin Resurfacing
How: Laser Skin Resurfacing removes the skin's outer layers, stimulating collagen which is the body's healing process and new skin growth.

Side Effects: Your skin will temporarily look like it has been mildly sunburned.

Sessions Recommended: Often a course of 3-5 treatments is required 4 weeks apart.

Type: 'Sun Spots' or 'Age Spots'

Where: This can appear on the face, chest, neck or hands.

Appearance: Looks similar to large freckles.

Cause: UV Damage, however, the sun spots can materialise years later.

Risk: Sun spots are harmless but if they change in shape or size we recommend seeing a dermatologist.

Intense Pulse Light

How: The system of both pulsed lights and lasers penetrates the skin to improve the colour, tone, appearance and overall skin quality.

Side Effects: The area may be slightly red post procedure, but this will not last long.

Sessions Recommended: 5 Sessions.

Type: Melasma

Where: Patches on specific areas such as the cheeks, foreheads and lips.

Appearance: A brown pigmentation.

Cause: Melasma is provoked by your hormones and sunlight but may not appear for years after the event has occurred.

Risk: Melasma is not dangerous however we recommend seeing a specialist who can assess it.

Obagi Nu-Derm
How: For heavy or stubborn pigmentation Obagi Nu-Derm is very effective. The skin care regime uses professional-grade lightening ingredients that work to prevent melanin production, and achieves brighter and smoother skin.

Side Effects: You will experience peeling, some redness, dryness, itchiness and skin sensitivity for the first few weeks.  Your skin will build a tolerance to the regime in time so these side effects are only temporary.

Sessions Recommended: Your practitioner will recommend how often you should visit depending on results achieved.
Sometimes, a combination of these treatments and therapies will be necessary to achieve optimal results for you. However, this will be advised by your skin practitioner.
How long until my hyperpigmentation fades?
The visible improvements you see with each treatment and at what stage will depend upon your skin type and condition severity.
Obagi Nu-Derm system can be a very quick results treatment option, however most treatments will be a course of 3-6 sessions, seeing results in approximately 3-6 months.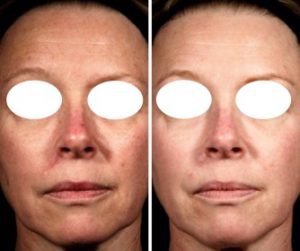 How can I prevent pigmentation or further pigmentation?
You can help prevent Melasma and age spots by wearing sun protection each and every day, particularly on your face! We advise you to use a broad spectrum SPF 30 or higher within your daily skincare routine.
Sun damage prevention after hyperpigmentation treatment is additionally very important, and can help ensure more long-lasting results.
Why choose The Private Clinic?
Our team of aesthetic specialists are committed to resolving problem areas and helping achieve your desired look, relying on their extensive experience and knowledge. All of our expert medical staff are experts in their respective field, placing patient satisfaction and safety first at all times, and treating each patient in complete confidence.
All of our skin specialists provide free consultations, where they can assess your hyperpigmentation and skin type, and devise the most effective individual treatment plan for you. If you would like to schedule a consultation with one of our expert practitioners you can do so via our online contact form or by calling 0333 920 9135.
Our skin clinics are located in: London Harley Street, Birmingham, Bristol, Buckinghamshire, Leeds, Manchester and Northampton.