Listeners of Chris Evan's breakfast show on Virgin Radio will be aware of his problematic varicose veins. Chris's problem is not uncommon however with varicose veins affecting up to 30% of the population but it is not often the most discussed topic. Many people choose to hide their varicose veins so to hear someone in the limelight finally opening up about them must have come to some relief to the many who have them.
Chris had mentioned on-air that his wife was gifting him a varicose vein removal procedure as a Christmas present and he had his procedure last week.
"I've never seen anybody in the world with worse varicose veins than mine, have you?" – Chris Evans
Many patients wait a number of years before finally deciding to go ahead with varicose vein removal surgery and this is most often due to fear of what the procedure is going to entail.
Previously, vein stripping was the common procedure used to remove varicose veins from the legs. Varicose vein stripping was often performed under general anaesthesia and involved making incisions at the top and bottom of the veins being removed, in the groin and lower down in the leg.  The veins were removed via these incisions with a thin, flexible plastic wire before the incisions were then closed and stitches were put in place. Recovery from vein stripping could take up to 4 weeks and involved a certain amount of pain and discomfort too.
Nowadays, varicose vein removal is a lot more advanced and here at The Private Clinic all of our procedures are carried out under local anaesthetic and can take as little as 60 minutes to perform. Our specialist team are on hand throughout the procedure to ensure you are feeling comfortable.
Ahead of varicose vein treatment, all patients will have a free duplex ultrasound scan carried out as part of their consultation. This scan can help determine the cause of your varicose veins allowing our experienced vascular surgeons to determine the most appropriate treatment.
Chris Evans filmed part of his procedure being carried out which was during his Phlebectomy procedure. This procedure is not a common procedure as the surgeon did explain in the video, it is a great procedure however for patients who have large bulging veins close to the surface of the skin. It allows the surgeon to completely remove the vein from the leg via small incisions that do not require any stitches.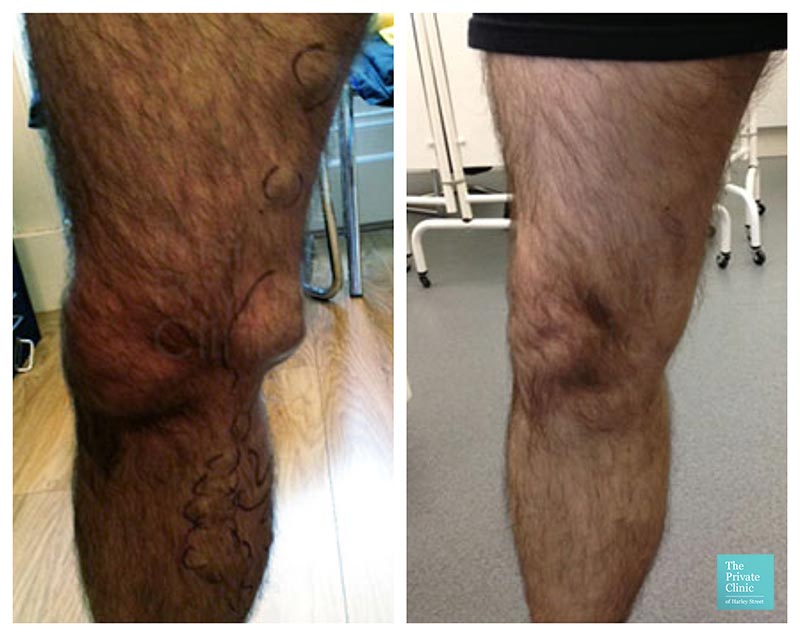 Our most commonly performed varicose vein removal procedure is Endovenous laser ablation (EVLA) treatment which is the NICE Gold Standard for treatment of Varicose Veins which boasts an impressive success rate of 95.4% after five years. EVLA uses laser heat to collapse the wall of the vein and destroy the cause of the problem.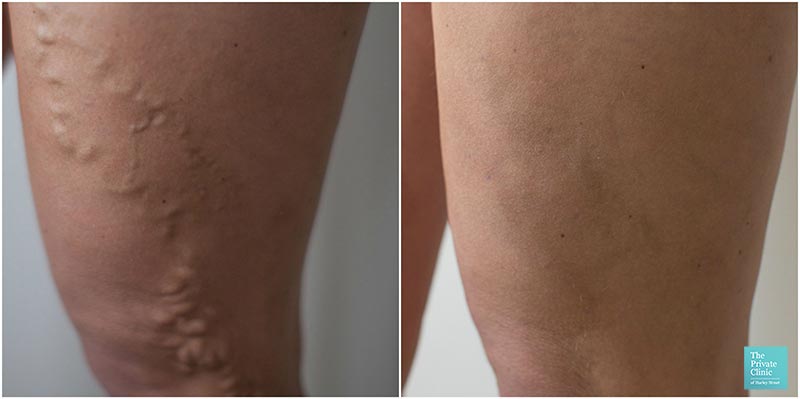 Another popular treatment is VenaSeal. This relatively new varicose vein procedure uses medical grade Sapheon Glue to close varicose veins. A small catheter will be inserted into your leg which is then guided through the affected veins using ultrasound imaging. The VenaSeal tool dispenses the medical adhesive to close the veins. VenaSeal is a quick and painless treatment taking as little as 30 minutes to perform. It is a great option for those who are nervous of needles as it only requires a single injection per vein.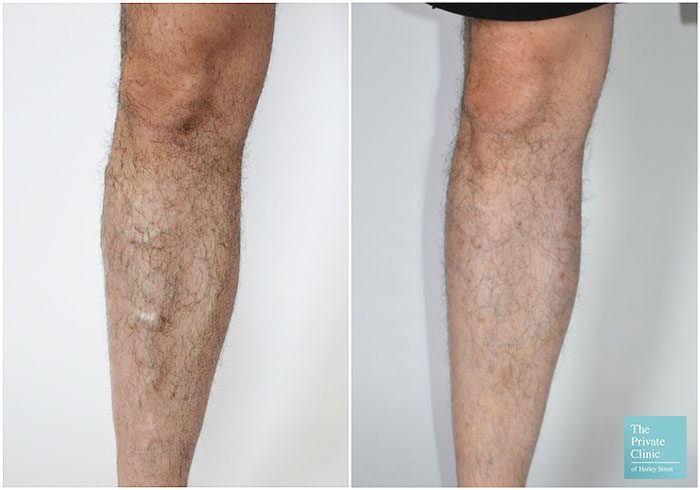 Foam sclerotherapy is our other varicose vein treatment option. This procedure involves a solution being injected into veins being treated. This solution causes inflammation within the vein resulting in blood being pushed out and the vein will gradually shrink and disappear.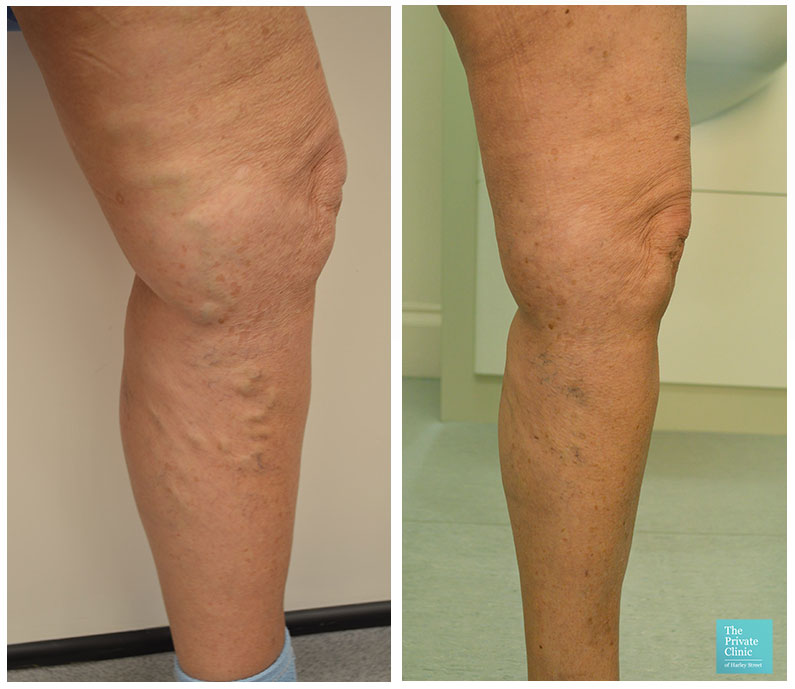 Many may have been shocked to see Chris Evans jogging off to the pub shortly after his procedure. The varicose vein treatments mentioned above do not come with a great deal of downtime. All patients will be encouraged to walk and keep active during their recovery. We do advise that strenuous activity is avoided for a week following and patients should not be driving immediately following the procedure but overall, many are able to return to their everyday activities quickly following their varicose vein removal procedure.
Varicose Vein Removal at The Private Clinic
At The Private Clinic, we have been offering the most advanced, minimally invasive vein treatments for over 35 years, and work with highly experienced vascular surgeons.
Our Consultant vascular surgeons are pioneers in EVLA (Endovenous Laser Ablation) and have treated thousands of patients.
We have carried out over 7,000 procedures in treating Veins.
No lengthy downtime or recovery required.
We offer the least invasive method for varicose veins and thread veins removal treatment for your legs, body and face.
We focus on the underlying cause of your veins and you will only see a Consultant Vascular surgeon for varicose veins.
The NICE (National Institute for Clinical Excellence) Gold Standard for treatment of Varicose Veins findings show that the success rate after five years for EVLA is 95.4%.
A consultation with one of our Consultant Vascular Surgeons costs £200, including a free ultrasound scan of your legs (usually priced between £350 and £450 at most clinics and private hospitals).
We have treated thousands of patients who have regained their confidence whilst avoiding health issues.
We focus on the underlying cause of your veins and you will only see a Consultant Vascular surgeon for varicose veins.
Treatment performed in under an hour; you can go home shortly after being treated.
We have been featured on Channel 4's Embarrassing Bodies, TLC's My Naked Secret and featured in Harper's Bazaar's Cosmetic Tweakment Trends for 2019.
Read our extensive varicose vein FAQs
Hear from previous patients in our varicose vein patient stories
Find out more information in our varicose vein blogs
Our Expert Vascular Surgeons
The Private Clinic has varicose vein clinics across the UK including London, Birmingham, Manchester, Leeds, Bournemouth, Northampton, Buckinghamshire and Bexhill.
To find out more or to book a veins consultation with our experts call 0333 920 2471 or visit our online varicose veins contact page on our website.