What are varicose veins? Varicose Veins are dark coloured (blue or purple) lumpy or bulgy veins typically found in areas such as ankles, legs or feet.
Varicose veins are often a concern for many; they can affect one's personal confidence and can become a dangerous health risk too. Varicose veins can have associated various symptoms such as aching and/or swelling and even though there are many patients who do not experience any symptoms, their veins can still become an issue in the future.
Through this blog post, we will be covering the most relevant facts about varicose veins for you to consider if you suffer from this issue.
What causes Varicose Veins?
 Varicose veins develop from the lack of blood flow as a result of the weakening of the valves of the veins around the legs, ankles or feet. Since these veins are damaged they are no longer able to provide adequate blood flow, so they start to bulge.
There are several risk factors associated with varicose veins such as genetics, age, being overweight or your gender, being more common among women.
Are spider veins or thread veins the same as varicose veins?
 Spider veins, also known as thread veins are similar to varicose veins. Thread veins or spider veins are small broken or damaged capillary veins. Thread veins tend to be red, purple or blue appearing around thighs, ankles, and calves and are thinner than varicose veins. They can also appear on the face including under the eyes.
While varicose veins and spider veins have the same cause, there are differences: Varicose veins often bulge and are blue blood vessels that can be seen and felt right under the surface of the skin. They have a feeling of heaviness, discomfort or swelling in the legs.
Are varicose veins dangerous?
 Varicose veins can be dangerous if they are not treated. Varicose veins can develop into ulcers, blood clots, venous diseases and hyperpigmentation causing swelling and pain. Often patients who suffer from varicose veins describe having symptoms of heavy legs, itching, swelling around the affected areas and fatigue. If varicose veins are not addressed the symptoms worsen overtime, so it is necessary to treat them to avoid dangerous health complications.
Can I stop the formation of future varicose veins?
 The avoidance of varicose veins, unfortunately, cannot be guaranteed as there are factors involved such as genetics that play a big role in the formation of varicose veins.
However, there are certain things you could do to reduce the risk of developing varicose veins. Being overweight is one of the factors that increases the risk of varicose vein formation, so controlling your weight and excessing is highly recommended.
Wearing flat shoes as opposed to high heels is also recommended so the calf's muscles are not fully contracted. In case of aching, to prevent the blood from pooling is recommended to wear compression stockings as much as possible.
What treatments are there available to treat varicose veins?
 There are various treatments available to treat varicose veins:
These are the treatments available to remove varicose veins; however, your vascular surgeon will recommend the most suitable treatment for your case.
When is the best time to remove varicose veins?
 Varicose veins can be treated at any time of the year. Many patients opt to undergo their varicose vein removal treatments during the winter or autumn months so they are fully recovered for the spring/summer time.
What is the downtime involved after a varicose vein treatment?
Varicose vein removal treatments involve very minimal downtime. If you underwent the EVELA, VenaSeal or Foam Sclerotherapy, you can return to your day to day activities the day after the procedure. After the phlebectomy treatment, you would have to wait 2-3 days after the procedure to return to your normal routine.
Are there any side effects of varicose vein treatments?
Any medical procedure involves some risks that need to be addressed by your surgeon.
In the case of EVELA and Foam Sclerotherapy the side effects that can occur are bruising and swelling of the treated area but these can resume within a few weeks.
With regards to VenaSeal, the side effects that might occur after the treatment are skin numbness, inflammation and mild pain within the treated area. This side effects usually only last up to 2 weeks.
Do varicose veins return after undergoing a varicose vein removal treatment?
 After undergoing a varicose vein removal treatment it is possible by 1% that new veins that were not varicose from the start, develop into varicose veins the future years after the treatment.
At The Private Clinic, we consider the EVLA treatment to be the most effective with less than 10% of the veins returning due to its effectiveness sealing veins.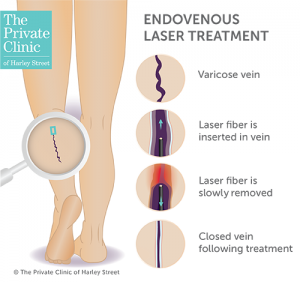 Why should you choose The Private Clinic?
The least invasive methods for varicose veins and thread veins removal treatment for your legs, body and face.
Our Consultant vascular surgeons are pioneers in EVLA(Endovenous Laser Ablation) and have treated thousands of patients.
No lengthy downtime or recovery required.
The NICE (National Institute for Clinical Excellence) Gold Standard for treatment of Varicose Veins findings show that the success rate after five years for EVLA is 95.4%.
A consultation with one of our Consultant Vascular Surgeons costs £150, including a free ultrasound scan of your legs (usually priced between £350 and £450 at most clinics and private hospitals).
We focus on the underlying cause of your veins and you will only see a Consultant Vascular surgeon for varicose veins.
We have treated thousands of patients who have regained their confidencewhilst avoiding health issues.
Treatment takes one hour, you can go home shortly after being treated.
Owing to our success, we have been featured on Channel 4's Embarrassing Bodies , TLC's My Naked Secret and featured in Harper's Bazaar's Cosmetic Tweakment Trends for 2019.
We have carried out over 7,000 procedures in treating Veins.
View our varicose vein before and after photos.
Read our extensive varicose vein FAQs.
Take a look at our varicose vein patient stories.
Find out more information in our varicose vein blogs.
Download our varicose veins brochure.
Expert Vascular Surgeons
The Private Clinic has clinics across the UK where they are able to treat varicose veins, including  London, Leeds, Bristol, Birmingham, Manchester, Northampton, Bournemouth and Bexhill
To find out more or to book a varicose veins consultation with our surgeons please call, 0333 920 2471 or use our Varicose Vein online contact form.