What are the options for a facelift or non-surgical face tightening?
FACELIFT SURGERY
Home » What are the options for a facelift or non-surgical face tightening?
As we get older, it is our face that is responsible for revealing most tell-tale signs of ageing – an area of the body we also expose the most. The natural ageing process causes the skin to lose elasticity and volume, which along with gravity, inevitably leads the face to draw downwards and nearer the bone, often leading to unwanted lines, folds and sagginess! To help turn back the time on your face, several non-surgical and surgical facelift options are available, offering youth-restoring, natural-looking results.
Surgical Facelift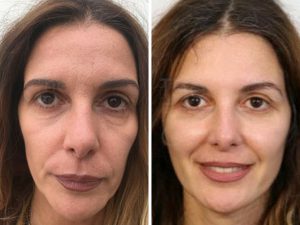 A face or neck lift, otherwise known as a rhytidoplasty procedure, is a surgical procedure that can  tighten loose skin around your face, jawline and neck region to achieve a more youthful and rejuvenated appearance. The procedure works by first making an incision, lifting skin and tissue prior to repositioning it, and discarding any excess. There are actually five face variations of the facelift, addressing different facial areas, and these are the full facelift, mini facelift, forehead and brow lift, mid-face lift and combined facelift and blepharoplasty procedure: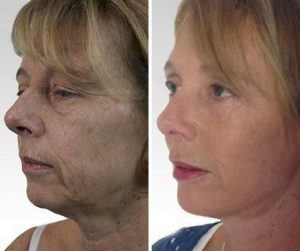 Full Facelift: This procedure can achieve a dramatic improvement to your whole face, giving a younger-looking, naturally fresher look. An incision is commonly made at the temple, running along the hairline and round to behind the ears, before lifting the lower and upper face, and removing excess skin, folds and deep lines. The procedure can improve low or heavy brows, deep lines between the mouth and nose and any excess skin in the jowls region, for example. Sagging under the jaw can also be corrected with additional incision under the chin (Pictured right).
Mini Facelift: Focusing on enhancing the jowls and cheeks in the lower region of the face, this procedure is best for patients with moderate skin laxity and presence of some jowls. The incisions in the Mini Face Lift are much shorter, running from the temples to the natural crease found in front of the ear, and the procedure offers minimal scaring with shorter recovery in comparison to the full face lift.
Forehead and Brow lift (browplasty) – This procedure lifts your forehead, elevating the brows and removing deep lines, and will enhance the overall appearance of your face too.
Mid-Face Lift (Cheeklift) – A mid-face lift restores the cheeks and lower eyelid area. Sagging, tired cheeks become lifted and the face has a restored, rejuvenated appearance. This treatment can also resolve deep nasal folds.
Facelift and Blepharoplasty (Eyelid Surgery) – This is a combination procedure used to rejuvenate the eyelids and face.
All of these procedures take between 1-3 hours, with the more extensive procedures taking longer. Many of the procedures only require local anaesthesia, but most patients need general anaesthesia for a full facelift. Depending on the treatment, an overnight hospital stay may also be required. Facelift results can last for several years, and a good skincare routine and healthy lifestyle can help prolong the effects.
To determine the appropriate procedure for you, your Consultant Reconstructive and Plastic Surgeon should assess your skin quality, general health and facial structure. With each patient having a unique face, an expert surgeon should also tailor your surgical facelift procedure to your individual requirements.
One Stitch Facelift
As well as the surgical facelift, we are also able to offer the one-stitch facelift or 3D Facelift procedure is much less invasive than a full facelift and can be safely carried out under local anaesthetic. The results are a little more subtle in comparison and very effective in producing a firmer, tighter and more rejuvenated appearance to the face. The one-stitch facelift targets the mid-face but can also help to improve the jawline. The temporal facelift is performed in a similar way but this option instead targets the upper face.
Both procedures are performed under local anaesthetic and have minimal downtime with low risk of bruising and swelling meaning the majority of patients are back to work within 1-2 days.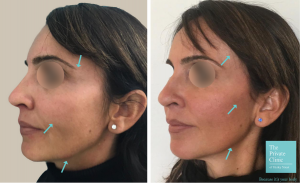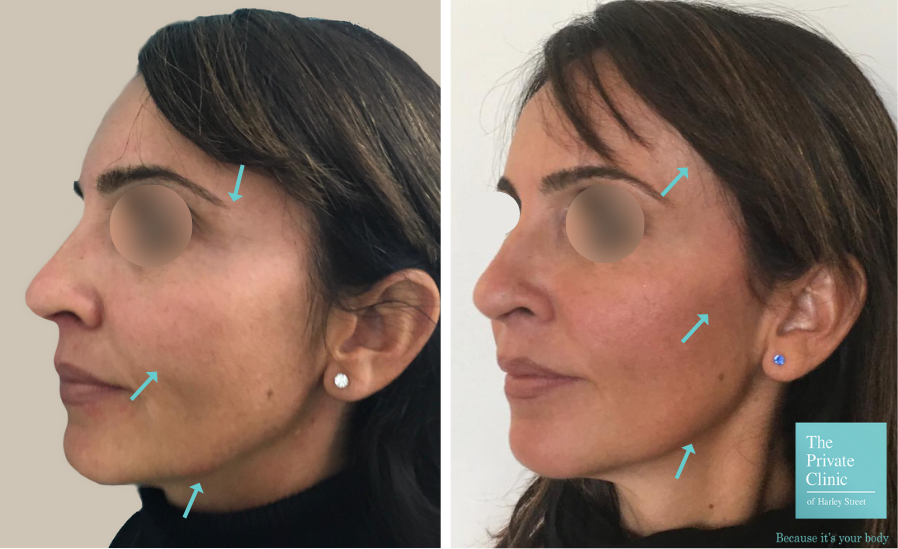 Click here to find out more about the one stitch and temporal facelift 
How to look 10 years younger in 10 days?
You may have seen the programme '10 Years Younger in 10 Days' on Channel 5 featuring Dr Tapan Patel who performed a non-surgical facelift on patient Sarah. There are many aesthetic treatment options out there to help you look younger in a short space of time including Dermal Fillers and thread lifts which you can find out more information on below. Many of our cosmetic surgery procedures these days also require a lot less downtime so a one stitch facelift may be an option if you are looking to restore youth to the face but what about the rest of your body? It is not just our faces that can age us, sagging skin and excess fat can also make us look and feel older. Plastic surgery procedures such as breast uplifts, breast reductions and tummy tucks are becoming popular with patients looking to feel more youthful and excess fat can also be targeted with our range of body contouring procedures such as coolsculpting which can be performed in as little as 34 minutes and requires no downtime. To find out more about looking younger, contact us to book a consultation with one of our experts who will be able to suggest the best treatment plan for you.
Non-Surgical Facelift
Not everyone is willing to have extensive surgery to turn back the years. Judy Murray, mum to international tennis champion Andy Murray is a classic example here, as she recently revealed how she opted for a non-surgical facelift treatment to take years off her face.
So we've suggested some non-surgical facelift options that can also provide excellent results, including the Thread Lift, 8 Point Lift, Thermage, Face Fat Transfer and Dermal Fillers. These are all walk-in-out procedures, with no or minimal downtime, and usually take under an hour to complete, aside from the Face Fat Transfer taking approximately 90 minutes: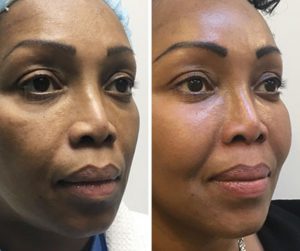 Thread Lift: This revolutionary method lifts sagging regions of the face with no need for incisions! The technique uses small biodegradable sutures fitted with bi-directional cones, which work to raise loose tissue on sagging cheeks or jowls, resolving wrinkles, deep lines and a loss of facial volume as well as provide jaw line definition. Offering results lasting up to 18 months, the procedure is able to target the lower jaw, eyebrows, cheek and neck. At The Private Clinic, we offer two variations of the Thread Lift – the PDO Thread Lift and Silhouette Soft Thread Lift.  Thread lift treatments are available in London Harley Street, Birmingham, Leeds, Manchester and Northampton.
8 Point Lift: The specialised lifting and volumising treatment uses high quality dermal fillers in 8 key facial areas to lift ageing features and rejuvenate the face: the tear trough, mid-face, cheek structure, nasolabial folds, lip corners, pre-jowl area, jawlines and cheek fillers. Also referred to as the 'liquid' or 'fluid facelift' the procedure uses a precise technique to tackle soft tissue loss, and provides a more complete solution than singular filler treatments. Results for this procedure also last up to 18 months. The 8 point lift is available in London Harley Street, Birmingham, Leeds, Manchester and Northampton.
Thermage: Offering more subtle and natural-looking results, this technique uses radiofrequency energy for tightening loose areas, by stimulating natural collagen production. The procedure can target the majority of the neck, facial and décolletage areas, and effects can last for several years. Thermage treatment available at our London Harley Street clinic.
A Face Fat Transfer is a great option for those missing volume on the face. The most 'natural' facelift option, results are particularly soft and minimal chance of infection or scarring exists. The procedure uses minimally-invasive Vaser Liposuction to remove stubborn areas of fat from any donor site you wish. The fat then becomes refined and injected within the face, to achieve volume and lift hollow areas. Treatment Results can last for several years. Face fat transfer treatment is available in London Harley Street.
Dermal Fillers present a popular non-invasive solution for resolving wrinkles and fine lines, contouring the face and restoring volume to facial areas hollowed due to ageing. The procedure involves a small amount of filler, containing hyaluronic acid, being injected into the skin via an ultrafine needle. A few of the corrections possible with dermal fillers include filling out Naso-labial folds (nose to mouth lines), filling in the hollowed area under the eye, adding volume to and defining the cheek and lifting and defining the jaw line. The effects of the treatment should last for approximately 4-8 months but will gradually fade. At this point, you can choose to have a top up treatment, or if you choose to discontinue injections, the dermal filler gel will simply biodegrade and disappear. Dermal filler treatment is available in London Harley Street, Birmingham, Leeds, Manchester and Northampton.
Ultherapy is a non-surgical skin tightening procedure that is suitable for the face, neck, chin and eyebrows. Using micro-focused ultrasound with visualisation (MFU-V) energy the treatment is ale to target depths of the skin not achievable by any other non-invasive cosmetic device. The energy stimulates the production of new collagen and elastin to reverse the visible signs of ageing and provides a significant lift to the layers of tissue which other laser are not FDA cleared to treat. Ultherapy is available in London Harley Street, Birmingham, Manchester, Leeds and Stoke Poges, Bucks.
CoolSculpting to the chin is another great option for those looking for minimally invasive procedures for the face. CoolSculpting is a fat reduction treatment and is suitable for use on the chin. Excess fat on the chin can cause us to look older than we are and reducing this area of fat can instantly change the shape and overall appearance of the jawline. CoolSculpting does not require any needles or anaesthesia. It uses controlled cooling to selectively target and destroy only the fat cells that are being treated. The fat cells are then broken down and removed by the body over time. Treatment time can take as little as 35 minutes and there is no downtime meaning you will be able to return to your everyday activities included work and exercise immediately after the procedure. CoolSculpting for the neck is available in Leeds, Manchester, Birmingham, Northampton, London Marylebone and Stoke Poges, Bucks.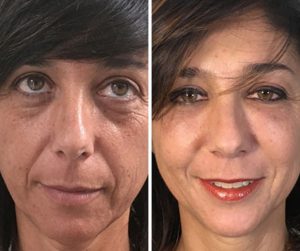 With an extensive list of anti-ageing options available, it is important to understand what each involves and is able to offer you. If you are considering any of the non-surgical or surgical facelift procedures, the best way to find out what is appropriate for you is to schedule a consultation with a doctor or surgeon, who can assess your face, resolve any concerns and advise the best course of action for you. It is very important to have realistic expectations and ensure to ask to see the results of previous patients to confirm you are making the right choice.
Why Choose The Private Clinic?
We've helped enhance the look of our patients for more than 30 years, always affording patients outstanding results and care of the highest quality prior to, during and long after treatment. Achieving a 5 Star Trustpilot Rating and 9.2 TrustScore, choosing treatment with us, you can have peace of mind you're in the very best of hands.
The leading non and minimally invasive cosmetic group in the UK, we offer some of the most esteemed and sought after aesthetic medical specialists for our non-surgical facelift options. For our facelift procedures, we offer highly respected plastic surgeons, representing the best for facelift surgery within the UK, with extensive experience.
Committed to providing honest and transparent advice, our aesthetic doctors and surgeons will only advise any treatment based on their expert opinion. Our specialised surgeons include:
Our clinics are located in; London Harley Street, Birmingham, Leeds, Manchester and Northampton.
To book a non-surgical or surgical facelift consultation with one of our aesthetic doctors or expert surgeons please call us on 03339209135 or you can book a consultation using our online contact form.