As we age, our face can lose its youthful plumpness leaving us to look older than we actually are. The most common areas on the face to lose volume from are cheeks and lips and fine lines and wrinkles can appear causing a sunken appearance. Here at The Private Clinic we offer an ideal treatment to restore volume back into these areas and reduce the appearance of fines lines and wrinkles.
What is dermal filler?
Dermal Filler is made up of hyaluronic acid which is a natural substance found within your own body. The amount of hyaluronic acid that is found in the skin gradually begins to reduce as you age which can result in skin looking tired. Dermal filler injections work to reintroduce hyaluronic acid back into areas that are lacking which can include lips, mouth lines and cheeks.
What is cheek filler?
Cheek fillers help to create a youthful curve to the cheeks and give the appearance of strong facial contours. Dermal filler restores to the lost volume and provides a lifting effect to correct sunken cheeks and restores your face profile back to how it once was. Cheek fillers are also popular with younger patients who are looking to achieve a more defined appearance to their cheeks and facial profile.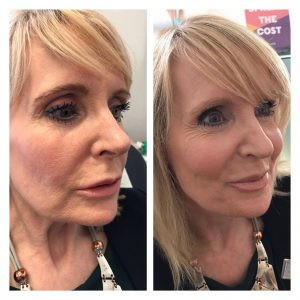 What are lip fillers?
Dermal Lip fillers add volume to your lips helping to enhance your lips' natural pattern to give them an overall pleasing and full appearance. Dermal filler restores the lost volume to thin lips as well as helping to define the borders of the lips giving them a more defined and plump shape.
What are chin fillers?
Dermal chin filler is a technique where dermal filler is injected into the chin to help reshape and contour the chin to enhance natural features and re-contour areas of concern. Dermal fillers are great at improving the shape, profile, projection and symmetry of the chin.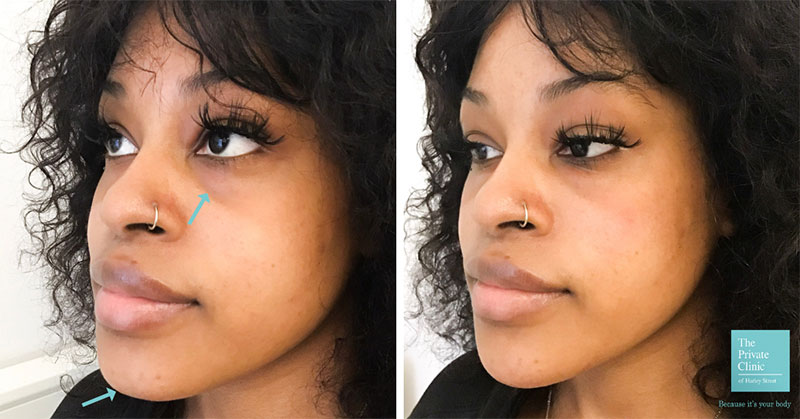 What are Under the eyes (Tear Trough) filler?
Tear trough filler is a specialist treatment aimed at reducing the dark area under the eye.  Dark circles are actually caused by shadows forming under the eye due to shallowness in the area often caused by fat loss and thinning of the skin over time. Dermal filler gel is very carefully injected, either directly into the depression or just beneath it to increase volume and plump up the area whilst smoothing the contours between eye and cheek.
What else are dermal fillers used for?
As well adding volume to the lips, cheek and chin, dermal fillers can also be used for;
Are dermal fillers safe?
Dermal Fillers can be safe treatments providing you have done your research beforehand. Before you book in for your treatment, ensure that you have looked for a reputable professional for the job. Dermal filler injections should only be carried out by surgeons, doctors, dentists or nurses. A beautician, for example, would have not have had had the same training and will not be able to prescribe any medication or alternative treatment should anything go wrong.
At The Private Clinic, all of our injectable treatments are carried out by cosmetic doctor, nurse or surgeon prescribers, who have undergone extensive additional training to qualify in prescribing and performing Dermal Filler injections.
The highly qualified cosmetic doctors and nurses at The Private Clinic are:
Dermal Filler injections are available at; Birmingham, Leeds, London Harley Street, Manchester and Northampton.
To find out more about dermal fillers or to book a consultation please call 0333 920 9135 or or use our dermal filler online contact form.