AESTHETICS NURSE PRACTITIONER AND INDEPENDENT NURSE PRESCRIBER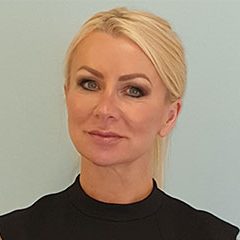 Dawn Lisa is an Aesthetics Nurse Practitioner with a passion for advanced facial aesthetics, specialising in anti wrinkle injections and dermal fillers.
Dawn advanced into Aesthetic Practice in 2013, training under the celebrated industry leader Plastic Surgeon Adrian Richards. Having a passion for Aesthetic Practice, Dawn has developed a reputation for individual attention to detail that is second to none and is in high demand for treatments such as lip and cheek augmentation. As an Independent Nurse Prescriber, Dawn is also experienced in all pre and post treatment care.
Dawn Lisa is available at our Leeds, Manchester and Birmingham clinics
Treatments performed by Dawn Lisa
Research led by Adrian Richards, Professional Recognition and Press