Aesthetic treatment trends; Gender fluidity
DERMAL FILLERS
Home » Aesthetic treatment trends; Gender fluidity
The androgynous trend has always been around in the fashion world with many choosing to express themselves and boost masculinity or femininity through clothing and accessories but now plastic surgeons are starting to notice the trend sweep through the aesthetic treatments with women choosing to have procedures to give effects that were more traditionally male, and men are choosing procedures to achieve results that are were traditionally female.
Dermal Lip Filler for Men
Many celebrities have helped to shift the change in desired looks with men like Tom Hardy and actor Ansel Elgort sporting a fuller pout which may explain the change in number of men seeking lip filler.
Lip filler treatment uses dermal filler to increase the volume of the lips as well as adding definition to help enhance the shape of the mouth. Dermal filler is made up of hyaluronic acid (HA) which already naturally occurs in our body. The substance is injected into the lips and moulded into shape, dermal lip filler is a temporary treatment with results lasting for 4-13 months depending on the type of filler used and your body's own metabolism.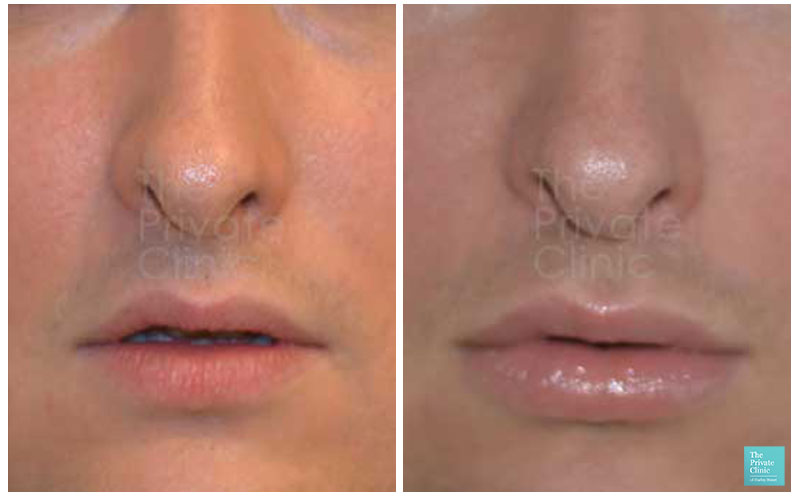 Chin & Jawline filler for Women
Female celebrities such as Angelina Jolie and Zoe Kravitz have sparked the trend of strong jawlines in women which is traditionally a male trait.
Chin filler is becoming a popular treatment for women looking to strengthen the appearance of their jawline and chin. The treatment involves injecting hyaluronic acid (HA) dermal filler into the chin and jaw to contour the face and give the appearance of a much stronger jawline. The results from chin filler treatment usually last between 4 – 12 months and patients will be required to have continuous treatment to maintain the desired result.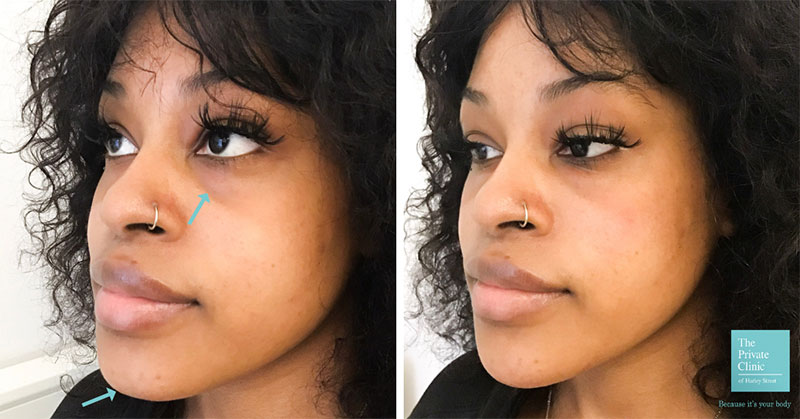 Dermal filler at The Private Clinic
At the Private Clinic, all cosmetic Dermal Filler procedures are performed by our highly experienced and reputable Nurse Prescribers and Cosmetic Doctors. We pride ourselves on only using the highest quality temporary fillers form Juvederm® renowned for their superior standards.
Dermal Filler treatment is available at our clinics located in: London Harley Street, Birmingham, Leeds, Manchester and Northampton.
Aesthetic Doctors
Aesthetic Nurses
To find out more about dermal filler treatment or to book an appointment please call 0333 920 2471 or use our dermal filler online contact form.