It's cold, rainy and murky these days, but it does give us a good excuse to stay at home and wrap ourselves up in cocoons made out of soft blankets and fluffy duvets. While the cold weather may not be particularly welcome, it is the ideal time of the year for a Varicose Veins treatment.

Okay – treating your problematic veins may not be at the top of your Christmas list, but if you do suffer from them, you know how uncomfortable and unsightly they can get. Because you have to wear compression stockings following treatment it means that the cold weather suddenly becomes your ally. So, you might as well treat yourself and make the most out of the chilly temperatures.
What are the different Varicose Vein treatments?
Varicose Veins are large swollen veins usually found on the legs. They appear when vein walls dilate and the valves that regulate blood circulation malfunction, causing blood to backtrack on its trajectory and collect inside.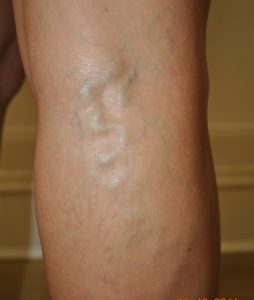 We specialise treating Varicose Veins and have some of the UK's leading Consultant Vascular Surgeons working with us. When suitable, we recommend treating varicose veins with Endovenous Laser Ablation (EVLA) (The Gold Star treatment, recognised by NICE) as it is a minimally invasive method that offers a success rate over 95%. Ultrasound is used to locate the vein, the walls of which are then made to collapse using laser heat, thus eliminating the root of the problem.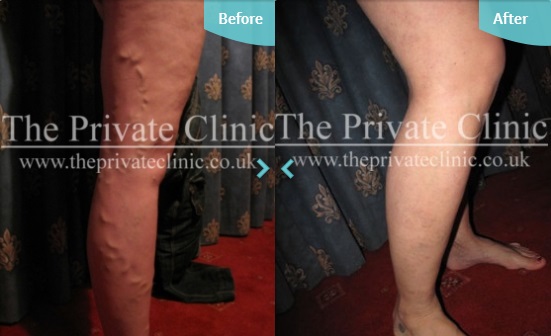 We do work on a case-by-case basis though, so we also offer VenaSeal, Foam Sclerotherapy and Phlebectomy treatments. The first sees medical adhesive being used to close the vein, this technique is ideal for patients with a needle phobia as it only requires a single injection per vein and has a quick recovery time too. Foam sclerotherapy treatment involves a foam solution being injected into the vein to irritate the blood vessels lining and force it to swell and shut, causing the blood to clot. Lastly, a Phlebectomy involves the use of a fine needle or scalpel to remove a vein via micro incisions which is ideal for patients with large bulging veins close to the surface of the skin. All of our varicose vein treatments are performed under local anaesthetic. We do not offer vein stripping at any of our specialist vein clinics.
Will I need to wear compression stockings?
In the majority of cases, we always recommend wearing compression stockings following varicose vein removal surgery. They're designed to help increase blood circulation and work by steadily squeezing your legs from the ankle upward, loosening gradually. They act to ease swelling, pain and discomfort. After Sclerotherapy, the slight pressure helps keeps the walls of the treated veins close to each other, making it easier for your body to break them down. Without them, the veins might fill back up with blood, making the procedure far less effective.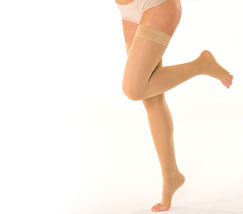 There are different sizes and pressures available, but keep in mind that getting the fitting right is essential for the stockings to be effective. Your doctor will advise you on which ones to use and how long you'll have to wear them for.
Because of their tightness and length, compression stockings can get somewhat uncomfortable during hot weather, which is why wearing them during the winter months is more pragmatic. Plus, the layered styles of the season mean that the stockings can easily be disguised under clothing, with the added advantage of keeping you warm. Best of all, by the time people start flashing their legs again, any swelling or bruising will have disappeared and you'll be able to strut around confidently once more.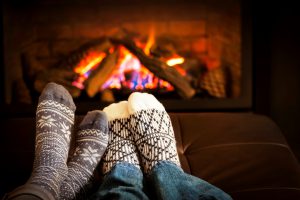 Why choose The Private Clinic for Varicose Vein Removal?
The least invasive methods for varicose veins and thread veins removal treatment for your legs, body and face.
Our Consultant vascular surgeons are pioneers in EVLA(Endovenous Laser Ablation) and have treated thousands of patients.
No lengthy downtime or recovery required.
The NICE (National Institute for Clinical Excellence) Gold Standard for treatment of Varicose Veins findings show that the success rate after five years for EVLA is 95.4%.
A consultation with one of our Consultant Vascular Surgeons costs £150, including a free ultrasound scan of your legs (usually priced between £350 and £450 at most clinics and private hospitals).
We focus on the underlying cause of your veins and you will only see a Consultant Vascular surgeon for varicose veins.
We have treated thousands of patients who have regained their confidencewhilst avoiding health issues.
Treatment takes one hour, you can go home shortly after being treated.
Owing to our success, we have been featured on Channel 4's Embarrassing Bodies , TLC's My Naked Secret and featured in Harper's Bazaar's Cosmetic Tweakment Trends for 2019.
We have carried out over 7,000 procedures in treating Veins.
View our varicose vein before and after photos.
Read our extensive varicose vein FAQs.
Take a look at our varicose vein patient stories.
Find out more information in our varicose vein blogs.
Download our varicose veins brochure.
We offer Varicose Veins consultations at our nationwide clinics in London Harley Street, Bexhill, Birmingham, Bournemouth, Bristol, Leeds, Manchester and Northampton with one of our consultant vascular specialists.
Expert Vascular Surgeons
To find out more about varicose vein treatments at The Private Clinic or to book a consultation, please call 0333 920 2471 or use our Varicose Vein online contact form.