How much is Vaser Liposuction?
VASER LIPO
Home » How much is Vaser Liposuction?
Thousands of men and women opt for vaser liposuction each year, making it one of our most popular treatments. The Private Clinic is the UK's leading provider of VASER Liposuction for men and women and the first to launch Vaser lipo in the UK.
How much does lipo cost?
Vaser Liposuction is a great way to tone, contour and re-shape your body. It works by breaking down and removing the unwanted fat cells. The cost of vaser liposuction can be a big decision making factor so we have put together this blog to help you understand the costs involved with vaser liposuction.
Vaser Liposuction cost in the UK
In the UK, vaser liposuction pricing will vary depending on where you go and the amount of body areas that are treated, it can start anywhere from £2,000 increasing well over £6,000. The cost of liposuction will usually be unique to you and given to you after a full consultation with a surgeon who will be able to give you a treatment plan.
At The Private Clinic, our vaser liposuction prices start from £3,690 for one area of liposuction, £4,845 for 2 areas, and £5,895 for 3 areas. Vaser Mid-Def starts from £6,900 and Vaser Hi-Def starts from £9,450.
We know we may not be the cheapest provider of vaser liposuction but our costs reflect our 35 years of expertise in body contouring procedures. The Private Clinic performs over 1,300 liposuction and body contouring procedures a year and has performed more vaser liposuction procedures than any other clinic in the UK. Our team of expert liposuction surgeons and doctors are seen as pioneers having perfected their techniques to ensure a minimally invasive procedure with the best results.
What does the price of Vaser Liposuction include?
When you are given your vaser liposuction cost it is always worth asking the question of; "Are there any additional fees to pay?"  At The Private Clinic, our vaser liposuction prices typically include;
Your surgeon's fees which include highly experienced Vaser liposuction doctors who have been treating patients for many years.
Any hospital fees.
Pain relief and other associated medication.
One year cover for all surgical, hospital and nursing care.
All of your post-operative care and appointments.
Comprehensive patient information, every step of the way
We offer no-obligation consultation with our Vaser Liposuction surgeons to allow you to find out all of the costs involved before deciding to go ahead with your procedure.
Can I get Vaser Liposuction on Finance?
Many patients prefer to spread the cost of vaser liposuction out over a period of time. At The Private Clinic, we offer a selection of flexible payment plants with 0% Finance Available for a Term of 12 months which means you won't need to pay any interest if you spread the cost of your vaser lipo procedure over one year.
So if your quote for vaser liposuction is £5,145 and you pay a £500 deposit then your amount of credit will be £4,645 and you will have 12 monthly instalments of £387.08 to pay which would be interest free for 12 months.
To find out more about our finance options click here.
Vaser Liposuction at The Private Clinic
We have performed over 11,000 vaser liposuction procedures at The Private Clinic and pride ourselves on being able to offer our patients the top pioneers in vaser lipo who have decades of experience as well as a range of different vaser lipo techniques to suit all requests.
What areas can I have Vaser Liposuction on?
Vaser Liposuction can be performed on the chin, neck, upper arms, male chest, abdomen, flanks, outer thighs, inner thighs, knees, upper back, lower back and buttocks crease.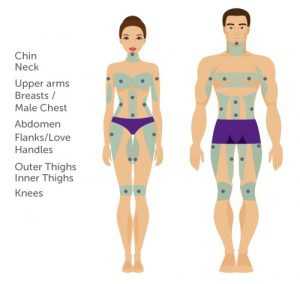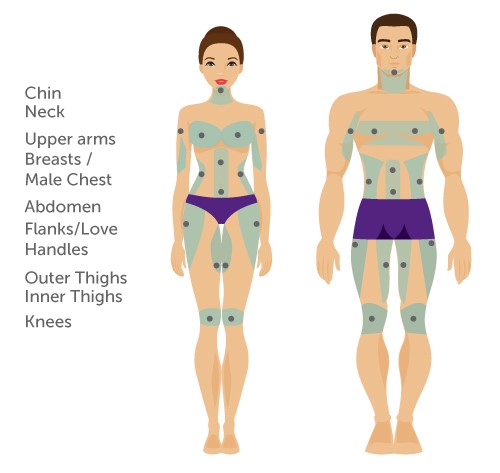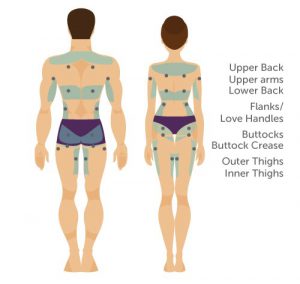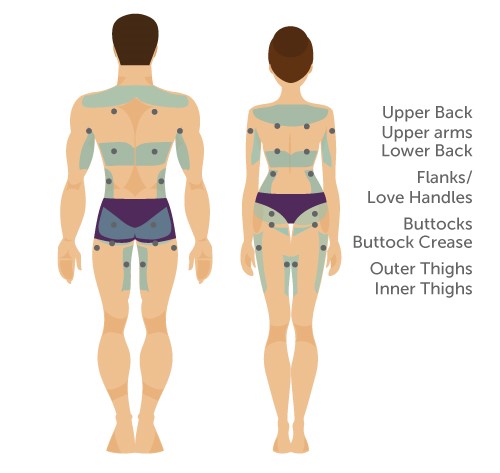 To find out more about the areas of vaser liposuction we treat click here.
What types of Vaser Liposuction do you offer?
We offer patients standard vaser liposuction which uses high-frequency ultrasonic wave's break up and liquefies the targeted fat without damaging the surrounding area which results in a faster recovery compared to traditional liposuction.
We also offer Vaser Mid-Def ,Vaser Hi-Def and Vaser 4D which are all specialised techniques that are suitable for patients who wish to achieve a more defined and athletic look. The treatments aim to produce a clear definition of muscles that can be seen through the skin. Vaser Mid-Def offers the patient a slight definition with some shadowing, but a softer finish compared to Vaser Hi-Def. Vaser Hi-Def is an advanced body sculpting technique that can reveal strong-looking pectorals, defined upper arms, demarcated abdominal flanks, an athletic six-pack or a strong, defined upper and lower back.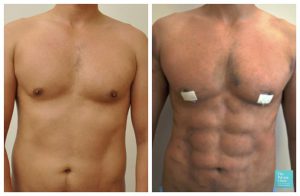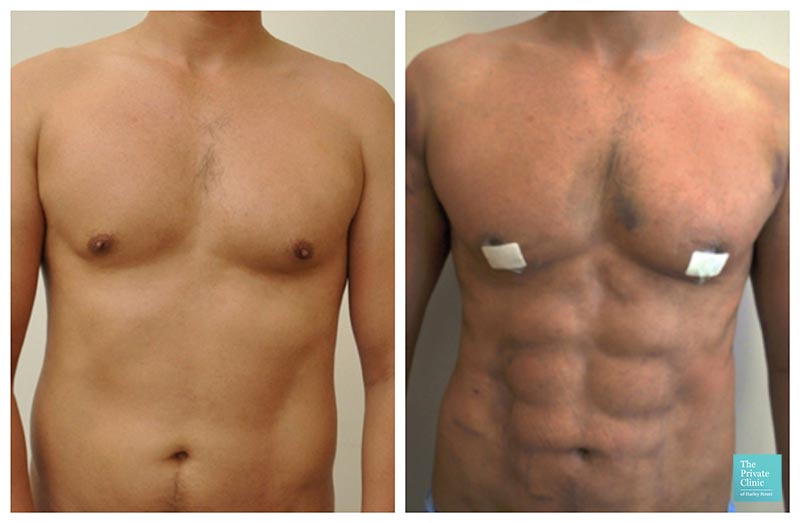 We also offer Vaser 360 which is a complete 360 solution for fat around the legs.
To find out more about Vaser Liposuction visit our FAQ section here.
Vaser Liposuction Before and After photos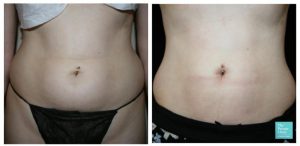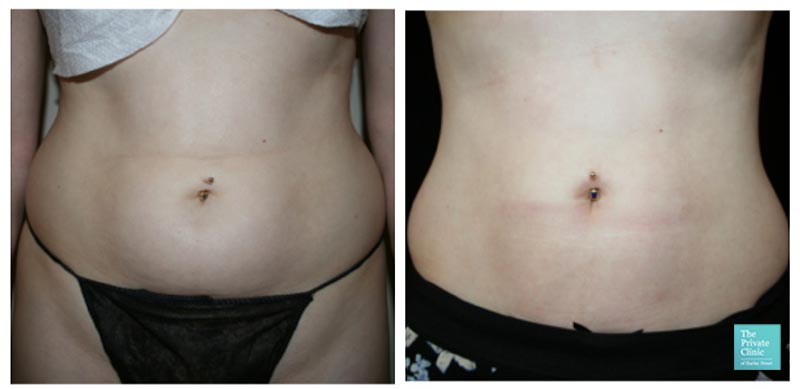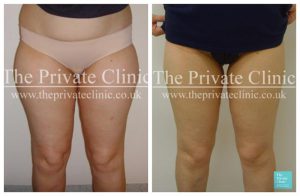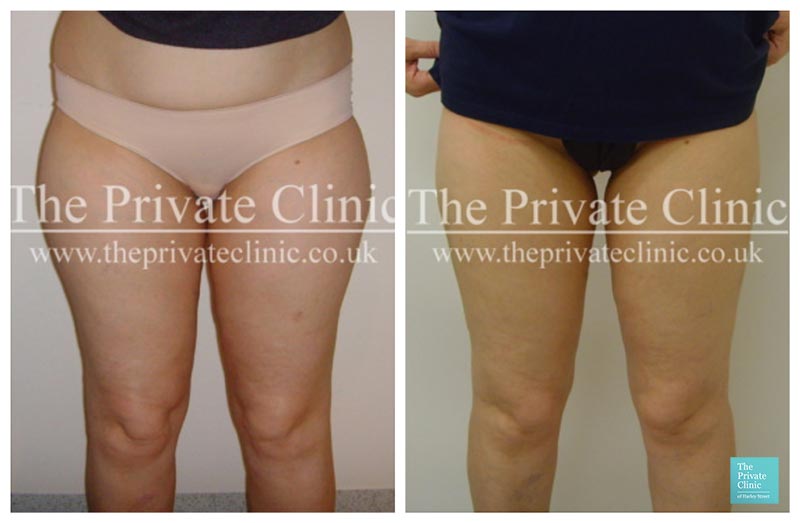 To see more vaser liposuction before and photos visit our gallery here.
Vaser Liposuction Alternative
CoolSculpting is an alternative fat reduction treatment available at The Private Clinic.
Commonly known as Fat freezing, this is a non surgical fat reduction procedure that uses controlled cooling to freeze fat cells which the body will then naturally break down and remove from the body. The treatment is ideal for areas such as the chin, stomach and upper arms. CoolSculpting involves no surgery, no needles and has little to no downtime and you can expect to see noticeable results within 8-12 weeks.




CoolSculpting treatment is available at clinics in Leeds, Manchester, Birmingham, Northampton, London & Stoke Poges, Bucks
Why Choose The Private Clinic?
The Private Clinic prides itself on ensuring you have the best quality and most comprehensive care:
Huge experience, we have performed more than 11,000 procedures.
Consultations with specialist surgeons.
24 hour patient helpline to ensure you are always in the best of hands.
As many post-operative care and appointments with your surgeon, doctor and nursing team as required.
One year cover for all surgical, hospital and nursing care, in case of any medical issue giving you peace of mind*.
Comprehensive patient information, every step of the way
Highly experienced surgeons and doctors who have years of experience in vaser liposuction.
Outstanding hospital facilities.
Competitively priced for our expertise and experience.
With over 35 years' experience of Cosmetic medical Excellence, you are in safe hands.
Our excellent reputation for patient safety and satisfaction, honest advice and outstanding care means your journey with The Private Clinic will be an exciting experience to a newfound shape.
The Private Clinic works with highly skilled body contouring and liposuction surgeons with years of experience and they are:
We are able to offer vaser liposuction consultations at our clinics nationwide:
*Consultations with a patient coordinator only
To find out more about Vaser Liposuction or to make an appointment please call 0333 920 2471 or click here.