Buttock shape trends have varied in shape, size and style for centuries, women of the 50s embraced their curves and larger bums were desired in comparison to the 60s where a slimmer and flatter shaped behind was preferred.
Celebrities such as Nicki Minaj and Kim Kardashian have caused the media to celebrate the appearance of larger buttocks and whilst the trends are going to continue to change, as it stands a shapelier and toned behind is now the favoured look. This can be achieved by focusing on the removal of fat within the buttocks crease which is often referred to as the banana fold or crease.
In recent times, we have become more fitness aware, eating healthier and working out more to help us achieve our desired appearance goals but there are times where no matter how many squats and protein we consume, we may still struggle with certain areas and require a little bit of additional help.
Treating the buttocks with liposuction takes an expert surgeon to take a considered approach to give you the best results. At The Private Clinic we do not treat the buttock cheeks as this increases the risk of skin asymmetry and sagging. Instead, we treat the buttocks crease, outer thigh, and hip-flank area, usually as a combined procedure to give the best results when it comes to buttocks reshaping.
We have a variety of different options at The Private Clinic for buttock reshaping including;
Patients who are bottom-heavy often find it can have a negative impact on their overall appearance of often complain of struggling to find clothes to fit right and instead favour an evener weight distribution across the body. It is not just women of course that seek buttock reshaping treatment, many men have also expressed an interest and vaser liposuction or micro lipo for buttock contouring is an effective treatment for men and women.
What is Buttock reshaping with Vaser Liposuction?
Vaser or micro liposuction is ideal for the buttocks crease and hips as it is able to target the specific area removing the unwanted fat and sculpting your body to achieve a more defined body shape without the need for fat transfer. No fat is removed from the buttocks cheeks as this can cause unwanted side-effects such as skin sagging and asymmetry.
The aim of buttock reshaping with liposuction is not to only remove the fat but to reshape the area too. During the procedure, fat is selectively removed from the buttocks crease which helps to narrow the buttocks. Fat can also removed from the upper outer portion of the buttocks and lower back which lengthens the natural curve of the back and shortens the overall height of the buttock. Another technique is to remove fat from the flanks which reduces the square appearance of the buttocks. Each buttock reshaping case will be individual and tailored specifically for each patient. At The Private Clinic, we aim to help you to achieve a result that looks natural and complements your body type.
How is buttock reshaping with vaser liposuction different to a Brazilian butt lift?
Buttock reshaping with vaser or micro liposuction is used to reduce and reshape the size and form of the buttocks. A Brazilian butt lift usually involves removing fat from other areas of the body and then injecting the fat back into the buttock area. This procedure comes with a large number of risks which is why it is not performed here at The Private Clinic.
Is buttock reshaping permanent?
Vaser liposuction and micro lipo are surgical procedures so the results are designed to be permanent. The procedures remove and redistribute fat cells from the areas treated on your body. Generally, you do not tend to grow new fat cells within the body – however, if you were to gain weight, although it may not form in your buttocks like it previously may have – the fat instead will be distrusted more evenly through the body. Overall, we recommend that patients stick to their ideal weight post-surgery as any weight gain may have an impact on the final results of your surgery.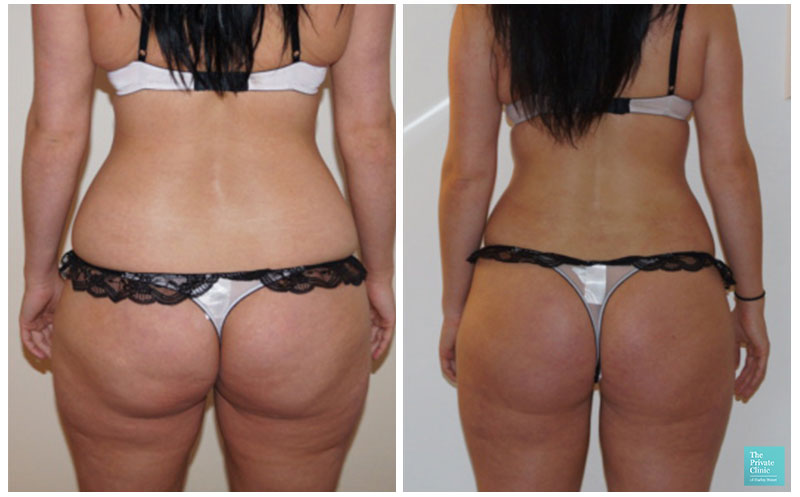 Vaser Liposuction
Where can I have buttock reshaping with liposuction?
The Private Clinic is the UK's leading provider of Vaser Liposuction for men and women and the first to launch Vaser liposuction in the UK. It is performed under local anaesthetic with sedation, no overnight hospital stay is required.
We perform over 1,300 liposuction and body contouring procedures a year and has performed more vaser liposuction procedures than any other clinic in the UK. Consultations are available in London, Birmingham, Manchester, Leeds and Northampton.
Micro lipo is available at our London Harley Street clinic with Mr Roberto Uccellini and Mr Michael Mouzakis.
Why choose The Private Clinic for Vaser Liposuction?
The Private Clinic prides itself on ensuring you have the best quality and most comprehensive care:
Huge experience, we have performed more than 11,000 procedures.
Consultations with specialist surgeons.
24-hour patient helpline to ensure you are always in the best of hands.
As many post-operative care and appointments with your surgeon, doctor and nursing team as required.
One year cover for all surgical, hospital and nursing care, in case of any medical issue giving you peace of mind*.
Comprehensive patient information, every step of the way
Highly experienced surgeons and doctors who have years of experience in vaser liposuction.
Outstanding hospital facilities.
Competitively priced for our expertise and experience.
With over 35 years' experience of Cosmetic medical Excellence, you are in safe hands.
Our excellent reputation for patient safety and satisfaction, honest advice and outstanding care means your journey with The Private Clinic will be an exciting experience to a newfound shape.
To find out more about Vaser Liposuction or to make an appointment please call 0333 920 2471 or use our liposuction buttocks online contact form.