All you need to know about lip fillers
LIP FILLERS
Home » All you need to know about lip fillers
If you're thinking about lip fillers, but want to get more clued-up on the procedure and what your options are, this blog post lays out all you need to know at this stage…
What are lip fillers?
A type of dermal filler, lip fillers provide a volume enhancing solution, for those unhappy with the size or shape of their lips. The popular procedure is non-invasive, and enhances lips without comprising how they feel for you or others.
Today's sophisticated fillers use Hyaluronic Acid, a substance naturally found in the body, which helps the skin retain its softness and moisture, while increasing volume. Collagen fillers, previously the most common dermal filler, are now less frequently used.
There are a few reputable dermal filler brands available, however, The Private Clinic favour the dermal filler brand, Juvéderm which is constructed of hyaluronic acid containing a local anaesthetic which numbs the lips and reduces discomfort during treatment.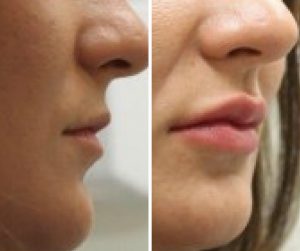 Who can have a lip filler injection?
Adults of any age can use lip filler to enhance their lips. With different formulations targeting different concerns, lip fillers can address a range of needs. Some address fine lines around the mouth, whereas others focus on increasing volume to the lips, for example.
Talented aesthetic medical professionals can help achieve natural-looking results appropriate for adults at all ages complimenting both your lips and facial shape.
What are my lip filler options?
Your practitioner can address either or both the main body of your lips and vermillion border (the border of the upper and lower lips that is pinkish-to-red in colour). Whether you want to treat both lips, the bottom lip, the centre of the top lip or the lip border, you can address whichever region you and your aesthetic practitioner decide is most complementary to your profile.
For defining the lip border, adding volume or evening out the lips, different types of dermal filler are available. At The Private Clinic, we offer Juvéderm Smile, Juvéderm Volift and Juvéderm Volbella for lip filler treatments. Juvéderm Smile adds fullness and body to both the upper and lower lips, meanwhile enhancing its overall shape and contour. Juvéderm Volift provides the lips with natural-looking and long lasting volume. Juvéderm Volbella helps define the lip line, and can treat lines around the mouth.In regards to the amount of lip filler used, this will depend on the patients desired results. However, at The Private Clinic, we usually advise injecting up to 1ml at a time, and more volume can be added over a couple of treatments.
The golden ratio for lip fillers is usually 1:1.818 top to bottom – any ratio outside of this can achieve an unnatural looking result. Although, it is not a blueprint for all, some patients suit more symmetrical lips, or a 'top-heavy' look. Your practitioner will advise what is best for you.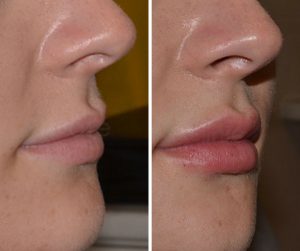 What does the treatment involve?
Before treatment, your aesthetic practitioner will first clean your lips, and can also apply topical anaesthetic to the area in addition to the anaesthetic already included in most dermal fillers. Your medical practitioner will then prepare the syringes with the predetermined amount, and inject small amount of dermal filler directly into the skin, through an ultrafine needle.
You may experience minimal pain but the anaesthetic in the dermal filler should make the treatment virtually pain free, and provide comfort during and after the injection.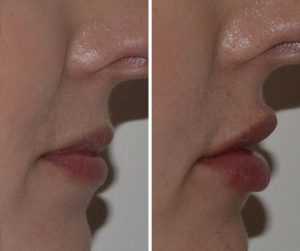 Are lip fillers safe?
For safety and confidence in your results, it is very important to only use a qualified medical practitioner for treatment. You may find that spas or beauty salons offer lip filler procedures, however, only qualified nurses and doctors can achieve the most effective results and are able to treat you or prescribe medication if there is any complication.
Do augmented lips feel different to natural lips?
When carried out correctly, by a qualified medical practitioner, lips treated with lip fillers should not be able to feel any different to natural lips.
How much do lip fillers cost?
Lip filler injections can cost anything between £250 and £500 per ml, depending on the amount and type of dermal filler used.
At The Private Clinic, our lip filler prices start at £250, and you can save money when buying a course of dermal filler with us. An exact cost quote will be provided after a consultation in which your lip filler requirements are determined.
How do long do the results lasts?
Both temporary and permanent lip fillers are available. However, at The Private Clinic, we only use the highest quality temporary fillers, which in our opinion are safer with more stable results. Permanent fillers are becoming less popular, as their complications are much more difficult to treat, and excision could be the only possible remedy.
The effects of temporary lip fillers will fade gradually, but are likely to last between 4 and 6-8 months, subject to the type of treatment used and the individual variability. After this point, you are able to have a top up treatment, or if you choose to have no further injections, the gel will then biodegrade in your skin and disappear.
What are the side effects of lip filler & aftercare required?
Immediately after treatment, you might experience some temporary swelling, bruising, redness and tenderness around the treated area, and may also feel a slight itching sensation.
Regarding necessary aftercare, you should avoid anything which could increase swelling. At The Private Clinic, we recommend being gentle with the area, and that you refrain from touching the region as much as possible immediately after treatment. We also advise you to avoid lipstick or lip balm and extremes of temperature for 12 hours. It is also advisable not to schedule treatment within 2 weeks of any special event to allow sufficient time for any bruising or swelling to resolve.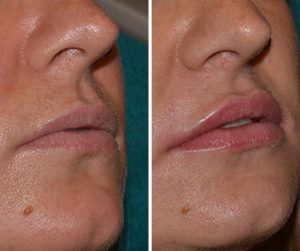 Why choose The Private Clinic?
The Private Clinic has over 35 years' experience using non-invasive and minimally invasive treatments to help patients look and feel their best. We pride ourselves on only using the highest quality brand of temporary fillers from reputable manufacturers such as Allergan which are renowned for their superior standards.
Committed to the highest safety standards, we only offer expert qualified doctors and nurses for our lip filler treatments. Each of our qualified medical practitioners offer a comprehensive lip filler consultation prior to treatment, where you can discuss your lip filler options and ask any questions or talk through any concerns you may have.
Aesthetic Doctors
Aesthetic Nurses
To find out more about our safe lip filler treatments or schedule a consultation please call, 0333 920 2471 or use our dermal filler online contact form.. Our lip filler treatments are available at the following clinic locations: Harley Street London, Birmingham, Manchester, Leeds and Northampton.