5 Top Cosmetic Treatments for those wanting to avoid the downtime
NON-SURGICAL
Home » 5 Top Cosmetic Treatments for those wanting to avoid the downtime
Time is precious and we are seeing an increase in patients now who do not want the downtime that is associated with many surgical procedures. Non-surgical treatments are a great alternative and can often give long-lasting results with limited downtime to suit even the busiest of patients.
Non-Surgical Eyelift
The Handy Plasma non-surgical eyelift treatment is a new way to help improve the appearance of sagging eyelids and eye bags that were previously best treated with a surgical blepharoplasty procedure. Facial surgery can be difficult to conceal and does often result in patients needing to take additional days off work and away from social events to allow for any bruising or swelling to subside.
The handy plasma treatment does still have a period of downtime, but in comparison to surgery; patients are able to return to their everyday lives a lot quicker.
The procedure uses a Plexr® Plasma Pen device applicator which ionises the gas particles in the air between the device tip and the skin emitting a small electric arc which creates a substance known as plasma. Plasma causes the tissue in the area being treated to go from being solid to a gas state therefore instantly vaporizing the excess skin and tightening what remains. A carbon crust is then left on the area which can take 10 days to fully heal.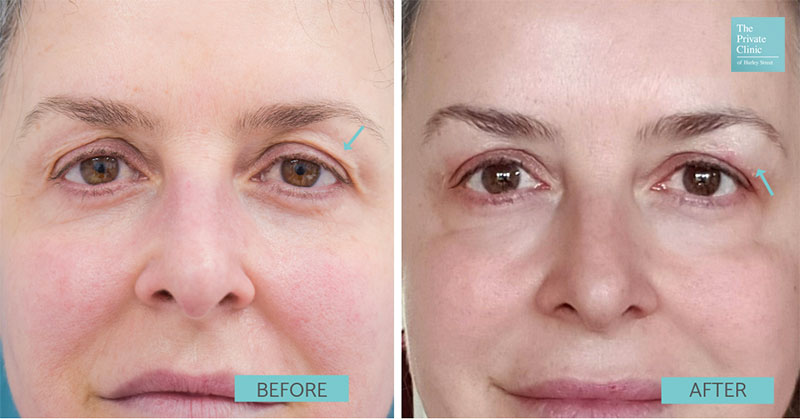 Handy Plasma Non-Surgical Eyelift Treatment is available in London Harley Street Skin Clinic
One Stitch Facelift & Temporal Facelift
Traditional facelift procedures can come with a lengthy downtime but our one stitch facelift procedure aims to reduce that and allow patients to return to work and social events much sooner than expected. A one stitch facelift or temporal lift is performed under local anaesthetic with a smaller scar but the results are still very effective for patients who are suitable.
The temporal facelift targets the lower face whereas the one stitch facelift focuses on the mid-face and jawline. During the procedure the skin is separated from the fat and muscle below allowing access to the underlying muscle and SMAS membranes are tightened.
Following surgery, many patients are able to return to work the following day although we do suggest that patients allow a day to take some time for themselves following the procedure. Make-up can be worn straight away, although avoiding the incision areas until completely healed. There are no bandages that need to be worn and patients can expect to benefit from the results for years to come.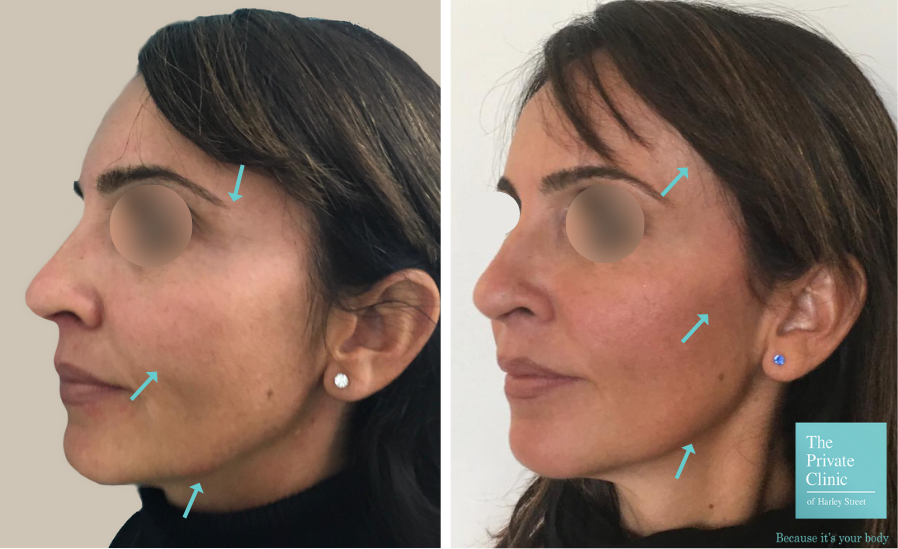 One Stitch Facelift & Temporal Facelift procedures are available in London Harley Street.
Our expert plastic surgeons will be happy to discuss your concerns in a consultation.
Bunion

Bunion surgery traditionally required extensive downtime with many patients being off their feet for a number of weeks but our new minimally invasive bunion surgery procedure allows patients to walk immediately after surgery. The revolutionary keyhole procedure is able to remove bunions from the foot under local anaesthetic with no need for any fixative devices such as screws, plates or wires.
The bunion is treated by creating small and precise fractures that are referred to as geometric fractures to correct the deformity and modify the bones of the foot. The foot is then left free to allow it to heal naturally and patients are encouraged to bear weight on your foot shortly after your procedure to encourage the correct physiological readjustments. Many patients are able to return to work or everyday tasks after 1-2 days however an orthopaedic shoe will need to be worn during the recovery process but patients will be able to walk unaided and without pain following surgery.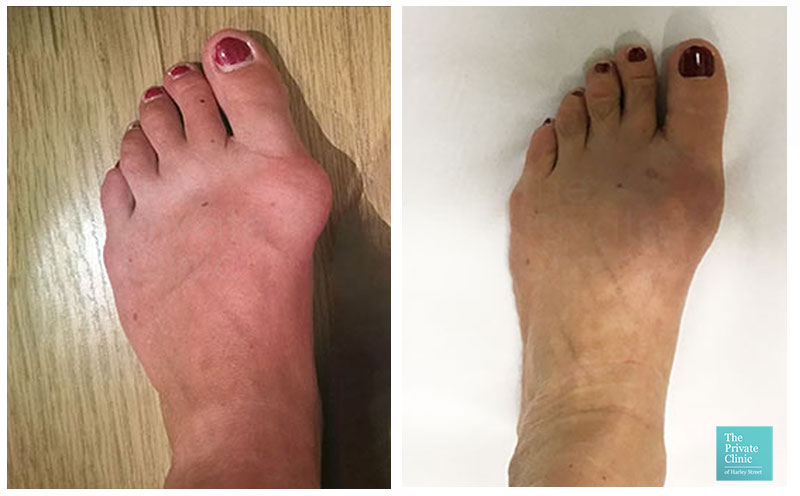 Consultations for Minimally Invasive Bunion Removal Surgery are available in our London Harley Street and Manchester clinics
Non-Surgical Nose Job
A Rhinoplasty or surgical nose job procedure can be one of the most identifiable plastic surgery procedures due to the bandaging required and bruising that often occurs. The non-surgical nose job is a great alternative for those seeking nose reshaping surgery without the downtime.
A non-surgical nose job involves injecting dermal filler into the nose to subtly correct issues such as a dorsal hump, crooked nose and cartilage irregularities at the tip of the nose.  It is a quick procedure that does not require any hospital visits and patients can see the results almost immediately after treatment.
Patients may experience some slight swelling following treatment but many are able to return to work immediately after treatment. The results are not permanent but can last anywhere from 6-18 months.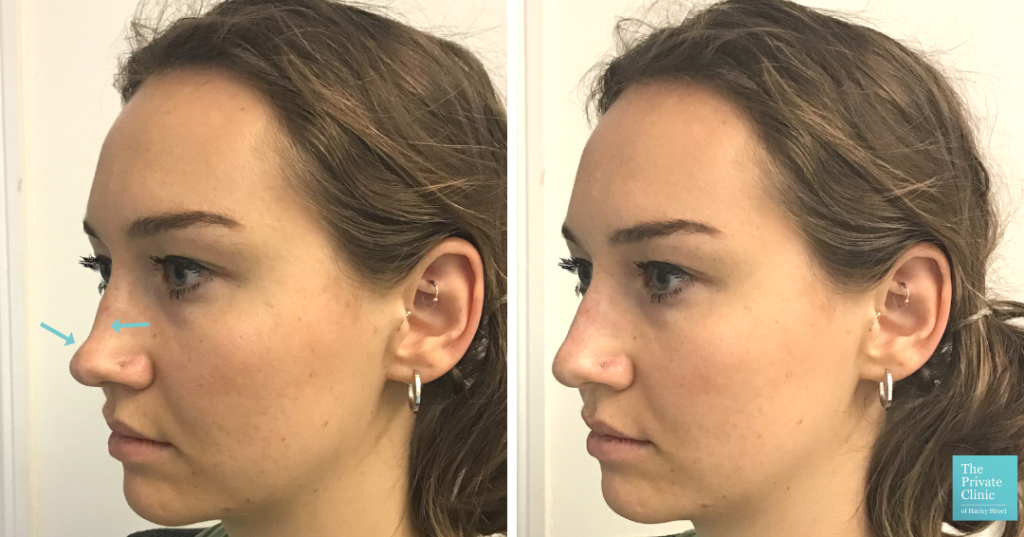 Non-Surgical Nose Job Procedures are available in London Harley Street, Birmingham, Buckinghamshire, Leeds, Manchester and Northampton.
Varicose Veins
Previously the best way to remove varicose veins was to undergo vein stripping surgery which was carried out under general anaesthetic and required an overnight stay in hospital followed by a long recovery process at home. The National Institute of Clinical Excellence (NICE) now suggest that vein stripping should no longer be used now that the minimally invasive options are able to outperform the older techniques.
At The Private Clinic we offer our patients a variety of minimally invasive varicose vein removal procedures such as Endovenous Laser Ablation (EVLA) which is considered the NICE gold standard treatment for varicose veins.
EVLA is performed under local anaesthetic and involves using laser heat to collapse the wall of the varicose veins to destroy the cause of the problem. The procedure takes under an hour to perform and patients are able to return home shortly afterwards. The downtime after EVLA is low with many patients able to return to work the following day.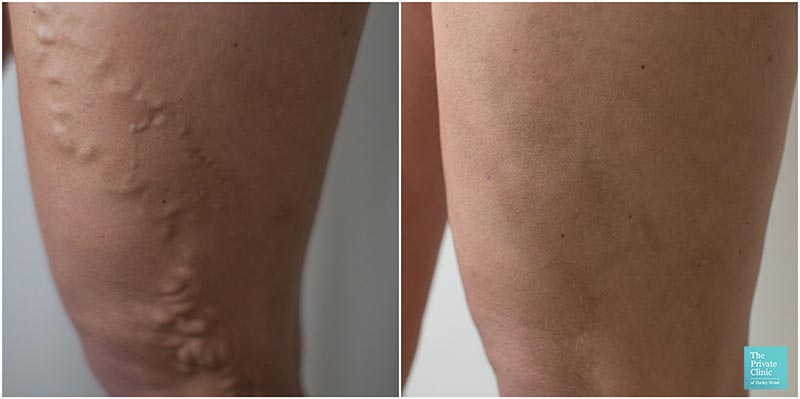 Varicose Vein treatment consultations are available in London Harley Street, Birmingham, Bournemouth, Leeds, Manchester, Buckinghamshire and Northampton.
Minimally Invasive Treatments at The Private Clinic
We are proud to have pioneered the widest range of minimally-invasive, surgical, medical-cosmetic and aesthetic treatments catered to the individual needs of our patients. Our expert surgeons, doctors and nurses are amongst the most experienced in their field, and you can rest assured that you are being offered honest advice and the most suitable treatment for you.
We pride ourselves of using state-of-the-art technologies and the most advanced techniques in order to achieve the best results for patients with minimal disruption to their everyday life. We perform walk-in walk-out procedures where suitable that don't require general anaesthetic, overnight stays or long recovery periods.
To find out more about our minimally invasive procedure, please call 0333 920 2471 or use our online contact form to request a call back.