If you have a lot of excess skin in your abdomen area this can negatively affect your confidence when it comes to wearing certain clothes an even physically with back pain due to the additional weight of the skin. Many patients with excess skin in their abdomen will be considering a tummy tuck, also known as abdominoplasty surgery.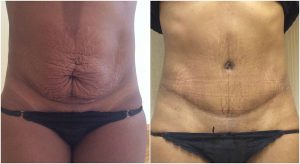 There is a lot of information out there about tummy tucks and a popular question that we get asked is what the difference is  between a full and mini tummy tuck and how can you tell which one will be most beneficial to you?
A full tummy tuck would be the best option for those who have lost a considerable amount of weight or from pregnancy where there is a lot of excess skin that hasn't bounced back.
A mini tummy tuck would be ideal if you are of a more healthy weight, but have a small amount of excess skin that will not shift through exercise and diet.
If you are still not sure which type will be best for you then there are a couple of simple tests that you can do at home;
The Pinch Test
1. Stand up straight
2. Pinch the skin just above the belly button
2. Pull the skin down towards your public bone area
If you are easily able to stretch your skin down to this area, usually where a caesarean scar would sit then you would be eligible for a full tummy tuck, however if you are unable to do this then a mini tummy tuck may be a preferred choice.
The DRAM test
(Divarication of Rectus Abdominis Muscles)
Lie flat on your back
Lift your legs in the air
Place your hands on your stomach
If your rectus-abdominis muscles have split then when you are in this position you will be able to feel a gap on either side of your belly button.
The rectus-abdominis or 6 pack muscles are located in your stomach and start off close together. During pregnancy these muscles can split apart to make room for the growth of the baby. A split can also happen if you perform core abdominal exercises incorrectly. You may notice a ripple of loose skin from where the muscles have separated. No amount of exercise will be able to fix  this and it can instead be corrected through either full or mini tummy tuck surgery, depending on how much excess skin you have from the pinch test.
If you think you may be suitable for either a full or mini tummy tuck procedure then we would recommend that you book in for a consultation with one of our expert plastic surgeons. During this consultation your surgeon will be able to assess your tummy area and determine the best procedure for you based on your goal is from surgery.
The Private Clinic
Working with only the very best surgeons ensures that we can produce the results you want safely. We're proud to have some of the UK's most respected doctors as part of our Tummy Tuck team, including:
Tummy tuck consultations are available with a surgeon or experienced patient advisor in London Harley Street, Birmingham, Bristol, Buckinghamshire, Glasgow, Leeds, Manchester, Milton Keynes and Northampton.
To find out more about tummy tuck surgery, please call 03339209135 or use our tummy tuck online contact form to request a call back.