A recent survey found that 56% women would trade in every single pair of designer shoes they own to have perfect arms. But, while a staggering 3/4 of us apparently dislike the area, there's no need to stick those heels on eBay quite yet…
Looking at the end results above, can you tell whether the patient had an arm lift or a form of liposuction?
Probably not. The key to any successful procedure is the results being subtle enough to be undetectable, but dramatic enough to make a big difference from the original. However the treatments themselves (and the candidates that best suit them) are entirely different.
We explain why:
Types of Brachioplasty Liposuction
Liposuction
Put simply – liposuction is the best treatment for those looking to shift stubborn fat in the upper arms. It can help sculpt and shape areas we don't like, and get rid of bulging pockets that simply won't disappear in the gym. Once a complex procedure reserved for Hollywood's elite, today the majority of its forms are far less invasive – requiring no hospital stay and minimal downtime – though different people will have different requirements. At The Private Clinic we provide three different forms of the treatment, depending on a patient's needs: Surgical Liposuction, VASER Liposuction, and MicroLipo.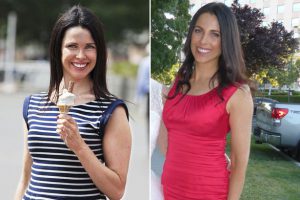 VASER Liposuction
VASER is one of the most popular forms of modern liposuction, achieving contouring and definition without excessive invasion. It works by loosening fat cells from other tissues prior to removing them, meaning less risk of bruising or damage. This also means extreme precision, allowing suitable patients to achieve muscle toning and definition through its various forms including VASER Hi-Def and VASER 4D.
MicroLipo
Like VASER, MicroLipo is minimally-invasive and performed under local anaesthetic. It gets its name through the extremely small cannulas (ranging between 0.9-3mm in size) used to extract fat  which, in turn, makes it minimally-invasive with very little risk of noticeable scarring. Prior to removing any fat, a doctor will inject a special type of anaesthetic (tumescent) into the area which causes it to swell and become firm. Like VASER this means the fat cells are separated from other tissues, meaning far less damage and an easier recovery.

This is why the treatment is particularly well suited to the arms, which require complex precision without excessive bruising. Likewise, MicroLipo is frequently used for sufferers of Lipoedema – a condition which causes areas of the body (often the legs) to store a disproportionate amount of fat.
Surgical Liposuction
The oldest and most traditional form of the three, Surgical Liposuction is commonly performed alongside an Arm Lift, or used on those who have a large amount of fat to remove. However, it is important to remember that liposuction is never an alternative to a healthy diet and should not be used as a method for weight loss. Fat cells that are removed are gone permanently, but this doesn't stop other fat cells being able to store more.
Find out more about MicroLipo, VASER Liposuction or Surgical Liposuction. 
Surgical Arm Lift
While liposuction can remove up to around 3 litres of fat, it can't do anything about excess or untaught skin. This is where an surgical Arm Lift comes into play. The surgical treatment can be used on its own or in combination with surgical liposuction, to remove areas of sagging skin or lax muscle.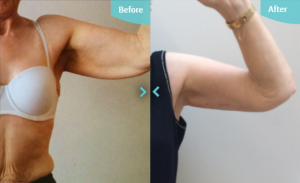 As it is a serious surgery, an Arm Lift will normally be performed under general anaesthetic meaning you might require a stay in hospital overnight afterwards. Most clinics will work with you to ensure your specific wants are targeted, but the treatment normally begins with your surgeon making an incision on the inside of the arm near the armpit, from which loose skin is removed and lax muscles are tightened. It takes around two hours in total and you'll normally need to wear garments for around 7-10 days after treatment to ensure the best results.
The treatment is all about reshaping the arm, and is therefore particularly well suited to those who have lost a large amount of weight or those who are experiencing problems with their arms due to ageing. However this doesn't discredit others – if you are experiencing lax muscles or too much skin, a surgeon will explain to you your choices and what they recommend.
Find out more about Arm Lift treatment.
Summary
A staggering 75% of women dislike their upper arms. Thankfully, if the area is causing you issues, there are a number of targeted treatments available at The Private Clinic which are designed to shape and sculpt, depending on your particular complaint. The easiest way to work out what you require is by remembering that liposuction is often best for fat removal, while an arm lift is the only way to get rid of excess skin. They are two entirely different procedures, suited for different needs and different outcomes. Our experts are always available to help you find the best treatment for your requirements, so your most important research should always be digging deep to find a medical team that you can trust.
To find out more about the arm lift treatments we offer at The Private Clinic, please call 0333 920 2471 or use our online arm lift or reduction contact form to request a call back.