500+ miles away from London is the UK's northernmost country; Scotland. Known for its range of interesting delicacies such as haggis, its abundance of medieval castles, the mysterious loch ness monster and of course the famous kilt – it is not always someone's first thought when it comes to hair transplants.
Hair Transplants amongst other cosmetic surgery procedures are better associated with the likes of London's Harley Street but you may be pleased to know that The Private Clinic has not one but two clinics in Scotland where you can visit to find out more about what hair transplant options are available for you.
The Private Clinic in Glasgow is our main clinic in Glasgow where a variety of skin rejuvenation treatments are offered as well as varicose vein removals and of course FUE Hair Transplants are carried out. We also offer consultations for hair transplants and have the ability to carry out procedures too at our consulting space in Edinburgh meaning there is no need to travel to London.
Picking a Hair Transplant clinic can be tricky but you should take the time to do your research and feel confident in your decision. At our Scotland clinics your procedure will be carried out in a safe environment with only highly experienced and trained professional hair restoration surgeons performing your procedure. We also offer a thorough  aftercare plan to ensure that your results are the best that they can be.
An FUE Hair Transplant is minimally-invasive, virtually undetectable scarring, no stitch technique favoured by many men who are considering hair transplant surgery.
It has been reported that as many as 50% of men will experience some range of hair loss by the time they reach 50 with many seeing the first signs of hair loss when they are in their 20s. There is a wide range of reasons why a male might be experiencing hair loss, from various forms of alopecia to genetics and lifestyle.
Once you make an appointment to see a hair transplant surgeon at either of our Scotland based clinics you will be able to get detailed information about what the FUE Hair Transplant procedure involves as well as assessing your suitability and the potential cause for your hair loss.
Our surgeons are some of the most esteemed, reputable and sought after Hair Restoration specialists in the world who have worked hard to perfect their hair implant techniques so that they are able to offer you only the most natural looking results.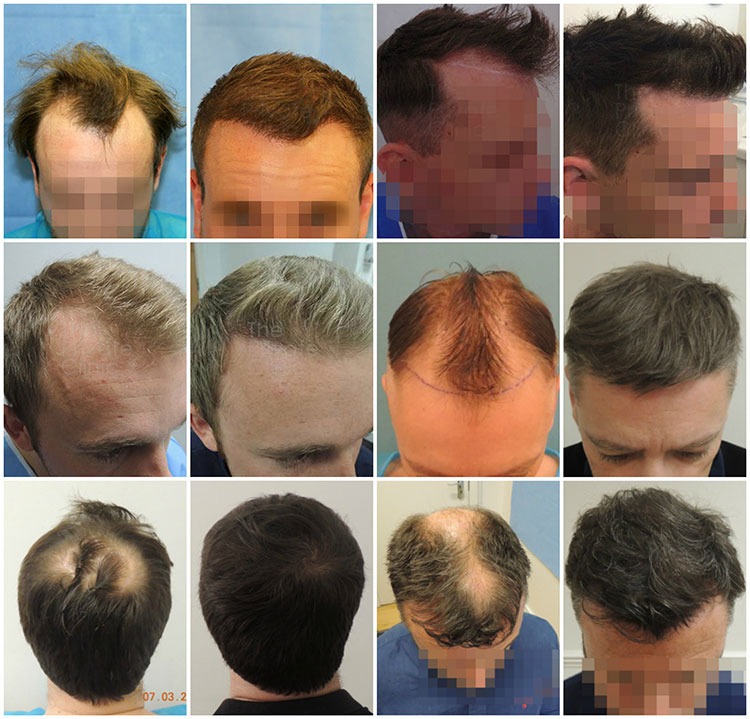 Why choose The Private Clinic in Scotland?
Our excellent reputation for patient safety and satisfaction, honest advice and outstanding care means your journey with The Private Clinic will be an exciting experience to a newfound head of hair.
Outstanding clinic facilities local to you in Scotland.
Comprehensive patient information, every step of the way.
A Highly experienced Hair Transplant Surgeon who has had many years of experience.
As many post-operative care and appointments with your Hair Transplant surgeon and nursing team as required.
24 hour patient helpline to ensure you are always in the best of hands.
Only the finest instruments are used, resulting in as minimal trauma to your scalp as possible.
You won't require any stitches after your treatment like you would with the Strip (FUT) procedure, which means your recovery time will be reduced.
FUE is a minimally invasive treatment (meaning there is no cutting of a strip), and carried out under local anaesthetic – many patients either watch TV, or even fall asleep during the procedure.
Our advanced skills and techniques will ensure that once healed, your donor area will look intact after the hair transplant procedure meaning you can style your hair without worrying about any obvious scarring.
We work by hair, not per graft – this ensures that only the strongest, healthiest follicles are selected for your transplant procedure. See our Hair Transplant videos here.
For more information or to book a consultation with our expert Hair Transplant surgeon in Glasgow or Edinburgh click here or call 03339209135