The Private Clinic is a specialist vein clinic for the treatment of varicose veins, thread veins, spider veins and facial veins. The Private Clinic have carried out over 7,000 procedures in treating Veins and in particular we are specialists in the minimally invasive treatment of veins. We focus on the underlying cause of your veins and you will only see a Consultant Vascular surgeon for Varicose Veins.
Veins Treatment Clinics to target :
Varicose veins are the blue or purplish enlarged veins you typically see bulging out of a person's leg, most often on the backs of the calves or on the inside of the legs. If varicose veins are severe, don't ignore treatment, as they can rupture or form ulcers on the skin, which require immediate attention.
Spider Veins(also known as Thread Veins) are similar to varicose veins but they're smaller. They are often red or blue and are closer to the surface of the skin than varicose veins. They usually appear on the thighs and ankles and can pose a health risk.
Facial Veins generally appear on the nose, chin or cheek area and often occur in Rosacea.
Our Varicose Vein clinics in Bristol's Whiteladies road in Clifton, in Manchester Saint John's street off Deansgate road and in Glasgow's Park Circus off Woodlands road are all ideally located for the treatment of Varicose veins, thread/spider veins and facial veins . We are able to offer non-surgical varicose vein removal treatments to 99% of patients that come to see us in Bristol, Manchester and Glasgow and the best part is that these treatments are walk in walk out treatments. No need for lengthy hospital stays. This includes the varicose vein treatment EVLA (Endovenous Laser Ablation) or Endovenous laser treatment, Sclerotherapy (Foam & Liquid), VenaSeal and Phlebotomy. We also treat smaller Spider or Thread Veins and offer advanced Sclerotherapy and Cutera CoolGlide thread veins removal treatments.
For more information on our EVLA varicose vein minimally invasive treatment and our expert Consultant Vascular surgeons click here.
To see before and after photos for varicose veins click here.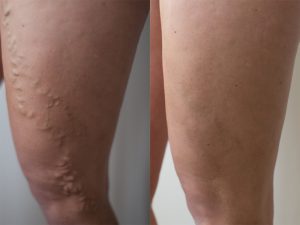 We also have other specialist varicose vein clinics located in Leeds, Birmingham, Harley street, Bournemouth, Bexhill, Chelmsford in Essex and Northampton.
Book your consultation today and you will be on your way to vein free legs.
0% APR
FINANCE AVAILABLE
MORE INFO