Varicose Veins Cost Manchester
Varicose veins can affect anyone at any age and at any time in their life.
They can often cause discomfort and many patients who come to see us explain how uncomfortable they feel about showing their legs which can prevent them from wearing certain items of clothing and attending social events. At our Manchester Vein clinic, we are dedicated to finding you a varicose vein treatment that is going to help regain your confidence whilst avoiding health issues.
Varicose Vein treatments in Manchester
We offer a range of different varicose vein treatments at our clinic in Manchester. They are all performed in our in-house theatre, under local anaesthetic and don't require an overnight stay meaning you will be able to return home shortly after your procedure and recover in familiar surroundings. Our Manchester varicose vein team and our 24-hour patient help-line to ensure that you are in the best hands at every stage of your procedure.
The varicose vein treatments that we offer in Manchester are:
EVLA – Endovenous Laser Ablation is considered the Gold Standard of treatment for varicose veins by the National Institute for Clinical Excellence (NICE), a non-departmental public body whose aim is to encourage the best healthcare practices across the country. The treatment works to locate the damaged vein with ultrasound, before using laser heat to collapse the wall of the vein and destroy the cause of the problem. EVLA is performed under local anaesthetic boasts much speedier recovery times and success rates than traditional vein stripping.


Phlebectomy – Varicose vein removal by Phlebectomy is best for enlarged vein removal, particularly varicose veins that are close to the surface of the skin. The veins are first marked up by the surgeon before the areas are then anaesthetised using local anaesthetic. Tiny incisions are then made to remove the veins from the area using a very fine surgical hook. The treatment is painless, no stitches are required and patients are able to return home the same day. Phlebectomy procedures are usually combined with EVLA to fully treat both the surface and any underlying veins.
Foam Sclerotherapy – Sclerotherapy treatment is usually only suitable for smaller thread veins however our foam sclerotherapy treatment can be really effective on larger varicose veins. The treatment involves a foam solution being injected into the vein which eventually causes the vein to close, shrink and disappear. The treatment is quick, often taking less than 30 minutes and performed under local anaesthetic.
VenaSeal – VenaSeal is a closure system that uses medical adhesive to close varicose veins. This treatment is ideal for patients who have a phobia of needles as it only requires one small injection per vein. A small catheter will be inserted and guided through the leg using ultrasound imaging. A VenaSeal tool is then used to dispense small amounts of medical grade Sapheon Glue to close the vein. When the vein has closed, the blood is re-routed through healthier veins that are deeper within the leg. The original varicose vein is then gradually absorbed by the body. VenaSeal boasts a quick recovery time with many patients being able to get back to work and exercise a lot quicker and without the need to wear a compression garment throughout the recovery period.
To find out more about varicose vein treatments offered at The Private Clinic, be sure to visit our website where you can also find before and after photos, patient stories and extensive FAQs.
We also offer thread vein treatments at our Manchester Vein Clinic with microsclerotherapy treatment for thread veins on the legs starting from £250.
Varicose Vein Treatment Cost Manchester
The Private Clinic has performed over 7,000 vein procedures so you can be rest assured that you are in safe hands.
Our varicose vein removal self-pay treatment prices are very competitive, you will be given an accurate quote following your consultation but as a guide;
Treatment

Cost

Endovenous Laser Ablation (EVLA)

Consultation: £150
Ultrasound Scan: £0
Treatment: From £2,260
Compression Stockings: £0
Follow up appointments: £0


Consultation: £150
Ultrasound Scan: £0
Treatment: From £2,960
Compression Stockings: £0
Follow up appointments: £0

Consultation: £150
Ultrasound Scan: £0
1 Leg: £997
2 Legs: £1,350
Compression Stockings: £0
Follow up appointments: £0

Consultation: £150
Ultrasound Scan: £0
Treatment: From £400
Compression Stockings: £0
Follow up appointments: £0
In the majority of cases, EVLA will be the best method for Varicose vein removal. EVLA treatment has a 95.4% success rate and is by far the most popular choice amongst our patients.
A consultation with one of our expert Consultant Vascular Surgeons is the best place to determine the most appropriate treatment for you. Consultations with our surgeons cost £150, which includes a free ultrasound scan of your legs which is usually priced between £350 and £450 at most clinics and private hospitals. We offer this free scan to help our surgeons have a clearer view of your veins and where the issue is which enables you to make a more informed decision about your treatment.
At The Private Clinic, we do not charge for any follow-up consultations, this is always included in our price. You can come back as many times as you feel is necessary.
Where to get a varicose vein treatment in Manchester?
Our Manchester veins clinic has a friendly team who are committed to helping you find the best treatment for your needs. We focus on minimally-invasive treatments for varicose veins to ensure that our patients achieve the best results without excessive effect on your daily life and no need for an overnight stay.
Address:
The Private Clinic Manchester
25 St John Street
Manchester
M3 4DT
Is Manchester our most convenient location for you?
The Private Clinic in Manchester is based on 25 St John Street which is located near the Spinningfields district just off of Deansgate road which runs through the city centre of Manchester.
Varicose vein treatment near me
Patients choose to visit our Manchester varicose veins treatment clinic if they are located in the northwest of England. Many travel from surrounding areas such as Hale/Hale Barns, Bowdon, Alderley Edge, Wilmslow, Macclesfield, Leigh, Prestbury, Nantwich, Tarporley, Knutsford, Worsley, Altrincham, Cheadle and Deansgate.
If travelling by Car
The Manchester clinic can be easily reached from the M60 and A57 (M) roads which surround the city.
If you are planning to drive, metered parking is available outside the clinic however availability cannot always be guaranteed. There are several NCP car parks nearby on Watson Street, Stone Street or New Quay Street which are all between a 5-10 minute walk away from the clinic.
If travelling by public transport
We are located just a 7 minute walk away from Deansgate Train Station which has regular trains between Manchester Piccadilly station with TransPennine Express, Northern, East Midland Trains and Arriva Trains Wales lines.
The free MetroShuttle buses that run through Manchester will all get you to the Deansgate/Spinningfields area and then it is just a short 5-10 minute walk to the clinic.
Varicose Veins Manchester Before and After Photos
Vascular Specialists in Manchester
At our Manchester varicose veins clinic, you will be seen by a highly experienced vascular surgeon who will take care of you throughout the consultation and treatment process which will take place in-house. We only use Consultant Vascular Surgeons and not radiologists for varicose vein treatment.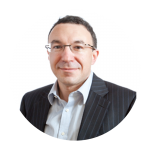 Professor Ferdinando Serracino-Inglott
Consultant Vascular Surgeon
MD, FRCSI, MSc, FRCS (Gen Surg)
GMC Number: 5206200
Professor Serracino-Inglott is a highly experienced Consultant Vascular Surgeon who is committed to providing the newest, most pioneering techniques for his patients.
Varicose Vein FAQs
What causes varicose veins?
Varicose veins are caused when the vein walls and valves become weak leaving them unable to function correctly. When this occurs, blood can flow backward and pool in the vein, causing the veins to stretch or twist. There are certain risk factors which can make you more prone to developing varicose veins which include:
Weight gain
Pregnancy
Genetics
Ageing
Standing/Sitting for long periods
Do my varicose veins need treating?
Varicose veins are not only an unsightly nuisance, but they can also be potential health hazards putting you at risk of blood clots, ulcers, swelling, hyperpigmentation, and venous disease.
Many patients who come to see us describe feeling pain and discomfort in the legs, itchiness, fatigue and swelling of the skin which are all symptoms of varicose veins that can continue to become worse over time if left untreated.
Do varicose vein treatments hurt?
All of our varicose vein treatments are performed under local anaesthetic so you should not feel any pain during the procedure and our expert team will be on hand to ensure your comfort throughout the procedure.
In the hours following a varicose vein treatment once the local anaesthetic has worn off, patients may feel experience a little discomfort, but this is minimal and can be easily managed with pain relief if required.
Can varicose veins return after treatment?
It is unlikely for the same varicose veins to appear again once they have been treated. Varicose vein treatment however is not able to guarantee that no other veins may appear. If you are prone to varicose veins then certain lifestyle factors could cause new varicose veins to appear.
Our surgeons are keen to ensure that your results are long lasting however so will provide you with all the information you need to know about avoiding the recurrence of varicose veins.
We average that there is a 1% chance of new veins developing for each year after treatment.
Why choose The Private Clinic Manchester for Varicose Veins Treatment
We offer the least invasive method for varicose veins removal and thread veins removal treatment for your legs, body and face.
Our Consultant vascular surgeons are pioneers in EVLA (Endovenous Laser Ablation) and have treated thousands of patients.
No lengthy downtime or recovery required.
The NICE (National Institute for Clinical Excellence) Gold Standard for treatment of Varicose Veins findings show that the success rate after five years for EVLA is 95.4%.
A consultation with one of our Consultant Vascular Surgeons costs £150, including a free ultrasound scan of your legs (usually priced between £350 and £450 at most clinics and private hospitals).
We focus on the underlying cause of your veins and you will only see a Consultant Vascular surgeon for varicose veins.
We have treated thousands of patients who have regained their confidence whilst avoiding health issues.
Treatment takes one hour, you can go home shortly after being treated.
Owing to our success, we have been featured on Channel 4's Embarrassing Bodies , TLC's My Naked Secret and featured in Harper's Bazaar's Cosmetic Tweakment Trends for 2019 and The Daily Mail.
We have carried out over 7,000 procedures in treating Veins.
We are able to offer finance solutions with manageable payments to suit a variety of budgets.
View our extensive FAQs
See our previous patient stories
Request a varicose vein treatment brochure
"Excellent service and treatment I attended the Manchester clinic for the EVLA varicose vein treatment with Mr Inglot. I had a large amount of unsightly veins which caused me discomfort. I was supported throughout the procedure by the clinic staff and Mr Inglot. Although I had a large amount of veins treated my recovery was swift and simpler than I expected and I am delighted with the result."
Pat – Cleethorpes
"Fantastic Experience, I visited The Private Clinic Manchester recently for EVLA treatment. What a dream to work with caring happy staff and certainly made my experience more relaxed. Very professional care from start to finish. I am so pleased with my outcome and after 2 weeks I feel far more confident and able to wear short skirts for the first time in many years. Massive thank you."
Dee – St Helens
"We have just enjoyed the best summer in this country for decades and I decided, finally, that I no longer wanted to hide my legs. My veins looked dreadful and my legs often ached or were 'restless' – especially when flying. I did the 'Google' thing and after some careful consideration – as I am not awash with funds – I chose The Private Clinic Manchester, which turned out to be a great choice.
My surgeon Mr Inglott, Hannah, Rachel and the rest of the team there were really kind, efficient and empathetic. The procedure was painless – a bit of discomfort at times perhaps, but painless. The results are amazing. These don't look like my legs! They are more comfortable also. I feel liberated at last! I would recommend The Private Clinic Manchester, Mr Inglott and the team there without hesitation or reservation."
"I had my varicose veins treated at The Private Clinic Manchester a month ago and the results are fantastic. The staff there were all very friendly and professional and made me feel at ease. I am 100% satisfied with the results. Thank you!"
Andrea, Bury
"We had just enjoyed the best summer in this country for decades and I decided, finally, that I no longer wanted to hide my legs. My veins looked dreadful and my legs often ached or were 'restless' – especially when flying. I did the 'Google' thing and after some careful consideration – as I am not awash with funds – I chose The Private Clinic Manchester, which turned out to be a great choice. My surgeon Mr Inglott, Hannah, Rachel and the rest of the team there were really kind, efficient and empathetic. The procedure was painless – a bit of discomfort at times perhaps, but painless. The results are amazing. These don't look like my legs! They are more comfortable also. I feel liberated at last! I would recommend The Private Clinic Manchester, Mr Inglott and the team there without hesitation or reservation."
J, Manchester
"I had decided after many years of living with varicose veins (which I thought was a mission impossible) to try see a specialist,my partner booked the appointment in Manchester I was a little nervous upon arrival however as soon as I walked into reception I was greeted with such a friendly team! I met Cheryl who was so informative, it filled me full of positive thoughts,from that I decided to book an appointment with the surgeon Mr Inglott. I had an Ultrasound scan and was told I needed to have EVLA and Phlebotomy. From start to finish of my treatment Mr Inglott and his team Hannah, Rachel the receptionists were all amazing at making me feel so positive. I would love to tell you more but I'm off shopping I have shorts to buy!"
Alan, Preston