With so much choice available, selecting a varicose vein treatment clinic can be an overwhelming decision. You want confidence you'll be treated using the appropriate procedure for you, achieve the best possible results and experience a smooth patient journey. But where do you begin? In this blog, we help you out, with several important questions to ask when choosing a clinic, and some important advice.
Who performs the varicose vein procedures?
You may find clinics offer various practitioners for the varicose vein removal procedures, including ultrasound technologists, nurse practitioners, physician assistants and doctors. This is now possible with clinics offering more minimally invasive varicose vein treatments. However, we only advise only using a vascular surgeon for the treatment, for assurance you'll receive the best results and care possible.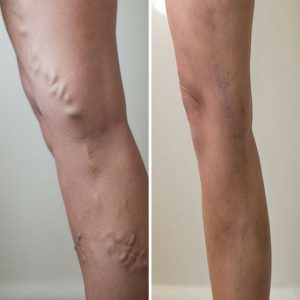 How experienced is the surgeon, and what are their credentials?
With both having a significant impact on your results, ensure to find out how long the surgeon has been performing the procedure, and how regularly they perform it.
Find out if the surgeon has been board certified within the field of vascular surgery, or if they have obtained a vein-treatment related certification from a respected organisation. This can be found out through research or asking if your surgeon has membership of any of the top vein-treatment related boards or societies. These include the British Society of Endovascular Therapy, the Vascular Society of Great Britain and Ireland, the European Society for Vascular Surgery and the European Board of Vascular Surgery. Also verify that your surgeon is an expert and has been qualified in treating your specific condition.
Would l receive a preliminary evaluation?
Ensure that the clinic offers a preliminary evaluation or consultation before treatment. This is the only way your surgeon can accurately determine the most suitable treatment for you. A preliminary evaluation involves using an imaging technique to configure the location of your varicose veins, and to check for serious conditions. Leading clinics tend to use a precise diagnostic ultrasound procedure, also known as duplex vein scanning, as the imaging technique.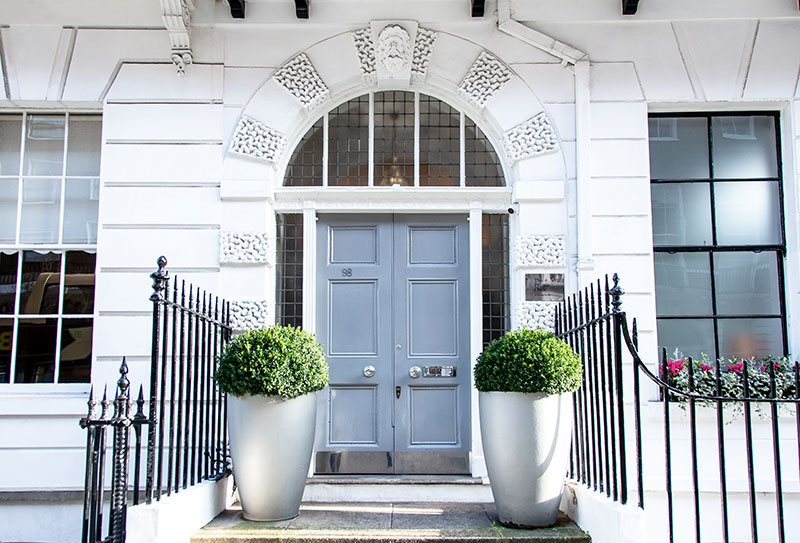 What are the treatment options available?
Check that a range of procedure options are available, including heat ablation methods, sclerotherapy and surgery this means that you can be provided and will be recommended the most suitable treatment for you. In some cases, a combination of procedure types will be necessary. The National Institute for Health and Care Excellence, NICE, recommends clinics adopt minimally invasive laser and heat ablation methods for varicose vein treatments. However, if unsuitable for the patient, ultrasound-guided foam sclerotherapy should be used and if unsuitable still, NICE advise surgery as the last option.
Regarding varicose vein treatment options at The Private Clinic, we offer the heat ablation technique, EVLA, representing the "gold standard" technique for varicose vein treatment according to NICE. We also offer Venaseal at The Private Clinic which is a closure system that uses medical adhesive to close the varicose veins. Venaseal is ideal for patients who are nervous about needles only requires a single injection per vein. In the majority of Venaseal cases, you are also not required to wear compression stockings post-surgery making it ideal for those who do not want a long period of downtime. Foam sclerotherapy, and the surgical method, Phlebectomy are also available. Phlebectomies involve small incisions and no stitches, while the surgical procedure, vein stripping, still used by many clinics, requires extensive incisions and a much longer recovery period. We do not offer vein stripping treatments at The Private Clinic.
What is the patient care and aftercare offered?
Your patient journey should involve a consultation with a vascular surgeon, the procedure in as many sessions as required, and as many follow up appointments as necessary. Thorough instructions for pre and post procedure should also be provided. You can also check what else is included in the clinics' care and aftercare. For example, is there a 24-hour emergency line?, is a patient advisor offered who can offer support in your journey?
This information may be found out via the clinics' website or by contacting them directly. Reading patient reviews and stories can also provide a strong indication of the care and aftercare offered at the clinic.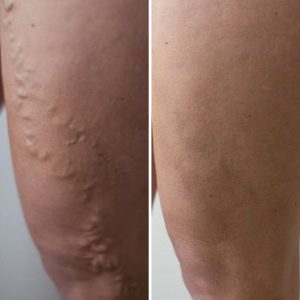 Can I see patient before and after photos and reviews?
Patients' before and after photos can help you gauge an idea of the results you could achieve with that clinic. To access these, check the clinics' website, social media pages and consumer review sites such as RealSelf.
Testimonials about patient experiences and results are also very helpful for an indication of the experience you could expect. You may find these on the clinics' website, or websites offering patient testimonials and satisfaction ratings, such as Trustpilot and RealSelf.
Varicose Vein Removal at The Private Clinic
If you are interested in using The Private Clinic for your varicose vein removal treatments, visit our varicose vein removal website for more information about the procedures we offer, including answers to frequently asked questions, information about our vascular surgeons and patient before and after photos.
One of the most recognised centres for varicose vein removal in the UK, The Private Clinic have over 35 years of experience in treating all vein types and have performed over 7,000  vein removal procedures to date.
All of our varicose vein treatments are minimally invasive, walk-in-walk-out procedures, without the need for large surgical incisions and general anaesthetic. You can generally resume normal activities immediately after treatment.
Why choose The Private Varicose Vein Clinic:
The least invasive method for varicose veins and thread veins removal treatment for your legs, body and face.
Our Consultant vascular surgeons are pioneers in EVLA(Endovenous Laser Ablation) and have treated thousands of patients.
No lengthy downtime or recovery required.
The NICE (National Institute for Clinical Excellence) Gold Standard for treatment of Varicose Veins findings show that the success rate after five years for EVLA is 95.4%.
A consultation with one of our Consultant Vascular Surgeons costs £150, including a free ultrasound scan of your legs (usually priced between £350 and £450 at most clinics and private hospitals).
We focus on the underlying cause of your veins and you will only see a Consultant Vascular surgeon for varicose veins.
We have treated thousands of patients who have regained their confidence whilst avoiding health issues.
Treatment takes one hour, you can go home shortly after being treated.
Owing to our success, we have been featured on Channel 4's Embarrassing Bodies , TLC's My Naked Secret and featured in Harper's Bazaar's Cosmetic Tweakment Trends for 2019.
We have carried out over 7,000 procedures in treating Veins.
Read our extensive varicose vein FAQs
Hear from previous patients in our varicose vein patient stories
Find out more information in our varicose vein blogs
Download our varicose vein treatment brochure
Expert Vascular Surgeons at The Private Clinic
Varicose vein removal consultations are available at the following clinics:
To find out more about Varicose Veins or to book an appointment please call 0333 920 2471 or you can use our varicose vein online contact form.