We're slaves to getting our cars checked in annual MOTs, but how often do we take the time to check our own health? Probably not often enough.
It's estimated that nearly 3 in 10 of us will suffer from varicose veins at some point in our lives, with even more being plagued by smaller spider and thread veins. However, if you were to ask how many of us actually have any problem veins checked or treated by doctors, the statistics wouldn't even come close to matching.
While varicose veins affect different people in different ways, it is important to monitor them to ensure they are not causing any further health problems. With this in mind, we offer comprehensive vein consultations and scans for those looking for peace of mind and to know their options.
What are varicose veins?
There are currently no proven preventative measures to stop varicose veins, which makes monitoring and understanding them even more important.  The bulging veins occur when the one-way valves that open and close to allow blood through our veins stop functioning properly, and allow blood to leak backwards. The resulting bulge from the backflow of blood is what we know as a varicose vein.
For many people varicose veins are merely a cosmetic woe, but they can also lead to health problems. Sufferers can often experience itching or aching in the affected area and, in some cases, varicose veins can cause blood vessel damage which can occasionally lead to DVT (Deep Vein Thrombosis), a condition from which an estimated 25,000 people die from every year.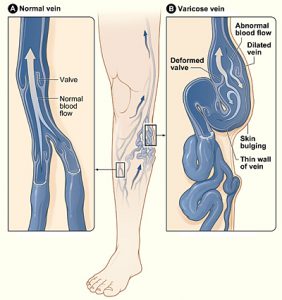 What does a vein check consist of?
During your personal 'vein MOT' you'll meet with one of our leading Consultant Vascular Surgeons who will perform a free venous ultrasound scan worth over £350 to map both deep and superficial veins with the utmost accuracy. Your surgeon will be able to see any veins that have lost their valves or that are at danger of turning into varicose veins, as well as thoroughly assessing any veins that are currently causing you a problem.
After examining your veins in full, your surgeon will advise on any problems, where they originate, whether treatment is necessary and, if so, which will be best for your needs. If you choose to proceed with treatment, all costs will be outlined to you during consultation to make your decision an informed one with no nasty surprises.
What treatment options are available for Varicose Veins?
If your veins require treatment, your surgeon will go through your options to see which best suits the severity of your problem and your lifestyle.
The 'gold standard' of treatment as recommended by NICE is Endovenous Laser Ablation (EVLA) which destroys problem veins through bursts of laser energy sent through a small rod. The procedure is performed under local anaesthetic and its minimally invasive nature means recovery is faster than traditional 'stripping' methods, which are no longer recommended.
VenaSeal is a ideal option for patients who have a needle phobia as VenaSeal only requires a single injection per vein. The treatment is a closure system that uses medical adhesive to close varicose veins, performed under local anaesthetic a catheter is inserted into the varicose veins and an ultrasound is used to guide the catheter which dispenses small amounts of medical grade Sapheon Glue that works to close the vein. Once closed, the vein will be naturally absorbed by the body.
For those whose veins are not suitable for EVLA or VenaSeal treatment, other options include sclerotherapy and phlebectomy. Sclerotherapy works through the injection of a chemical (either liquid or foam) into problem veins to destroy its walls and cause it to collapse. Phlebectomy, meanwhile, removes surface veins through careful incisions that are so tiny no stitches are required.
All of these treatments are minimally invasive meaning no sedation or hospital stay is required, and your surgeon will be able to advise you on the best method for your needs.
By addressing a deteriorating vein early, health problems can be prevented and treatment can be easier. If you're suffering from a damaged vein, talk to an expert about your options.
Why choose The Private Clinic for Varicose Vein Removal
We are able to offer non-surgical varicose vein removal treatments to 99% of patients that come to see us. Our range of non-surgical varicose vein treatments including EVLA (Endovenous Laser Ablation) or Endovenous laser treatment, Sclerotherapy (Foam & Liquid), VenaSeal and Phlebectomy . We also treat smaller Spider or Thread Veins and offer advanced Sclerotherapy, IPL (Intense Pulsed Light) treatment and Cutera CoolGlide thread veins removal treatments
All the treatments offered at our best vascular hospitals UK are minimally invasive and are performed without the need for general anaesthetic or large surgical incisions.  The Private Clinic vascular clinics have carried out over 7,000 procedures in treating Veins.
The least invasive method for varicose veins and thread veins removal treatment for your legs, body and face.
Our Consultant vascular surgeons are pioneers in EVLA(Endovenous Laser Ablation) and have treated thousands of patients.
No lengthy downtime or recovery required.
The NICE (National Institute for Clinical Excellence) Gold Standard for treatment of Varicose Veins findings show that the success rate after five years for EVLA is 95.4%.
A consultation with one of our Consultant Vascular Surgeons costs £150, including a free ultrasound scan of your legs (usually priced between £350 and £450 at most clinics and private hospitals).
We focus on the underlying cause of your veins and you will only see a Consultant Vascular surgeon for varicose veins.
We have treated thousands of patients who have regained their confidencewhilst avoiding health issues.
Treatment takes one hour, you can go home shortly after being treated.
Owing to our success, we have been featured on Channel 4's Embarrassing Bodies , TLC's My Naked Secret and featured in Harper's Bazaar's Cosmetic Tweakment Trends for 2019.
We have carried out over 7,000 procedures in treating Veins.
View our varicose vein before and after photos.
Read our extensive varicose vein FAQs.
Take a look at our varicose vein patient stories.
Find out more information in our varicose vein blogs.
Download our varicose veins brochure.
We offer Varicose Veins consultations nationwide in: London Harley Street, Bristol, Birmingham, Manchester, Leeds, Bournemouth, Bexhill, and Northampton with our team of expert vascular surgeons:
Expert Vascular Surgeons
To find out more or to book a consultation you can call 0333 920 2471 or use our Varicose Vein online contact form.