Treatments for Varicose Veins
The Private Clinic is amongst the leaders in minimally invasive varicose vein treatments.
The Private Clinic is amongst the leaders in minimally invasive varicose vein treatments.  We offer the most innovative and cutting-edge vein removal techniques that require no downtime, nor any need for a general anesthetic. Patients can leave the clinic the very same day, with no time off work required.
Treatment Information
Our vein treatment options pathway guides our choice of vein treatments, helping to ensure that each of our patients receive a treatment that best matches their personal needs.This pathway is officially endorsed by the National Institute of Health and Care Excellence (NICE).
Vein Consultation
By having a personalised veins consultation with us, you start your treatment journey by analysing the condition of your veins and detecting any underlying causes. Our advanced Colour Duplex Ultrasound Scan is used as part of this process to accurately assess the structure and blood flow in your veins. We then propose a tailored treatment plan based on this analysis to maximise your patient results.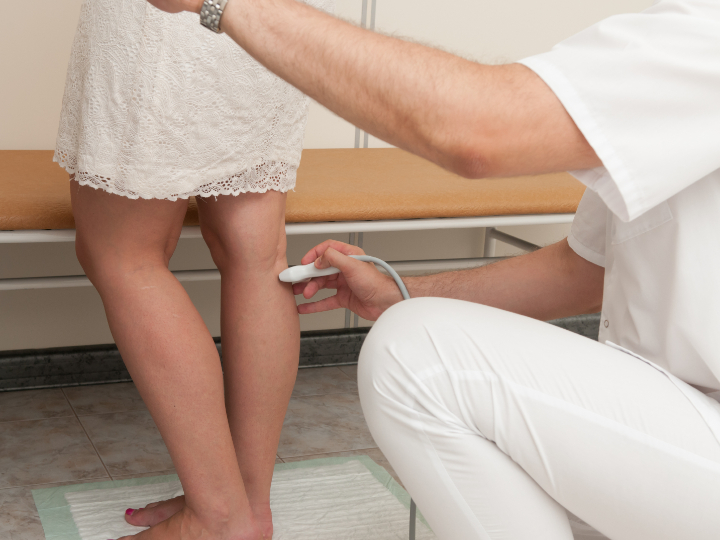 Endovenous Laser Ablation (EVLA)
EVLA is our primary method to treat the underlying cause of visible veins, and their associated symptoms like pain, discolouration and swelling. It is the gold-standard treatment for varicose vein removal and recommended by the National Institute of Health and Care Excellence (NICE). As an ideal treatment for deep leg varicosities, it uses an ultrasound-guided laser fibre to heat up damaged vein channels. This destroys the problem vein, while blood flow is redirected through healthier veins. The treated vein is then absorbed and removed from the body naturally, giving patients symptom-free results in a matter of weeks.
Foam Sclerotherapy
Foam sclerotherapy is most commonly used as a complementary or alternative treatment to EVLA. It is ideal for patients with smaller varicosities like thread veins, as well as superficial veins that sit just below the skin's surface. A foam sclerosant solution is directly injected into the targeted vein channel to displace pooled blood from it. The foam solution then destroys the lining of the vein walls, causing the vein channel to shrivel up and dissolve over time.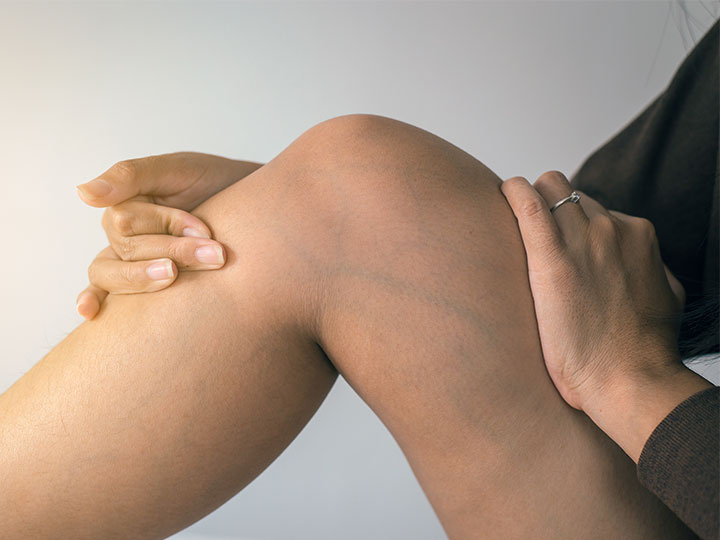 Alternative Treatments
For the vast majority of patients, the EVLA and foam sclerotherapy procedure will be the best varicose vein treatment. These treatments are clinically verified by a range of medical studies and journals to verify their outstanding success rates and safety record. This is why the National Institute of Health & Care Excellence (NICE) recommends them as gold-standard solutions. 
However, we also offer additional procedures that work in special cases to support a patient's unique needs. Our VenaSeal superglue treatment for example is ideal for patients who are needle-phobic and want to avoid extensive anaesthetic injections.  We also offer microsclerotherapy and Cutera CoolGlide treatments to target small veins and Phlebectomies for larger bulging veins. Discover detailed information about these alternative treatments in the dedicated section below. 
Further Treatment Information
Get in touch
If you would like to get in touch with us to find out more about our treatment pathway, or to discuss any of the mentioned treatments, send us a message now.
Request a call back
Alternatively, you can chat in person with one of our vascular specialists at our help centre by requesting a call back. 
Book a consultation
If you would like to start your varicose vein treatment process, book a consultation to begin your journey.